Column: Seattle running out of patience with Schmid and floundering Sounders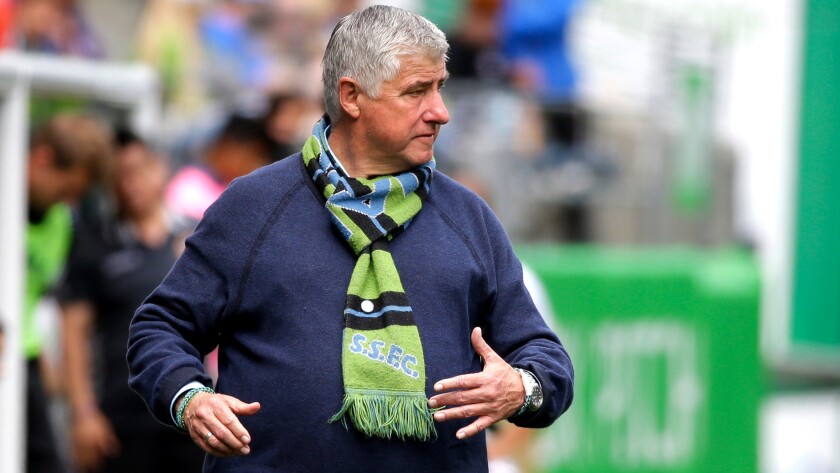 Here's how bad things have gotten for Sigi Schmid in Seattle: After his Sounders missed on 22 shots in a shutout loss to the Galaxy earlier this month, he was booed off his home field by 40,000 fans, then escorted into a news conference where a reporter challenged the coach to resign.
On social media one blogger asked the same question. Eighty percent of those who responded said he should go.
After 36 years in coaching, Schmid has learned to feign indifference toward such criticism.
"I don't ever read that," he said. "I never have."
But he hears about it. In Seattle, where the Sounders drew the second-largest average home attendance of any soccer team in the Western Hemisphere last season, the weight of expectations can be crushing. And it's clear the sniping and the attacks — and especially the losing — were weighing on Schmid as he watched his team train on a brutally hot afternoon at the StubHub Center last week.
"I hate losing," he said. "Obviously you get frustrated and you're saying 'can I change this? Am I doing enough of this or should I be doing more of that?'"
Those are not questions Schmid has typically had to ask. At UCLA, his alma mater, he won three national titles and was named the Pac-12 Conference Coach of the Century. In MLS, he's won a record 254 games and 11 major titles since 1999, including MLS Cups with the Galaxy and Columbus Crew, a CONCACAF Champions Cup with the Galaxy and four U.S. Open Cups with the Sounders.
He's taken Seattle to the playoffs in each of the franchise's seven seasons; among MLS coaches, only the Galaxy's Bruce Arena has won more games over that span.
But Schmid, who has won induction into the national soccer Hall of Fame, has never won a conference final in Seattle. So now, with the Sounders going into Sunday's game in Kansas City at the bottom of the conference standings, some in Seattle have renewed their calls for a change.
That kind of sentiment — or at least acting on it — has been rare in MLS, which has traditionally been kinder to coaches than the top European leagues. Nine teams in both Italy's Serie A and Spain's La Liga changed coaches during the 2015-16 season, with Palermo making seven moves in five months.
MLS teams have made seven in-season coaching changes in the last 2½ years combined.
"Most teams are quite stable and the league is a stable league. So there's more longevity as a coach in this league," said Matt Jordan, general manager of the Houston Dynamo, one of just two MLS teams to change coaches this year.
Jordan credited the league's single-entity structure and its tight salary cap for that stability. While free-spending teams in Europe can turn over key parts of their roster in a month or two, MLS teams have traditionally been stuck with the players they start the season with. And as a result, they've generally been more patient with coaches.
That may be changing with the addition of targeted allocation money, which has given teams more flexibility to make midseason moves, increasing the pressure on slumping teams and coaches to turn things around.
The Galaxy used targeted allocation money to sign Giovani dos Santos in the middle of last season, for example, and the Colorado Rapids did the same when it acquired U.S. national team midfielder Jermaine Jones this season. Dos Santos helped the Galaxy reach the playoffs; the Rapids, a last-place team a year ago, were unbeaten in Jones' first eight games.
If the Sounders and Schmid are to salvage their season, they clearly need to make a big move of their own before the transfer window closes next week. Over the winter, general manager Garth Lagerwey traded away Marco Pappa and Lamar Neagle, declined contract options on Chad Barrett and Micheal Azira, and make a transfer that sent Obafemi Martins, the team's leading scorer the last two seasons, to a Chinese club.
The only major offseason addition was rookie Jordan Morris, leaving the Sounders with one of the youngest and most inexperienced teams in MLS.
"Obviously [we] don't have the horses," Schmid acknowledged.
Seattle does have money though, and if it can close deals with the two biggest names on its wish list, Uruguayan midfielders Nicolas Lodeiro and Alvaro Fernandez, the team still has time to make a late-season push toward the playoffs — or at least toward respectability.
"When you're 6-11-2, the criticism is deserved. And you better look in the mirror and try to figure out what you can do better," said Lagerwey, who said his fate and that of Schmid are linked.
"It's on me to try to continue to bring in players to make the team better," he said. "And it's Sigi's side of the equation to try to get the most that we can out of the players we have. The organization is what succeeds or fails. It's not one individual."
But the brunt of the blame has been unfairly laid on Schmid, who has long been a lightning rod for Seattle fans. Three years ago, after a disastrous late-season collapse, a newspaper poll showed fans wanted him fired. Similar campaigns were launched on Twitter and Facebook.
However, owner Joe Roth stuck with his embattled coach, and when the Sounders rebounded to the best record in MLS in 2014, the social media torches and pitchforks were put away.
Now they're back. And it's uncertain whether Schmid, at 64 and with at least one year left on his contract, can fight them off again.
But he's certainly not ready to quit.
"I still feel confident in my ability to coach and [make] decisions," he said last week. "The biggest thing is you always look at your team and say 'are they still committed? Have I lost them? Are they turning me off?'
"The moment I feel that, I'll walk away. But that's not what I sense right now."
kevin.baxter@latimes.com
---
All about the beautiful game
Go inside the L.A. pro soccer scene and beyond in Kevin Baxter's weekly newsletter.
You may occasionally receive promotional content from the Los Angeles Times.