College basketball: Louisville upends Duke; Gonzaga downs St. Mary's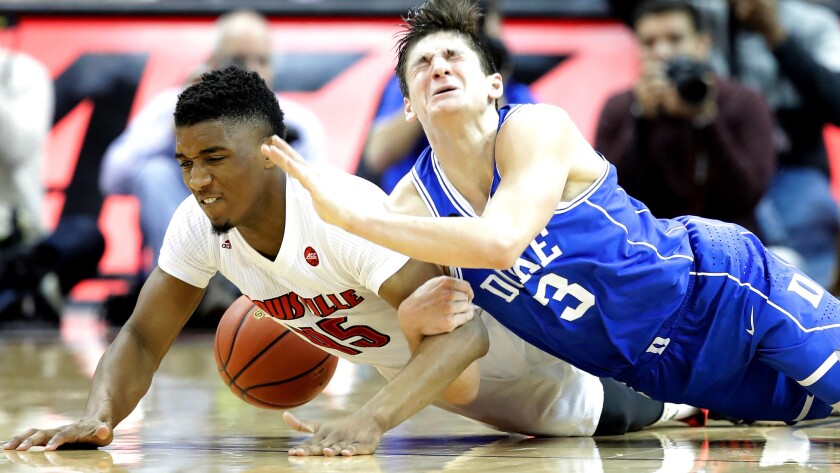 Anas Mahmoud had a career-high 17 points and 11 rebounds, Donovan Mitchell added 15 points and No. 14 Louisville shot 59 percent in the second half to top No. 7 Duke, 78-69, on Saturday in Louisville, Ky.
Mitchell had the touch from beyond the arc, making consecutive three-pointers while scoring 10 second-half points during a stretch that resulted in a 69-60 lead with 4:03 left.
Mahmoud soon followed with a put-back dunk and two free throws around Quentin Snider's 3 as the Cardinals (15-3, 3-2 Atlantic Coast Conference) won their third in a row. Snider had 13 points.
Grayson Allen, a frequent target of boos from the red-clad crowd, scored 23 points as the Blue Devils (14-4, 2-3) suffered their second loss this week. Luke Kennard added 17 points.
at No. 5 Gonzaga 79, No. 21 St. Mary's 56: Nigel Williams-Goss scored 19 points and the Bulldogs shot 64.7% in the game to remain the only undefeated team in Division I college basketball.
Jordan Mathews added 16 points, and Johnathan Williams had 14 for Gonzaga (17-0, 5-0 West Coast), whose 17-game winning streak is the longest in the nation. Jock Landale was held to 10 points and was in foul trouble much of the game for Saint Mary's (15-2, 5-1), which saw a nine-game winning streak broken.
This game was seen as one of the major barriers remaining for the Zags as they seek to go undefeated through the regular season. The teams play again Feb. 11 at St. Mary's, which shot 39.7% and has never beaten an opponent ranked higher than No. 9.
No. 1 Baylor 77, at No. 25 Kansas State 68: Manu Lecomte scored 26 points after battling early foul trouble, Ish Wainright and Al Freeman had key baskets down the stretch as the Bears won on the road.
Wainright and Freeman had 15 points apiece for the Bears (15-1, 3-1 Big 12), who bounced back from a lopsided loss at No. 10 West Virginia in their first game as the nation's No. 1 team. Johnathan Motley was held to seven points and nine rebounds before fouling out with 4:34 left and the Bears leading 62-55. But they managed to hang on down the stretch without their most dependable player.
D.J. Johnson scored 20 points for Kansas State (13-4, 2-3), and Barry Brown finished with 13.
at No. 2 Kansas 87, Oklahoma 80: Frank Mason III had 22 points, five rebounds and four assists to lead the Jayhawks to the Big 12 victory.
The Jayhawks (16-1, 5-0) rallied for their 16th straight win and could move into the top spot when the AP poll comes out on Monday. No. 1 Baylor lost 89-68 to West Virginia on Tuesday.
Devonte' Graham scored 21 points for Kansas, and freshman Josh Jackson added 20 points and 11 rebounds. Jeffrey Carroll scored 23 for Oklahoma State (10-7, 0-5), and Mitchell Solomon had 16 points.
No. 3 Villanova 70, at St. John's 57: Redshirt freshman guard Dante DiVincenzo had a season-high 19 points as the Wildcats pulled away for the win.
Mikal Bridges had 12 points and Josh Hart added 11 points for the Wildcats (17-1, 5-1 Big East), who started the season with a 14-game winning streak. The defending national champions have won 23 of their last 24 games.
Freshman Shamorie Ponds had 13 points for the Red Storm (8-11, 2-4), who have lost four straight overall and 10 in a row to Villanova.
at No. 6 Kentucky 92, Auburn 72: Malik Monk scored 24 points, powering the balanced Wildcats to their fifth straight win.
Kentucky (15-2, 5-0 Southeastern Conference) shot 57% from the field and placed five players in double figures. Edrice "Bam" Adebayo had 15 points, and De'Aaron Fox finished with 13.
The physical matchup included 49 fouls between the two teams, with Fox fouling out with 7:23 remaining. Kentucky connected on just 17 of 32 free throws, compared to 5 for 15 at the line for Auburn.
T.J. Dunans led Auburn (11-6, 1-4) with 23 points, and Mustapha Heron had 11.
at No. 8 Creighton 101, Truman State 69: Marcus Foster scored 21 points on nine-of-11 shooting as the Bluejays cruised past their Division II opponent.
Creighton (17-1) dunked eight times and put the Bulldogs away with a 17-2 run in the second half that pushed the lead to 75-46.
Truman State (13-4), playing its third game in three days, missed eight of its first nine shots and Creighton got out to leads of 17-3, 26-8 and 43-23. Connor Erickson led the Bulldogs with 10 points.
at No. 11 North Carolina 96, No. 9 Florida State 83: Joel Berry II scored 26 points as the Tar Heels snapped the Seminoles' school-record winning streak.
Justin Jackson and Isaiah Hicks each added 22 points for the Tar Heels (16-3, 4-1 Atlantic Coast Conference), who played from in front nearly all day but didn't put the Seminoles away until a 14-2 run in the final 5 1/2 minutes finally gave them a comfortable lead.
Jonathan Isaac had 17 points and 12 rebounds for the Seminoles (16-2, 4-1), who had won 12 in a row and stood at 4-0 in the ACC for the first time in their history.
No. 10 West Virginia 74, at Texas 72: Teyvon Myers scored 16 points and West Virginia avoided one of the bigger upsets of the Big 12 season so far with a close win against short-handed Texas.
Jevon Carter added 15 points for the Mountaineers (15-2, 4-1), including two free throws in the final seconds that gave West Virginia a four-point lead.
Jarrett Allen scored 19 points for the Longhorns (7-10, 1-4). Andrew Jones had 17, but fouled with more than three minutes to play. Texas played without leading scorer Tevin Mack, who was suspended indefinitely this week for an unspecified violation of team rules.
at No. 12 Butler 83, No. 15 Xavier 78: Freshman Kamar Baldwin scored each of his 21 points in the second half, and the Bulldogs took down another Top 25 team.
Butler (15-3, 4-2 Big East) improved to 5-1 against ranked opponents this season. Baldwin put up his highest point total yet for Butler and Andrew Chrabascz added 16. The Bulldogs closed it out by making their last 10 free throws and extended their Hinkle Fieldhouse winning streak to 13, including 10 this season.
Edmond Sumner had 22 points and J.P. Macura finished with 16 for Xavier (13-4, 3-2), which has lost back-to-back games for the first time this season.
No. 19 Virginia 77, at Clemson 73: London Perrantes scored a season-high 25 points to lead the Cavaliers to their sixth consecutive victory over the Tigers.
Virginia (13-3, 3-2 Atlantic Coast Conference) shot 58% from the field in their second straight win since dropping two in a row to Pittsburgh and Florida State. Marial Shayok tied his career high with 17 points, and Isaiah Wilkins finished with eight points and 13 rebounds.
Jaron Blossomgame led Clemson (11-6, 1-4) with 22 points.
No. 20 Notre Dame 76, at Virginia Tech 71: Steve Vasturia scored 20 points and the Fighting Irish rebounded after blowing a 19-point lead. Matt Farrell and Bonzie Colson had 14 points apiece for Notre Dame (16-2, 5-0 Atlantic Coast Conference).
Virginia Tech had won 15 in a row at home. Chris Clarke had 21 points, nine rebounds and five assists for the Hokies (13-4, 2-3), and Seth Allen added 16 points.
at No. 23 Florida 80, Georgia 76 (OT): Canyon Barry scored 27 points, including four in overtime, to lead the Gators to their 14th consecutive victory over the Bulldogs in Gainesville.
Barry made seven of 13 shots, including two four-point plays, and was perfect from the free-throw line. His four underhanded foul shots were key in overtime, especially the ones that came after his offensive rebound on KeVaughn Allen's missed three-pointer.
Georgia (11-6, 3-2 Southeastern Conference) led much of the game, but faded after leading scorer Yante Maten fouled out with 3:51 left in regulation. Georgia led 64-59 at the time and looked as if it would pick up its first win in Gainesville since 2002.
The Gators (14-3, 5-0) had plenty of chances to win in regulation, but Kasey Hill missed two free throws and had a turnover in the final minute.
at Penn State 52, No. 24 Minnesota 50: Tony Carr made two free throws with five seconds left to lift the Nittany Lions to the win.
Mike Watkins had 15 points and 15 rebounds and Payton Banks added 10 points for the Nittany Lions (11-7, 3-2 Big Ten), who recovered from a 32-22 halftime deficit.
Reggie Lynch scored 12 points for the Golden Gophers (15-4, 3-3), who were outscored 26-15 over the final 17 minutes. Minnesota led by as many as 14 in first half.
---
Get our high school sports newsletter
Prep Rally is devoted to the SoCal high school sports experience, bringing you scores, stories and a behind-the-scenes look at what makes prep sports so popular.
You may occasionally receive promotional content from the Los Angeles Times.