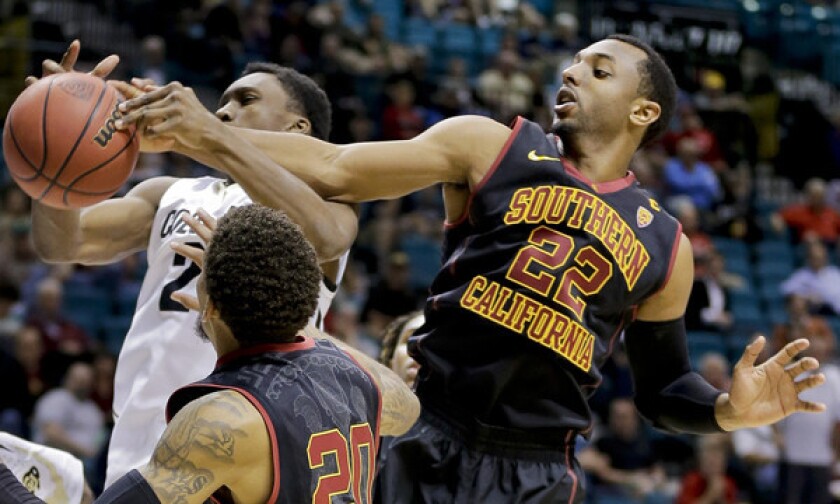 USC guard Byron Wesley, the Trojans' leading scorer last season, announced Wednesday that he would transfer and play his final season at another school.
Wesley said on his Twitter feed that he would graduate this summer and transfer.
"We wish Byron well and we thank him for his valuable contributions to our program," Coach Andy Enfield said in a statement on USC's website. "We are happy for him that he will leave USC with his degree.
"He had a very productive career here and I am sure he will do well wherever his career takes him."
The 6-foot-5 Wesley, who played at Etiwanda High School, averaged 8.6 points a game as a freshman and 10.2 as a sophomore.
Last season, the Trojans' first under Enfield, Wesley averaged 17.8 points and 6.4 rebounds for a team that finished 11-21 overall and 2-16 in the Pac-12 Conference.
Wesley was suspended for two late-season games for violating an unspecified team rule.
"First and foremost I would like to thank the Trojan family for all of the love and support they have given me these last three years," Wesley wrote in a series of posts on his Twitter feed. "I'd also like to thank my coaches for helping me become a better player, my teammates for all of the great memories, & fans for the support.
"This was the opportunity of a lifetime & I couldnt be more thankful. I will be a Trojan for life & I'm most proud of that! Fight On Forever!"
---