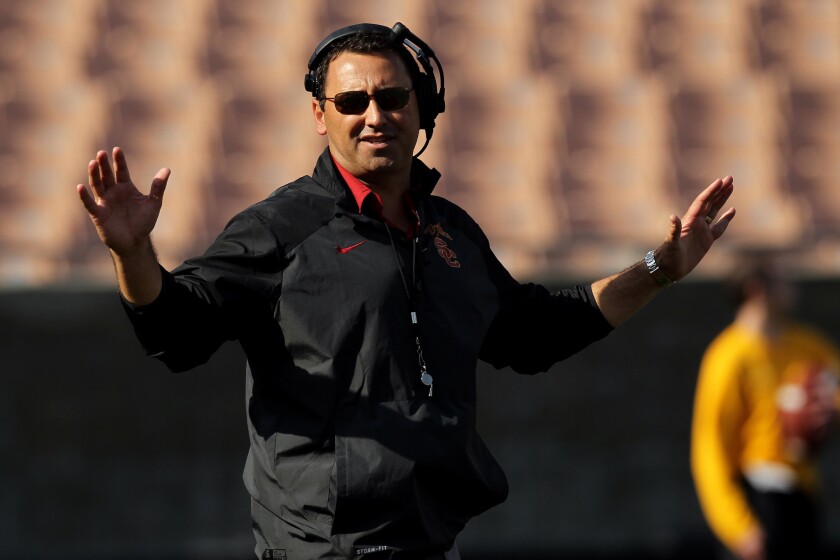 Speaking at Pac-12 Media Days on Wednesday, quarterback Cody Kessler and defensive end Leonard Williams spoke highly of new USC Coach Steve Sarkisian. The tempo is fast, the coaches are intense and the team has bonded.
But forgive them Trojans if they're a bit jaded.
After a turbulent season — Sarkisian is the third coach since September after Lane Kiffin was fired and Ed Orgeron replaced after finishing the season — the players say they have a new perspective on the business of college football.
"We had to deal with so many coaching changes," Williams said. "We love coach O, we wanted him to be here, we loved part of the staff that wanted to be here. And dealing with that we really realized this is a job. At the end of the day coaches come and go."
Kessler said the team realized that, for the coaches and administrators, the sport is a business.
"Coaches can only take us so far, no matter who it is," Kessler said. "But when it comes down to it, it's gotta be the players on the field."
Still, Kessler and Williams are taking well to Sarkisian. And Sarkisian appears ready to move on from USC's past.
"I'm not here to make excuses for anybody," Sarkisian said. "I'm not here to apologize."
Sarkisian also promised to bring an offense "unlike anything seen at the Coliseum."
Kessler said he will be more mobile this year, but the offensive concepts are similar to past USC schemes. The biggest difference, he said, is the tempo.
During summer workouts, which Kessler helps direct, the team runs close to 100 plays in roughly an hour.
There is no time to talk in between plays. There is not even time, he said, to talk in the huddle. The focus is the pace.
Defensively, Williams said that helps prepare USC to face the similar up-tempo offenses that the Pac-12 has become known for.
"Last year if we messed up on a play we would try to redo it, and we won't move onto the next play until we get it right," Williams said. "Where now if we mess up on that play, it's just move forward, the game's going to keep going. You can't restart in a real-time game situation so you've just got to learn from your mistakes and keep going to the next play."
All three said the team has bonded especially closely this summer. That's typical talk for this type of year, but they say they have the numbers to back up the claim.
Kessler estimated 30 more players have participated regularly in summer workouts than last year. Williams said the team often forms groups of 10 or 12 to go to swimming or on hikes at Hermit Falls. The lineman meet up to run sand sprints on the beach. Williams wears a 25-pound weight vest.
"From last year there was a lot of stuff when we had to rely on each other because we were going through coaching changes," Kessler said.
He added: "These guys came together and we were like you know what? It's on us."
Twitter: @zhelfand
---