UCLA broadcaster Josh Lewin set to launch mental health website in wake of recent suicides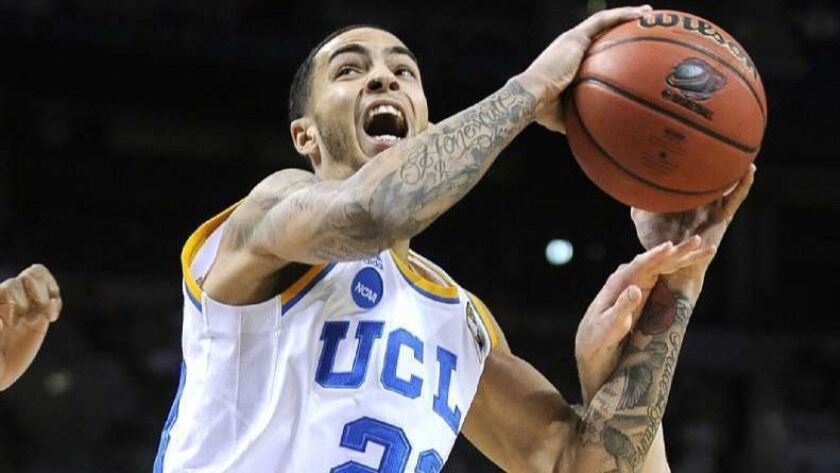 The recent suicides of former UCLA basketball players Tyler Honeycutt and Billy Knight have prompted Bruins radio broadcaster Josh Lewin to launch a website to help people suffering from anxiety and depression.
The site okaytogether.com, set to launch Thursday morning, is intended to provide a forum for people to realize they're not alone in their struggles. The site will include advice from experts, pathways to organizations that can help and links to about 90 stories from athletes and entertainers detailing their issues and ways in which they've combated their problems.
Those who go onto the site can also share their own stories.
"The thought [is] that my God, if Kevin Love doesn't see this as a stigma and is so open about it," Lewin said Wednesday, referring to the NBA All-Star forward and former Bruins standout who has openly acknowledged experiencing mental health issues, "maybe it's not so embarrassing to admit that this is something that I deal with too."
Lewin hopes to dovetail his project with UCLA's Grand Challenges initiative, which is conducting a comprehensive depression study of 100,000 people to help better understand the disease and formulate more effective treatment methods. The broadcaster said he is scheduled to meet with school officials later this month to see how their endeavors might benefit each other.
Lewin said he has felt the urge to help those suffering from mental health issues since the suicides several years ago of former San Diego Chargers players Junior Seau and Paul Oliver.
"Those hit me very, very hard," said Lewin, a former broadcaster for the Chargers.
The deaths of Honeycutt and Knight, who authorities said killed themselves last month, nudged Lewin into action. He spent several weeks building his site in hopes that it could help others from feeling alone in their struggles.
"The first step, to me, is coming to peace with the fact that you're playing the game," Lewin said. "You don't really choose it, it chooses you and what I've told people is, if you've ever sat down to play a video game and you realize that your console control wasn't hooked up, you're mashing the A button and the B button and your character just isn't moving, it's frozen, and the monsters are coming at you, that's a horrible feeling and my guess, the more that I kind of peel the layers back, is that that's where a lot of people are. They just kind of feel like they don't even have that ability to figure out the first step or what the hell this is that they're dealing with.
"The website isn't how to beat the game, it's just simply about how to at least get your console working so that you can begin the process of avoiding the monsters. It's Step 1, just realize that you're part of a community that's welcoming."
---
Get the latest on L.A.'s teams in the daily Sports Report newsletter.
You may occasionally receive promotional content from the Los Angeles Times.