UCLA begins the redemption tour with a visit from improved Oregon State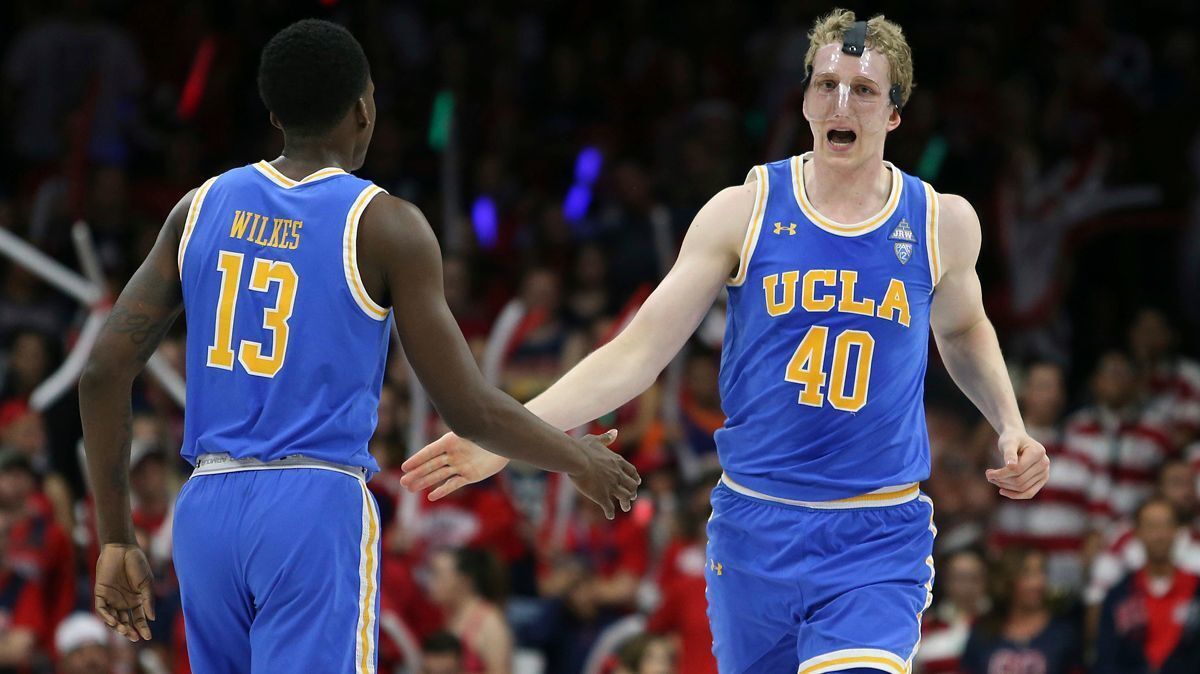 UCLA is entering the portion of its schedule that could be dubbed Redemption Tour 2018.
It will include two stops in Pauley Pavilion and one in Colorado's Coors Events Center. Head banging against concrete walls could commence if things don't go well. Refunds will not be issued even if the Bruins fail to show up like they did for parts of recent losses to Oregon State, Oregon and Colorado.
UCLA's hope is that its performances have a very different feel. Three of the Bruins' next four games come against teams that have beaten them this season, providing extra incentive to win beyond staying in the Pac-12 Conference race.
"When you've got three weeks left [in the regular season] and you're playing somebody who's beaten you already," UCLA coach Steve Alford said, "they've got your attention.'
The chance for do-overs starts Thursday night at Pauley Pavilion against Oregon State, a team that might seem unremarkable except for its 1-0 record against the Bruins.
The Beavers, 13-11 overall and 5-7 in the Pac-12, are 0-5 on the road in conference play and have an RPI of 160. Perhaps the only number related to Oregon State that sticks in the minds of UCLA's players is the 10-3 run the Beavers used to close out a 69-63 victory over the Bruins last month in Corvallis, Ore.
"They already beat us once; they showed that they could do it," UCLA guard Aaron Holiday said, "and it's our job to change that and beat them Thursday."
Oregon State largely manhandled UCLA during that meeting, grabbing 18 offensive rebounds to the Bruins' 11 and outscoring them 33-22 in the paint. UCLA forward GG Goloman vowed that there would be no repeat.
"We're going to play a lot tougher than we did in the first game," Goloman said. "We're going to have to fight for every loose ball and play like we want it more."
Alford said he hoped that guard Prince Ali could help counter the Beavers' Ethan Thompson, who grabbed four offensive rebounds against UCLA last month. Strong play on the boards and on defense could compensate for a recent cold stretch in which Ali has averaged 6.6 points over his last eight games, well below his season average of 9.4 points.
"Prince can help us with that," Alford said, "because he's a big guard who can do those things."
Oregon State is hardly the pushover it was last season, when it went 5-27. These Beavers are the second-most improved major conference team, trailing only Missouri (18-8), which went 8-24 last season.
A big part of the turnaround has been the presence of forward Tres Tinkle, who was limited to six games last season because of a wrist injury. Tinkle was selected the Pac-12 player of the week after averaging 24.5 points, 8.0 rebounds and 6.5 assists during victories over Washington State and Washington last week.
UCLA (17-8, 8-5) needs to beat Oregon State for more than payback. The Bruins are tied with USC for second place in the Pac-12 standings, two games behind first-place Arizona, but a loss could cause them to plummet considering only 4 1/2 games separate the Wildcats and 10th-place Beavers.
UCLA also remains on the NCAA tournament bubble with an PRI of 52. When the tournament selection committee meets next month to assess the Bruins, they'll see at least one loss to Oregon State. UCLA center Thomas Welsh is intent on his team's win-loss ledger against the Beavers evening out before then.
"Of course," Welsh said, "we want to get it back."
UP NEXT
When: Thursday, 8 p.m. PST.
Where: Pauley Pavilion.
On the air: TV: FS1; Radio: 570.
Update: UCLA forward GG Goloman averaged 33.5 minutes per game last week during the Bruins' trip to face the Arizona schools, well above his season average of 23.7 minutes. UCLA coach Steve Alford said he foresees Goloman continuing to play a larger role as long as he is able to sustain his recent strong play; he averaged 13.5 points and 5.5 rebounds in the games against Arizona and Arizona State. Goloman said his surge in production is largely a result of increased confidence. "I'm getting more and more comfortable," Goloman said. "I'm finding my game. I've had my ups and downs, but I think I'm at a really good point."
Follow Ben Bolch on Twitter @latbbolch
---
Get the latest on L.A.'s teams in the daily Sports Report newsletter.
You may occasionally receive promotional content from the Los Angeles Times.