UCLA wilts early this time in 77-63 loss to Cincinnati
A week ago, UCLA appeared to be a young and improving team that ran aground because of fatigue.
On Saturday, it was harder to make any claims about upward trajectory.
The Bruins fumbled and stumbled their way to a 77-63 loss against No. 25 Cincinnati at Pauley Pavilion, their undoing largely a result of an early flurry of turnovers.
UCLA had nearly twice as many turnovers (15) as made baskets (eight) during the first half, including eight turnovers in the final nine minutes. The mistakes came in many forms against a smothering defense that was unlike anything the Bruins had faced this season.
Point guard Jaylen Hands was trapped in the backcourt by two Cincinnati players before throwing the ball to a third Bearcat. Forward G.G. Goloman threw a pass through a small opening that closed quickly, the ball being deflected and picked up by Cincinnati.
Some of the Bruins' turnovers were simply unforced.
Guard Chris Smith lost his dribble out of bounds. Point guard Aaron Holiday lobbed a lazy pass inside to Thomas Welsh that was intercepted, causing Holiday to slump his shoulders in disgust.
"They played Tom well down low," Holiday said, referring to the double teams that limited Welsh to only one shot in the first half and a season-low four points for the game. "I was trying to get him involved and that was really where my turnovers were, trying to pass it to him, so it's just, we just have to figure it out."
The rash of turnovers resulted in a 36-23 halftime deficit and negated a second half in which UCLA essentially played Cincinnati to a push while turning the ball over only three more times.
The Bruins (7-3) are running out of time to notch a meaningful victory with two games left before opening Pac-12 Conference play. They will play host to South Dakota on Tuesday before playing No. 8 Kentucky on Saturday in New Orleans as part of the CBS Sports Classic.
UCLA entered Saturday with a Ratings Percentage Index figure of 87, largely a function of having no wins over teams that currently have a winning record. The Bruins have also been left out of some recent NCAA tournament projections.
Their stock only dipped further after a loss that gave them as many regular-season defeats as they had all of last season. Unlike last week, when late turnovers doomed the Bruins during a road loss to Michigan, they got an early start on their setback against the Bearcats before a season-high home crowd of 10,018.
The final 6:59 of the first half constituted a nationally televised embarrassment for UCLA, which failed to make a field goal over that stretch while being outscored 18-2. Bruins coach Steve Alford suggested that the offensive hiccups were largely a result of a players still feeling each other out.
"It's the trust factor of learning who's hot, who needs the basketball," Alford said. "We went [17] minutes without Tom getting a shot. That's stuff guards have got to figure out. We talked about starting inside-out and we didn't start inside-out, we started outside-in and that affects your offense a lot, so you get pushed further out."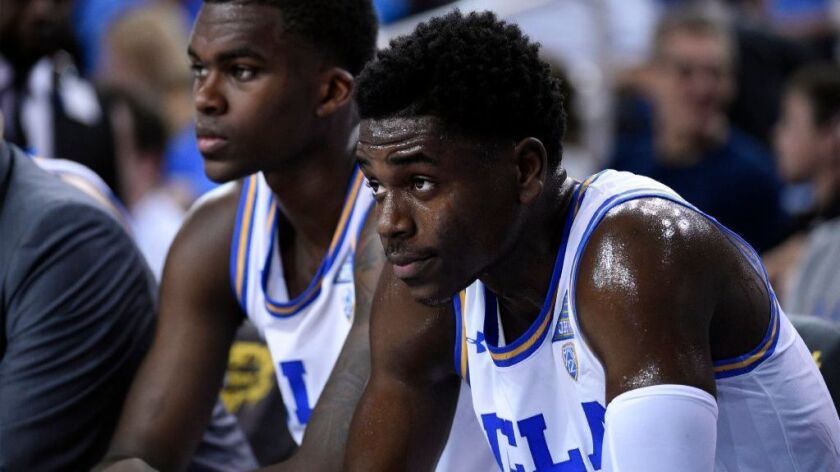 Holiday scored 17 points, but Hands (14) and Kris Wilkes (12) were his only teammates to reach double figures. Welsh made only two of seven shots, had a three-pointer blocked and airballed a baseline jumper with about three minutes left.
"Whenever you see Tom shoot an airball," Alford said, "you know he's rushing things."
Cincinnati surged ahead by as many as 19 points in the second half, leading to a hearty cheer of "Let's go Bearcats!" from a sizable cheering section. Forward Kyle Washington had 19 points for Cincinnati, which committed only nine turnovers and outscored the Bruins 23-11 in points off turnovers.
Alford seemed encouraged afterward, pointing to continued defensive growth and having battled a physical Cincinnati team to a 35-35 tie in rebounding.
But the coach acknowledged the difficulties that have resulted from losing three players to an indefinite suspension over a shoplifting incident last month in China. Freshman LiAngelo Ball, one of the suspended players, subsequently withdrew from UCLA. His likeness was featured on game tickets Saturday, a painful reminder of a season that could be headed in the wrong direction.
"You went from one day having 11 in the rotation to eight," Alford said. "It doesn't happen a lot in college basketball and I think in this group, I can't thank them enough. I think they've handled things extremely well, when you look at the travel, and the distractions, they're competing, they're working, they're just trying to figure some things out and I think as they get a little bit more mature in this process, their play will emulate that."
Follow Ben Bolch on Twitter @latbbolch
---
Get the latest on L.A.'s teams in the daily Sports Report newsletter.
You may occasionally receive promotional content from the Los Angeles Times.