UCLA players are wounded, some are barely walking after loss to Memphis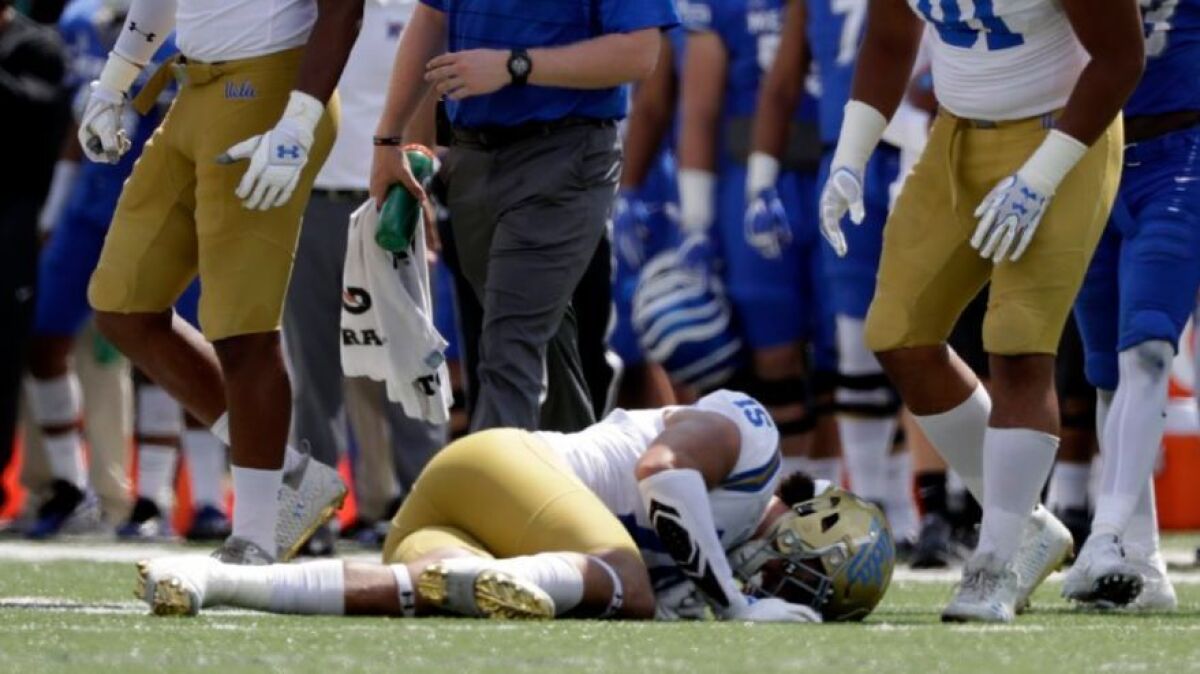 Jim Mora spent about half of his interview session with reporters Monday providing injury updates, never a good sign given the UCLA coach's policy of addressing only significant injuries once the season has started.
Tailback Nate Starks could miss the rest of the season because of damage he sustained to the medial collateral ligament in his knee against Memphis on Saturday, Mora said. Starks carried the ball three times before leaving the game and watching the second half of the Bruins' 48-45 loss on crutches.
There was more encouraging news regarding defensive end Jaelan Phillips, whose right ankle was in a walking boot after he was injured in the third quarter. Mora said Phillips was "fighting to get back" for UCLA's game against Stanford on Saturday at Stanford Stadium after receiving treatment three times Sunday and twice before noon Monday.
"That's the kind of guy he is," Mora said of Phillips, a freshman who is one of the team's top pass rushers.
UCLA's short-handed defense could also get linebacker Kenny Young and safety Jaleel Wadood back against the Cardinal, Mora said. Both players sat out against Memphis because of head trauma they suffered the previous week against Hawaii. Defensive tackle Boss Tagaloa is expected to be fully available after being limited to only a handful of plays against Memphis because of an injury that had kept him out against Hawaii.
Tailback Soso Jamabo was on the cusp of being able to return from an undisclosed injury that has sidelined him since the season opener, Mora said, which would provide necessary depth at the position with Starks unavailable.
Mora said reserve receiver Audie Omotosho underwent what would likely be season-ending surgery for medial collateral ligament damage, and reserve defensive back Keyon Riley was scheduled to undergo season-ending surgery for a dislocated shoulder. Riley suffered the injury when he slipped in the locker room before UCLA played Hawaii on Sept. 9 but was able to play after medical personnel popped his shoulder back into place.
"I thought [that] was unbelievable," Mora said. "I didn't think there was any way he'd play."
Riley reinjured the shoulder last week when he placed his hand on the floor for support while getting out of a cold tub. That setback signaled to doctors that Riley needed surgery, Mora said.
Mora said linebacker DeChaun Holiday was "really close" to returning from the shoulder injury that has sidelined him since spring practice but would not be ready to play this week. Linebacker Breland Brandt's status remained unclear after he suffered a concussion against Hawaii and felt nauseous while trying to practice last week, Mora said.
"His comment to me was, 'I didn't want to let the team down,' " Mora said of Brandt. "I love that, but not with head, neck and spine" injuries.
Sorry about that
Mora said he did not regret the timeout he called with 68 seconds left in the first half against Memphis, even though the Tigers scored two plays later. The coach explained that he was trying to get the ball back to his explosive offense while also being mindful that Memphis would get the ball to start the second half.
"You don't want them to have two possessions in a row," Mora said. "We'd do the same thing again."
What Mora did lament was ordering UCLA's defense to apply pressure after the game was stopped to review Memphis receiver Anthony Miller's 41-yard catch on the next play. The Bruins' blitzing linebacker was late getting to the quarterback, helping Miller beat defensive back Darnay Holmes for a 33-yard touchdown.
"I screwed up," Mora said. "It was completely on me, 1,000%. My general rule as a coordinator has always been you probably don't want to pressure coming out of a time out.
"They have time to prepare, they have time to talk about it — 'If they pressure, this is where we'll go.' No. 2, I should have thought about the fact that Darnay had just gotten beat [on the previous play] and tried to help him. He's a freshman. He's in an environment that he's never been in before. I wanted to be aggressive. It was just a stupid call on my part."
He'll be missed
Mora did not dispute the targeting penalty on defensive tackle Osa Odighizuwa, who must sit out the first half of the Stanford game after lowering his head for a hit on Memphis quarterback Riley Ferguson in the fourth quarter.
"The problem is that anytime you duck your head, you lose the benefit of the doubt," Mora said. "It was a clean hit in terms of the timing, but when he ducked his head, that cost us."
Follow Ben Bolch on Twitter @latbbolch
Get the latest on L.A.'s teams in the daily Sports Report newsletter.
You may occasionally receive promotional content from the Los Angeles Times.