Leaf scores 32 as No. 11 UCLA beats Washington State, 95-79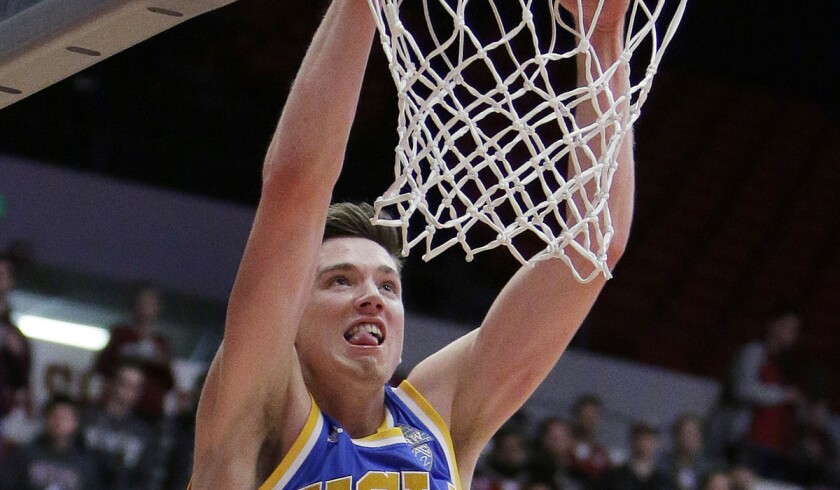 Reporting from Pullman, Wash. —
TJ Leaf untucked his jersey and walked through the handshake line expressionless, as if it was just another game he had completed.
The giveaways that something exceptional was afoot started when fellow freshman Lonzo Ball strode up to his UCLA teammate and chest-bumped him on his way to the locker room. Later, as Leaf spoke with reporters, Kory Alford, the team's analytics and video coordinator, flashed a thumbs-up as he walked past in the hallway.
There was plenty to admire about Leaf's bounce-back performance Wednesday night at Beasley Coliseum following the worst two games of his college career. The power forward bludgeoned his Washington State counterparts with dunks, jumpers, hook shots, spin moves and layups, powering the No. 11 Bruins to a 95-79 victory that snapped their two-game losing streak.
The only mercy Leaf showed was when he finally left the court after making 14 of 18 shots on the way to a career-high 32 points that accompanied his 14 rebounds, three assists and one steal.
"Thirty-two points," Ball said of his teammate. "You pretty much give him the ball and get out of the way."
Or take it from him and dunk it, as Ball did in the final minute off an alley-oop pass from Leaf. It was a play that completed UCLA's first victory here since February 2012 after dropping its three most recent games on this court.
Leaf led a dominant performance by UCLA's frontcourt, which helped the Bruins (20-3 overall, 7-3 Pac-12 Conference) notch the victory total that typically secures an NCAA tournament berth … on the first day of February.
"We're in a pretty good spot, you know?" Ball said after finishing with 14 points, seven assists, five steals and three turnovers. "Really can't have no complaints."
UCLA won comfortably on a night it made a season-low three three-pointers because it buried 35 of 50 (70%) two-pointers. Bruins center Thomas Welsh was among the efficiency experts, scoring 17 points on eight-for-10 shooting.
"I thought they were very concerned about the three ball — rightly so," UCLA Coach Steve Alford said of the Cougars, "but I thought that opened up a lot of driving lanes and things at the basket and our guys did a good job with that."
The Bruins controlled the interior even without freshman forward Ike Anigbogu, who sat out as a precaution after feeling some discomfort in his surgically repaired right knee after an awkward step in practice this week. Alford said he expected Anigbogu to play on Saturday against Washington barring a setback.
Coming off a weeklong break without a game, the Bruins reverted to the joyous style of basketball that had made their games feel like choreographed works of art prior to their recent slide. As Leaf discussed how much fun he had on the court, one of his teammates could be heard gleefully shrieking in the nearby locker room.
"Yeah, I mean, you can hear that right now," Leaf said. "We just had a couple of games where we were just a little lethargic, just weren't having as much fun as we were used to — even in practice, you could tell a little bit — and we definitely got back to it. I think having that week off helped a lot."
Ball said the pregame message was to have fun and not treat the game like it was one the Bruins had to win. It looked like they might not after Washington State (11-11, 4-6) pulled to within 62-57 midway through the second half, but Welsh made a jump hook and Ball added a turnaround step-back jumper to pad a margin that would quickly reach double digits.
The Bruins tried to alter their fortunes even before tipoff by staying in a different hotel and making the 90-minute bus ride from Spokane instead of the much shorter commute from Moscow, Idaho. Hey, whatever works.
"We changed it up this time," Welsh said.
Largely by getting back to the way they had done things before.
UCLA next
Saturday at Washington, 7:30 p.m., Alaska Airlines Arena, Pac-12 Networks — Expect every NBA team that might have a draft lottery pick to send scouts to watch the point guard battle between UCLA's Lonzo Ball and Washington's Markelle Fultz. They could be the top two selections in June.
Twitter: @latbbolch
---
Get the latest on L.A.'s teams in the daily Sports Report newsletter.
You may occasionally receive promotional content from the Los Angeles Times.