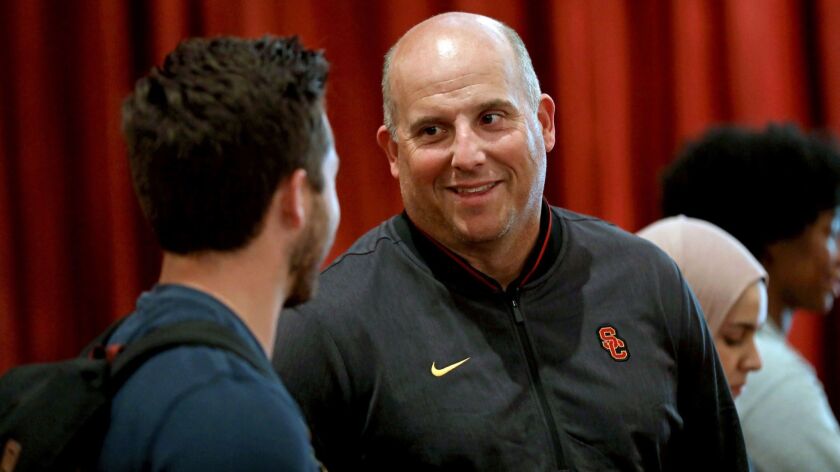 USC football coach Clay Helton was paid about $3.2 million during the school's fiscal year covering July 1, 2017, to June 30, 2018, according to USC's federal tax return released Wednesday in response to a request by the Los Angeles Times.
Helton coached the Trojans to a Pac-12 championship in 2017 and a berth in the Cotton Bowl, ending that season with an 11-3 record. In February 2018, he received a contract extension until 2023, which could account for the pay raise Helton earned after he made a reported $2.6 million the prior fiscal year. As a private institution, USC is not required to divulge the salary information of its employees.
The $3.2 million may not represent Helton's annual salary as it currently stands, as he did not agree to his extension until more than halfway through the 2017-18 fiscal year. According to USA Today's college football coaching salary database, that number would place Helton 41st nationally, right behind UCLA's Chip Kelly, who makes $3.3 million per year.
Helton was not the only USC coach to receive a major pay bump. Men's basketball coach Andy Enfield made nearly $2.8 million during the 2017-18 fiscal year. Enfield's last known salary figure was $1.9 million earned in 2014. He received an extension through 2023 in April 2017 after leading the Trojans to the second round of the 2017 NCAA tournament.
USC has failed to make the tournament in consecutive seasons since Enfield's extension. His earnings in the 2017-18 fiscal year would place him in the top 30 nationally today according to USA Today's college basketball coaching salary database.
One notable omission from USC's most recent tax document was athletic director Lynn Swann, who was not listed among the school's "highest compensated employees." In the 2016-17 fiscal year tax document, Swann's predecessor, Pat Haden, was listed as earning $2.8 million — one of the highest figures in the nation for an athletic director.
Sign up for our daily sports newsletter »
Twitter: @BradyMcCollough
---