After USC's first win over Stanford, the Cardinal have improved. Have the Trojans?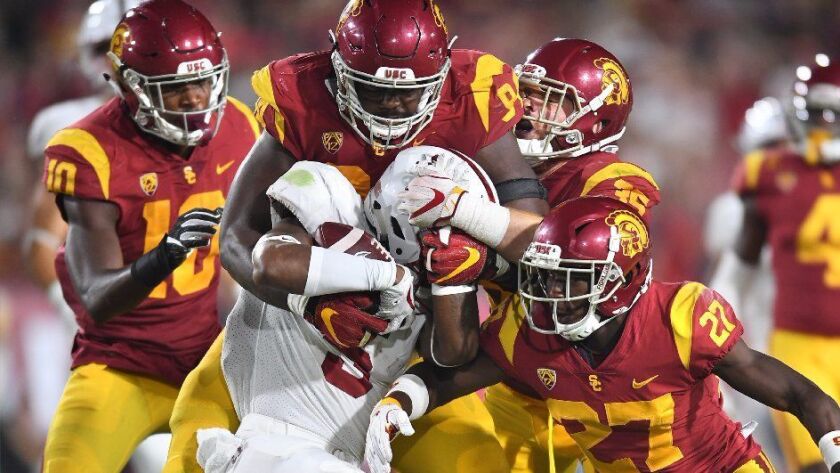 Stanford coach David Shaw did his preliminary preparation for Friday's Pac-12 championship game against USC by rewatching film of the first time the teams played, a 42-24 USC win.
He was just as blown away as he was in September.
"They were hitting on all cylinders, especially offensively," Shaw said. "I mean, that game, you go back to watch it again, it was just like: wow. Running it, throwing it, their pass protection was outstanding. Their quarterback was as good as you can play the position."
USC was the physically dominant team. Shaw remarked at the time that USC had run on them like few other teams ever have. USC, in other words, played Stanford-style football better than even Stanford.
Not long before Shaw's film study, USC quarterback Sam Darnold went out to dinner with his girlfriend at halftime of Stanford's game against Notre Dame on Saturday. When he left, Stanford led 14-10, but the game was anyone's.
Partway through dinner, he received a text from his father with the final score: 38-20. Stanford had scored the game's final 21 points.
"I was just like, 'Whoa,' " Darnold said. He returned home to watch the highlights. Stanford, he said, had physically dominated Notre Dame, a team that physically dominated USC not long ago.
So to recap: USC whooped Stanford. Notre Dame smashed USC. Stanford pounded Notre Dame.
The progression reflects a topsy-turvy season of college football, but more crucial for USC, it shows how far Stanford has evolved from its lopsided loss to to the Trojans. Friday's championship game will be a referendum on whether USC has similarly grown after what was likely its best performance of the season.
In the first meeting, USC played almost flawlessly. Darnold had just five incompletions. The Trojans rushed for 307 yards.
"And then," Shaw said, "they've had some rough spells."
The next week, USC rushed for only 71 yards in regulation and overtime against Texas. In fact, USC wouldn't break 200 yards rushing in a game for six games.
Meanwhile, Stanford followed its loss to USC with a shocking loss to San Diego State, and "everyone shoveled dirt on us," Shaw remarked on the field after Saturday's game. "We were done. It wasn't like our bandwagon was empty. There was no bandwagon."
Then, quietly, Stanford improved. The defensive line that USC exposed made some schematic tweaks, USC coach Clay Helton said. Mostly, though, it just got better. In the last five games, Stanford has allowed 3.9 yards per rush. Notre Dame managed just 3.5, 4.5 yards fewer than what the Fighting Irish averaged against USC.
The biggest change has been at quarterback. Keller Chryst completed 15 of 28 passes for 172 yards against USC. K.J. Costello, of Santa Margarita, has since usurped the role. He has had only two passes intercepted all season. Behind Costello, the offense developed from a one-trick pony, with running back Bryce Love, into a diversified attack.
"You saw exactly the m.o. of what David would love to have," Helton said. "A fabulous run game with a quarterback that hits his shots down the field."
Has USC made similar improvements?
Shaw said he has noticed a trend. USC has recently returned to pounding the ball on the ground, he said. In the last four games, the Trojans have averaged 255 rushing yards per game.
Otherwise, USC has been inconsistent, despite reaching 10 wins. The lurchy progress puts extra pressure on the championship game. Anything less than a win will likely be greeted with disappointment of unusual intensity. Athletic director Lynn Swann has made clear that he wants USC to play for championships.
USC, now a longshot for the College Football Playoff, has never won a Pac-12 title since the league expanded. No Pac-12 South team has won the championship game in the seven years since its inception.
USC has one advantage: It is coming off a bye week.
Shaw said it gives USC an edge.
"If anybody in the country deserved it, it's them," Shaw said. "Going 12 straight weeks without a bye, especially in this conference, playing nine conference games and Notre Dame, it's brutal."
Shaw knows a bye is no guarantee of success. In the first game, when USC dominated, Stanford was the team coming off a bye.
Helton offered a vote of support for offensive coordinator Tee Martin, whose name has surfaced as a candidate for the open Tennessee coaching job. "Tee is going to be an exceptional head coach," Helton said. "It's one of the reasons that he's stayed here in this period of time, to groom himself for that opportunity." Martin said he would not comment on any job rumors. … Defensive end Rasheem Green (shoulder sprain) did not practice. Tight end Tyler Petite (shoulder sprain) and running back Velus Jones (sprained ankle) were limited in practice. All are listed as day to day. … Outside linebacker Porter Gustin (broken toe) will not play Friday, Helton said.
Follow Zach Helfand on Twitter @zhelfand
---
Get the latest on L.A.'s teams in the daily Sports Report newsletter.
You may occasionally receive promotional content from the Los Angeles Times.