Today's Headlines: 17 L.A. gangs have sent out crews to rob the city's wealthiest
Surveillance video captured a man being chased down and robbed on the street in downtown Los Angeles in October.
By Elvia Limón and Laura Blasey
Hello, it's Wednesday, April 13, and here are the stories you shouldn't miss today:
TOP STORIES
LAPD says 17 L.A. gangs have sent out crews to follow and rob the city's wealthiest
More than a dozen Los Angeles gangs are targeting some of the city's wealthiest residents in a new and aggressive manner, sending out crews in multiple cars to find, follow and rob people driving high-end vehicles or wearing expensive jewelry, according to police. In some cases, police say, suspects have been arrested but then released from custody, only to commit additional robberies.
According to Capt. Jonathan Tippet, who spearheads a Los Angeles Police Department task force investigating these crimes, police have identified at least 17 gangs, most based out of South L.A. and operating independently, that are involved. There were 165 such robberies in 2021 and 56 so far this year, he said, including several over the weekend.
Must-read stories from the L.A. Times
Get the day's top news with our Today's Headlines newsletter, sent every weekday morning.
You may occasionally receive promotional content from the Los Angeles Times.
As Russia menaces Ukraine's east, Putin says peace talks hit 'dead end'
As Russian forces pressed ahead in their drive to seize the strategic southern port of Mariupol and encircle Ukrainian defenders in the country's east, Russian President Vladimir Putin defended his invasion as a noble cause. Putin said there was "no doubt" Moscow would achieve its aims to protect Russian security and, blaming Ukraine, said talks between the two sides had reached a "dead end."
Ukrainian President Volodymyr Zelensky, in turn, said the nearly 7-week-old war could be entering a "new stage of terror" for his embattled country after Russian troops' withdrawal from the capital, Kyiv. He again accused Russia of war crimes. Western and Ukrainian military officials were trying to ascertain whether Russia had used or intended to use chemical weapons in a bid to subdue Mariupol.
More on Ukraine
In California's governor's race, challengers attack Newsom's record on homelessness
Two of Gov. Gavin Newsom's most vocal challengers — Republican state Sen. Brian Dahle of Bieber in Lassen County and Bay Area energy and homeless policy activist Michael Shellenberger, a Democrat turned independent — hope to tap into festering voter anger over homelessness, crime and other quality-of-life issues as a way to overcome Newsom's enormous political advantages.
They have accused the governor of being beholden to the failed housing and homelessness policies of the far left. While ideologically different, both men are calling for a crackdown on homeless encampments and greater incentives for drug users and the mentally ill to receive treatment when provided housing.
Rampant inflation and anxiety stymie Biden's effort to focus on strong economic growth
It's a maxim in politics: Bad economic news trumps the good. And that is what scares President Biden and the Democrats. On Tuesday, inflation hit a new 40-year high.
Just five days earlier, the nation's unemployment rate had plummeted to nearly a 50-year low, a sign of a strong economy that the White House worries is getting lost in a swirl of consumer concerns about rising costs and deeper anxieties triggered by war and pandemic.
Eager to recast the public's view of the economy on the positive indicators while acknowledging and responding to inflation concerns, Biden traveled to Iowa on Tuesday to showcase a new effort to lower gasoline prices, announcing that E-15 gas, with its higher ethanol content, will be able to be sold this summer.
Sign up for our California Politics newsletter to get the best of The Times' state politics reporting and the latest action in Sacramento.
Coachella, spring break, Easter and rising coronavirus: How to stay safe
A recent uptick in cases is fueling some concern about the trajectory of the coronavirus in California, especially as April brings a bustling holiday season and a social calendar packed with spring break travel plans and major events like the Coachella and Stagecoach music festivals.
The number of newly reported coronavirus infections is rising modestly in some parts of the state. The numbers remain fairly low, and officials said it's far from clear the state will see another major spike. But they are urging people to be cautious.
L.A. County Public Health Director Barbara Ferrer this week urged people to "do our very best to make use of the powerful tools at hand, vaccinations, boosters, testing and masking, to keep ourselves and those most vulnerable to severe illness as safe as possible."
More top coronavirus headlines
Stay up to date on variant developments, case counts and vaccine news with Coronavirus Today.
Our daily news podcast
If you're a fan of this newsletter, you'll love our daily podcast "The Times," hosted every weekday by columnist Gustavo Arellano, along with reporters from across our newsroom. Go beyond the headlines. Download and listen on our App, subscribe on Apple Podcasts and follow on Spotify.
PHOTO OF THE DAY
CALIFORNIA
California could shrink water use in cities by 30% or more, study finds. Green lawns, old appliances and leaky pipes all consume significant amounts of California's water, and researchers have calculated in a new study that the state could make significant reductions by investing in measures to use water more efficiently. They said the biggest potential lies in Southern California.
DWP, mired in scandal, has its first inspector general. He vows to bring a 'zeal for independence.' The Los Angeles Department of Water and Power has tapped civil rights attorney Sergio Perez as the inaugural internal watchdog, starting May 9. But Perez faces a difficult task ahead: the agency has become mired in a sprawling corruption scandal, and a string of plea deals involving former DWP executives and city lawyers has revealed malfeasance at the highest levels.
It's the last day for a chance to get $1,000 a month from L.A. County. Here's how to apply. If you live in a poor or working-class neighborhood in Los Angeles County and the pandemic has hurt your pocketbook, you may be eligible to receive $1,000 a month for three years with no strings attached. But if you're interested, you should act quickly. To be considered, you must apply by today.
Los Angeles gas prices drop for a 15th consecutive day after 'unprecedented rise.' An average gallon of regular gasoline decreased 1.3 cents to $5.849, according to figures from the American Automobile Assn. That number was down from $5.96 just one week ago and $6.07 on March 28.
Deadly overdoses have spiked among teens, even as drug use dropped, UCLA researchers find. The findings underscore that teens face serious danger from the kinds of drugs circulating in the United States, including the powerful opioid fentanyl and other synthetic opioids and benzodiazepines.
Support our journalism
Subscribe to the Los Angeles Times.
NATION-WORLD
10 people shot in Brooklyn subway attack. A gunman filled a rush-hour subway train with smoke and shot multiple people Tuesday, leaving wounded commuters bleeding on a Brooklyn platform as others ran screaming, authorities said. Police were still searching for the suspect, but said there was no known link to terrorism.
Oklahoma governor signs bill to make abortion illegal. Gov. Kevin Stitt signed a bill into law that makes it a felony to perform an abortion, punishable by up to 10 years in prison, as part of an aggressive push in Republican-led states across the country to scale back abortion rights. Similar laws approved recently in Arkansas and Alabama have been blocked by federal courts.
El Salvador police are pressured to meet arrest quotas. Marvin Reyes, a representative of the Salvadoran Police Workers Union, said the actions of some police officials would result in arbitrary arrests. He said commanders are telling officers to give "false statements" against some who have been arrested but who have nothing to do with gangs.
Babies die as congenital syphilis continues a decade-long surge across the U.S. In 2012, 332 babies were born infected with the disease. In 2021, that number had climbed nearly sevenfold, to at least 2,268, according to preliminary estimates. And 166 of those babies died.
HOLLYWOOD AND THE ARTS
Gilbert Gottfried, comedian and 'Aladdin' voice actor, dies at 67. Gottfried was revered for his brash, irreverent style of stand-up comedy. The renowned voice actor was also known for lending his piercing, squawky vocals to Jafar's avian minion in the Disney animated classic "Aladdin," as well as the instantly recognizable Aflac duck.
Sleeper hit 'Our Flag Means Death' left us hanging. Season 2 would 'reorient' things. The little pirate show has turned out to be anything but little — in terms of both ambition and viewer appeal. Part romantic comedy, part period piece, the series is surprisingly large in scope, and it's swiftly emerged as a sleeper hit.
Millie Bobby Brown on being sexualized at a young age: 'It's gross and it's true.' On a recent episode of the "Guilty Feminist" podcast, the "Stranger Things" star opened up about being sexualized as a child celebrity and the "overwhelming" experience of growing up in the entertainment industry.
BUSINESS
AriZona iced tea has cost 99 cents for 30 years. As inflation soars, how does the company pull it off? The short answer: It's making less money right now. The longer one: AriZona is one of the few independent private companies remaining in the consolidated nonalcoholic beverage world, and the family behind it is committed to its approach.
Twitter bots helped build the cult of Elon Musk and Tesla. But who's creating them? Preliminary research concludes that automated Twitter accounts pushing positive sentiments about Tesla have played a significant part in the "stock of the future" narrative that propelled the electric car maker's market value to altitudes loftier than any traditional financial analysis could justify.
SPORTS
What's the deal behind Apple TV's deal to broadcast baseball games? We asked MLB. The Apple deal is worth $85 million per year to MLB, according to Forbes. The average annual value for all the league's national broadcast deals — ESPN, Fox, TBS, Apple TV+ and Peacock — is $2 billion.
Sparks go for Candace Parker vibes, taking Tennessee's Rae Burrell in the WNBA draft. Fourteen years after Candace Parker began her WNBA career with the Sparks, fellow Lady Volunteer Rae Burrell will make the trek to Los Angeles as the Sparks picked the 6-foot-1 guard ninth overall.
Doc Rivers? Nick Nurse? A Lakers insider's guide to Frank Vogel's replacement. The most intriguing coaching names they probably will consider are Utah's Quin Snyder, Toronto's Nick Nurse, Philadelphia's Doc Rivers and Michigan's Juwan Howard, but all of those coaches are under contract.
Free online games
Get our free daily crossword puzzle, sudoku, word search and arcade games in our new game center at latimes.com/games.
OPINION
A rape survivor gets her day in court. It's one I'll never forget. An emotional rape survivor tells the court she went from being a "sunshiny" person to being crippled with fear by "waking nightmares."
Millions are locked down in Shanghai because of 'zero COVID' protocols. Something needs to change. As near-daily mandatory testing expanded, people's fear became palpable. They weren't scared of the virus. The dread was over the government's "zero COVID" policy, which is implemented by placing anyone who tests positive in centralized quarantine facilities until they are determined to be COVID-free.
ONLY IN L.A.
Poachers are wiping out SoCal's wild white sage to make smudge sticks. You can stop them. The tall, silvery Salvia apiana is native only to Southern California and northern Baja, a habitat that is increasingly shrinking. But over the last decade, there's been another growing threat: sage stick smudgers.
You've seen them on social media, television and film: people waving thick, smoldering bundles of dried white sage leaves to smudge away negative energy or evil spirits, or just purify the air. And over the last five years, the mania for white sage has become a global phenomenon with real consequences.
It's bad enough that smudgers are appropriating and trivializing the traditions of Chumash, Tongva and other Southern California Indigenous peoples, one expert said, but what's really distressing is that, in the process, they may be unwittingly helping to destroy the few remaining stands of the plant growing in its native habitat as poachers hack into wild plants to cash in. Here's how to help.
FROM THE ARCHIVES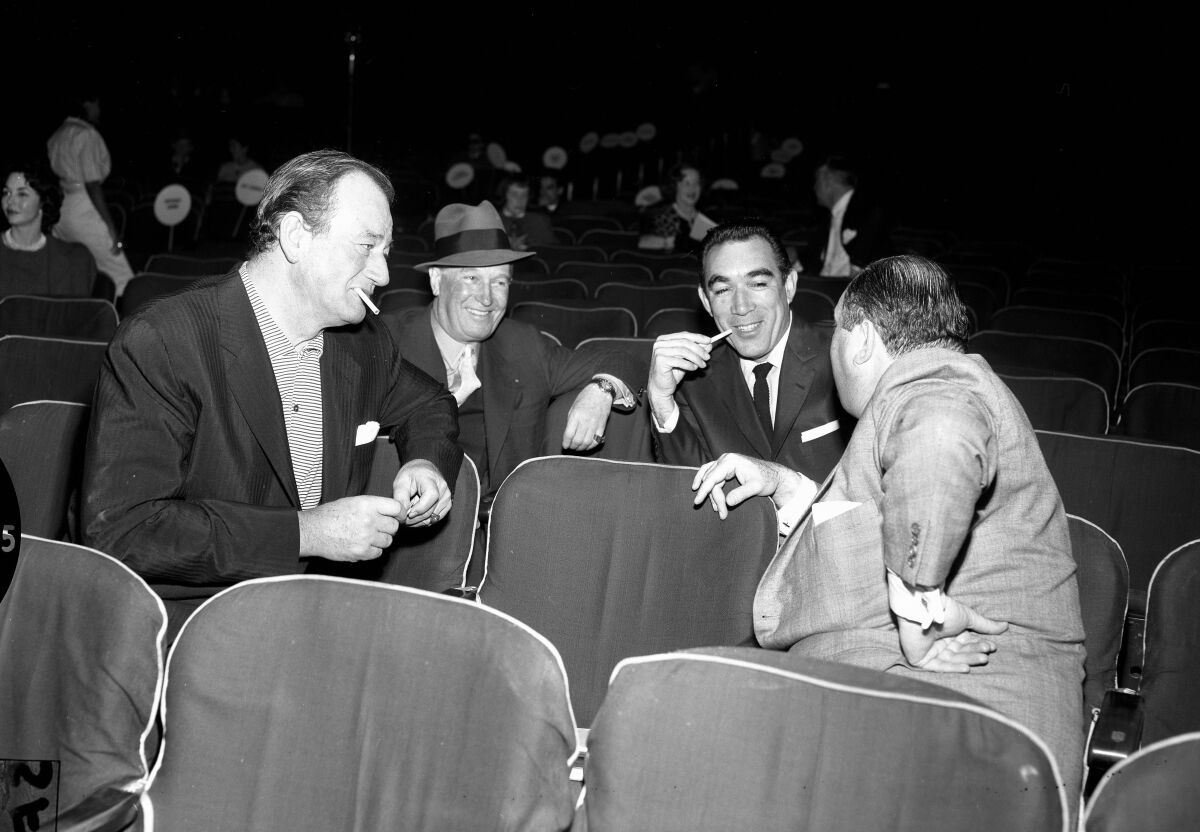 Who says cowboys can't win Oscars? Fifty-two years ago this month, actor John Wayne took an Oscar home for his role in "True Grit." The film for which Wayne would win his only Oscar was released and the critical, as well as public, acclaim began to roll in. It was as if for the first time, critics seemed to feel comfortable assessing Wayne as a talented actor.
Wayne, whose screen portrayals of men of duty, honor and courage coupled with his own off-camera brand of personal true grit, died from cancer nine years after receiving the award. Later that year, Orange County supervisors christened the county airport with Wayne's name at the urging of Supervisor Thomas F. Riley.
However, in recent years, there has been a push to rename the airport after the recirculation of the actor's racist and bigoted statements made against Black people, Native Americans and the LGBTQ community in a 1971 interview with Playboy magazine.
For the record: Yesterday's newsletter said consumer inflation jumped 7.9% over the last year. The correct figure is 8.5%.
We appreciate that you took the time to read Today's Headlines! Comments or ideas? Feel free to drop us a note at headlines@latimes.com.

Must-read stories from the L.A. Times
Get the day's top news with our Today's Headlines newsletter, sent every weekday morning.
You may occasionally receive promotional content from the Los Angeles Times.