Gilbert Gottfried, comedian and 'Aladdin' voice actor, dies at 67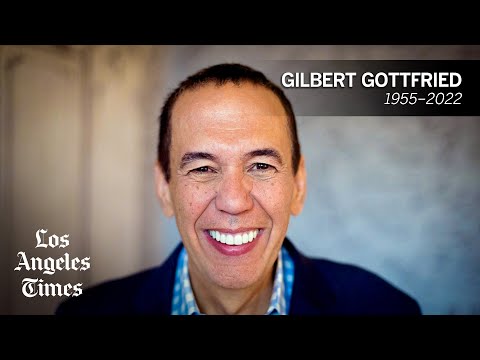 Comedian Gilbert Gottfried, known for voicing Iago in the Disney classic 'Aladdin,' has died after battling an illness.
Gilbert Gottfried, the veteran comedian and voice of the parrot Iago in "Aladdin," died after a long battle with a muscular disease.
"We are heartbroken to announce the passing of our beloved Gilbert Gottfried after a long illness," the performer's family wrote in a statement shared Tuesday on social media.
"In addition to being the most iconic voice in comedy, Gilbert was a wonderful husband, brother, friend and father to his two young children. Although today is a sad day for all of us, please keep laughing as loud as possible in Gilbert's honor."
Gottfried died of recurrent ventricular tachycardia due to Type 2 myotonic dystrophy, his longtime friend and publicist Glenn Schwartz told the Los Angeles Times.
Ventricular tachycardia is defined by the Mayo Clinic as "a heart rhythm problem (arrhythmia) caused by irregular electrical signals in the lower chambers of the heart." Myotonic dystrophy is a muscular disease characterized by an inability to relax muscles after they contract.
Gottfried was revered for his brash, irreverent style of stand-up comedy. The renowned voice actor was also known for lending his piercing, squawky vocals to Jafar's avian minion in the Disney animated classic "Aladdin," as well as the instantly recognizable Aflac duck.
Judd Apatow, Tiffany Haddish, Conan O'Brien and Kathy Griffin are among those who are mourning comedian Gilbert Gottfried, who died Tuesday at age 67.
"I saw Gilbert perform in 1985, and when he entered to applause he said, 'Thank you, thank you very much.' He then continued to say 'thank you' repeatedly for 10 full minutes," tweeted late-night TV host Conan O'Brien on Tuesday.
"It was the nerviest, funniest thing I had seen. So sorry to lose this sweet and delightfully funny man."
Gottfried began performing comedy at open-mic nights in New York City at 15, according to an Internet Movie Database biography written by his one-time publicist, Steve Honig. By 1980, New Yorkers referred to the entertainer as "the comedian's comedian," and NBC hired him as a cast member on "Saturday Night Live."
In 2012, Gottfried, who died Tuesday at 67, stepped up to the dais at the Comedy Central Roast of Roseanne Barr. I've never laughed harder in my life.
After breaking into television via "SNL," Gottfried was soon tapped by MTV to film snarky, improvised videos promoting the new music channel. He also appeared on several episodes of "The Cosby Show" before making the leap to the big screen. There, Gottfried gave a number of wacky, scene-stealing performances in films including "Beverly Hills Cop II" and the "Problem Child" franchise.
Released in the early 1990s, the "Problem Child" movies starred Gottfried as Mr. Igor Peabody — the grumpy, children-hating adoption agent and arch nemesis of the series' orphaned protagonist. Amid his "Problem Child" fame, Gottfried also voiced the wisecracking Iago in 1992's "Aladdin" opposite Jonathan Freeman as the nefarious Jafar.
Perhaps the only Hollywood actor ever typecast as an animated talking bird, Gottfried was also the voice of the Aflac duck, the winged mascot for the global insurance company of the same name. In 2011, however, Aflac fired Gottfried after the performer posted a series of insensitive tweets mocking victims of the Tōhoku earthquake and tsunami in Japan.
You won't find too many people who are indifferent about Gilbert Gottfried.
"I sincerely apologize to anyone who was offended by my attempt at humor regarding the tragedy in Japan," Gottfried told the Hollywood Reporter at the time in a statement. "I meant no disrespect, and my thoughts are with the victims and their families."
Gottfried drew criticism for those tweets, as well as other racist and shocking remarks he made during his career. During Comedy Central's 2001 roast of Playboy magazine publisher Hugh Hefner, Gottfried delivered a punchline about the Sept. 11 attacks that stunned attendees — one of whom yelled "too soon!" from the crowd.
Gottfried then launched into an obscene rendition of the legendary "Aristrocrats" comedy routine, which caused the audience to roar with laughter.
"I do everything for pure love," comedian Gilbert Gottfried said.
"Gilbert Gottfried made me laugh at times when laughter did not come easily," tweeted "Seinfeld" alum Jason Alexander about his death. "What a gift. I did not know him well but I loved what he shared with me."
In 2017, a documentary about Gottfried showcased a different side of the man behind the raunchy gallows humor. Directed by Neil Berkeley, the film presented a sympathetic, down-to-earth image of Gottfried as a devoted husband and father.
"I do everything for pure love," Gottfried told The Times in 2015. "Nothing has to do with finance or self-promotion. It's all love."
Gottfried is survived by his wife, Dara Kravitz; two children, Lily and Max; a sister, Karen, and nephew Graham.
Times staff writers Greg Braxton and Nardine Saad contributed to this report.
Get our L.A. Goes Out newsletter, with the week's best events, to help you explore and experience our city.
You may occasionally receive promotional content from the Los Angeles Times.