Three Southern states move to reopen businesses amid coronavirus crisis as experts warn of possible 'backfire'
Several Southern states moved on Monday to lift stay-at-home orders amid the COVID-19 pandemic, even as top federal health officials warned that too abrupt a reopening could spark new outbreaks of disease.
South Carolina and Georgia made the most aggressive pitches to return life to normal.
In South Carolina, Gov. Henry McMaster allowed beaches to open and said florists and furniture stores could do business by Monday evening.
In Georgia, Gov. Brian Kemp said gyms, salons, bowling alleys and other businesses would reopen on Friday. Kemp also said he would release guidelines this week that would let restaurants — but not bars or clubs — open in a week.
Tennessee Gov. Bill Lee announced that the "vast majority" of businesses could reopen by May 1 in all but the most populated counties, with some opening as early as April 27.
The three governors, all Republicans, said social distancing guidelines would be maintained.
"I don't give a damn about politics now," Kemp said. The governor said he was concerned about residents "going broke worried about whether they can feed their children and make the mortgage payment."
These are some of the unusual new scenes across the Southland during the coronavirus outbreak.
None of the three states has achieved the 14 days of sustained decline in coronavirus infections that White House guidelines said should be in place before lifting restrictions on commercial activity. Some public health experts have said widespread measures to reopen the economy would need to be accompanied by half a million tests a day — a level that the country has not yet reached.
In Louisiana, Gov. John Bel Edwards, a Democrat, asked for patience from his state's residents, saying he hoped to be able to lift restrictions soon, but that the state needed to increase its capacity for testing first.
"We have to do what we have to do to save lives. We gotta get through this together, and I assure you, we will," Edwards said.
Edwards did say that some hospitals would be allowed to resume elective surgical procedures, a step also taken in several other states under new federal guidance issued over the weekend. Hospitals nationwide largely stopped conducting non-emergency procedures last month in order to clear beds, a move that has significantly reduced revenue and caused serious financial strain for some medical centers.
At a White House briefing Monday, Vice President Mike Pence said "we have enough testing capacity for every state in America" to go to "phase one" of White House reopening guidelines for states and localities once they have achieved a 14-day decline in cases.
That message contradicted Maryland Gov. Larry Hogan, a Republican, who said Monday that the state was paying millions to secure hundreds of thousands of tests from South Korea.
Asked about Maryland, Trump said the governor needs to "get a little knowledge."
"I don't think he needed to go to South Korea," Trump said.
Dr. Anthony Fauci, director of the National Institute of Allergy and Infectious Diseases, warned Americans against returning too quickly to life as it was before the pandemic.
"It's going to backfire," Fauci said in an interview on "Good Morning America." "That's the problem."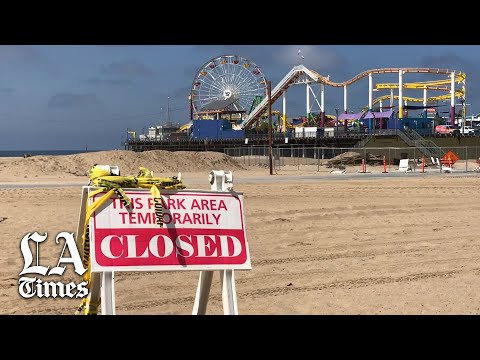 In New York, Gov. Andrew Cuomo said Monday that although the state appears to be moving past the worst of COVID-19, the possibility of "horrifically high" death rates remains if restrictions ease too fast.
In New York City, the worst-hit place in the country, Mayor Bill de Blasio said that healthcare workers could run out of surgical gowns by next week. Underlining the continued crisis in the city, the mayor canceled permits for major public events in June, which included New York's LGBTQ Pride March and Puerto Rican Day Parade.
Statewide in New York, officials reported 478 people died Sunday of COVID-19, the disease caused by the coronavirus. That's a drop from a week ago, when the disease killed close to 800 people each day. Hospitalizations have also declined in the state.
Polls continue to show large majorities of Americans support stay-at-home measures and are worried about states loosening them too early. A minority has differed and taken to the streets in several states to protest.
American flag-waving demonstrators gathered Monday in Harrisburg, Pa., with signs that included the phrases "The media is the virus" and "Jesus is my vaccine," and another small group stood with similar messages outside the North Dakota Capitol in Bismarck. The rallies followed ones last week in Michigan and Washington state.
Speaking on Fox News, White House advisor Kellyanne Conway echoed Trump, who has tweeted in support of the protest movements.
Conway said some state governors, including Michigan's, have "physically distanced from common sense" in placing restrictions. By example, she cited the state shutting down nurseries but allowing marijuana dispensaries to operate. "You can basically smoke your grass but not cut your grass. This makes no sense to many people," she said.
In his Monday interview, Fauci acknowledged the economic havoc that efforts to contain the virus have caused.
"The message is that clearly this is something that is hurting, from the standpoint of economics and the standpoint of things that have nothing to do with the virus," he said.
The U.S. still lags behind other nations in coronavirus testing even as it leads the world in number of infections and deaths from COVID-19, the disease caused by the virus.
More than 42,000 people have died.
Some local health clinics around the nation have put faith in the dozens of new kinds of antibody tests that promise to determine if patients have already recovered from the virus without showing symptoms. But almost all of those tests remain unapproved by the Food and Drug Administration.
Fauci warned on Monday against relying on them.
"The assumption that, with the tests that are out there, if you have an antibody positivity, you are good to go — unless that test has been validated, and you can show there's a correlation between the antibody and protection, it is an assumption to say that this is something that we can work with," he said.
"We still have a way to go."
Sorry, liberators. Court rulings have firmly established that public health closures — like our current coronavirus shutdowns — are constitutional.
Sign up for Essential California for the L.A. Times biggest news, features and recommendations in your inbox six days a week.
You may occasionally receive promotional content from the Los Angeles Times.