The day of Trump toilets and condoms in China may have just ended. Here's why that's controversial
Reporting from BEIJING —
It took a few lines on a Chinese website to end one fight over President Trump's right to his name and begin another.
China's government last month granted the "Trump" brand trademark protections in the construction industry, concluding a decadelong battle that, until last summer, the American businessman looked unlikely to ever win.
The notice finalized a decision in November, before Trump became president. But it ignited condemnation from U.S. ethics lawyers and Democratic lawmakers, including Sen. Dianne Feinstein (D-Calif.), who question whether the president violated the Constitution by accepting special favors from a foreign government.
An otherwise formulaic approval has escalated into a key example of the challenges — in perception and potential conflicts of interest — when a businessman with ties to a global portfolio also runs the country.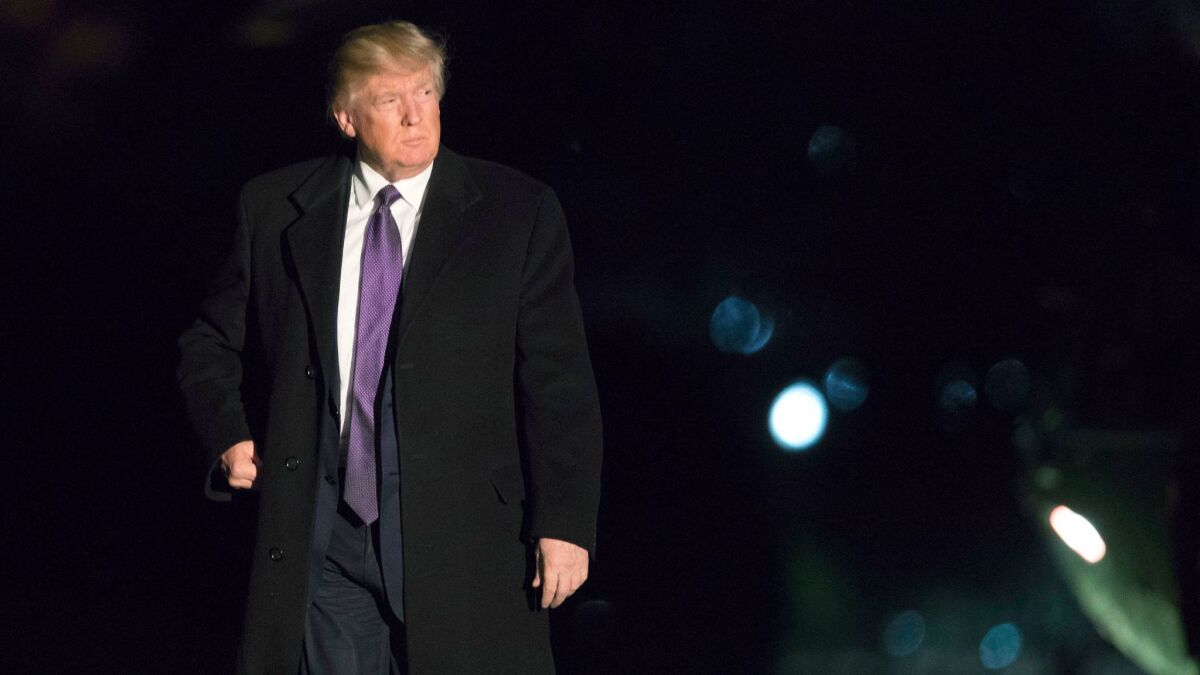 But is it a constitutional crisis or a cheap attempt at political points?
"I don't think this was just some low-level functionary pressing a key on a keyboard," said Matthew Dresden, a China international property lawyer at Harris Bricken in Seattle, who examined the case. "But the value of this trademark is not at the level that it would be even a meaningful bargaining chip. It's just not that big a deal."
So what's all the fuss about?
More than a dozen senators have denounced Trump's acceptance of the trademark award or demanded inquiries into its legality. They argue it violates a clause in the Constitution that prohibits public officials from taking valuable gifts from other countries unless approved by Congress.
"The possibility that the government of China is seeking to win President Trump's favor by granting him special treatment for his businesses is disturbing," Feinstein and two other senators wrote in a letter to Secretary of State Rex Tillerson.
The Beijing law firm that represented Trump, Unitalen, declined to comment.
The registration, the company said in a November statement, was "fully in line with the legal process, which has nothing to do with Mr. Trump becoming the U.S. president."
It's merely an extension of trademark rights the Trump Organization has enforced in China for more than a decade, Amanda Miller, the company's vice president of marketing, said in a statement. "Any suggestion otherwise demonstrates a complete disregard of the facts as well as a lack of understanding of international trademark law."
Trump has registered more than 70 trademarks for products in China, according to the trademark office, including pillows and vending machines. He has 49 pending.
What does this mean for Trump toilets, condoms and other Chinese brands that use his name without his permission?
The decision could help Trump wrest back more than 200 trademarks that make use of his name and block future entrepreneurs from capitalizing off it.
Zhong Jiye, co-founder of Shenzhen Trump Industrial Co., is preparing to defend his products, which include toilets that can administer pregnancy tests (you read that correctly). "I can't say I'm not worried," he said, adding his brand has nothing to do with the president.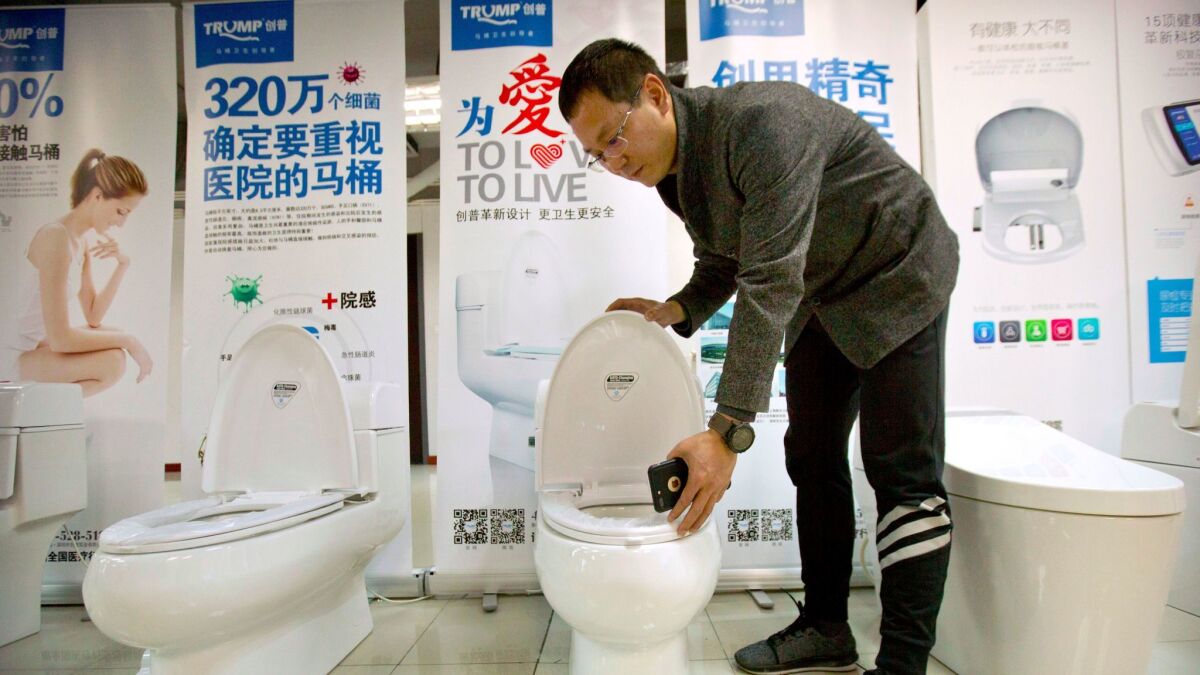 He explains that the Chinese name "Chuang Pu" refers to creativity and popularity, he said. And in English, the "u" in Trump looks fittingly like a toilet seat.
Very little is halting the flood of nearly 300 trademark applications from Chinese hopefuls using variations of Trump's daughter Ivanka's name for such products as soybeans and sanitary napkins.
"She is what the modern woman should be," said Foshan Nanhai Bainuo Sanitary Products founder Li Jun, who wants to use her name for underwear and pads. "I hope my product can sell better with the trademark."
Did Trump's phone call with Chinese President Xi Jinping influence the trademark ruling?
Probably not. Trump received the trademark just days after he spoke with Xi and backed away from a change to U.S. policy on Taiwan. But the government had already made its decision.
In 2006, a Chinese man named Dong Wei beat Trump in registering for his own trademark by two weeks, thanks to a first-come, first-served system. Trump's efforts to appeal for the rights and, separately, to scrap Wei's trademark failed.
Then, after the courts ruled against Trump again in 2015, his lawyers tried again. It worked. In September, China's trademark office announced it had invalidated Wei's claim.
This made it possible to proceed, and on Nov. 13, the agency said the registration change would become permanent in three months, if no one objected. No one did.
Why did China agree with Trump after all those years?
It's not clear. Legal experts point to Trump's rise in stature and efforts by China to improve its intellectual property standards.
The deliberation is not public and officials provide no reasoning. But Dresden thinks Trump's increasingly high-profile persona may have played a role.
"It's hard to imagine there was no attention paid to this," he said.
The trademark office did not invalidate a part of the claim related to mining and drilling, which Dresden said could indicate officials were trying to act reasonably.
The move followed a December ruling that blocked sportswear company Qiaodan Sports from using the Chinese version of Michael Jordan's name. And in January, the Supreme People's Court released guidelines that prohibited trademarks for names of public figures in fields such as politics and culture.
Decisions like these "may be read as a tendency to give better protection to foreign celebrity interests in China," said Haochen Sun, director of the Law and Technology Center at the University of Hong Kong and a specialist in intellectual property law.
The State Administration for Industry and Commerce, which oversees the trademark office, directed questions to the agency. It did not answer calls.
Could Trump benefit from the decision?
Some analysts believe investors, wary about the delicate relationship between China and the U.S., will veer away from anything bearing Donald Trump's name. But two chief ethics lawyers under former Presidents George W. Bush and Barack Obama argue China could still use Trump's ties to his family empire to influence policies.
They're part of a lawsuit filed in federal court in New York that alleges the president's foreign business connections violate the Constitution.
"We should be seriously concerned about Mr. Trump's ethical standards," Sun said. "The registration carries the message that Trump is still doing business."
Meyers is a special correspondent. Nicole Liu and Yingzhi Yang in The Times' Beijing bureau contributed to this report.
ALSO
China, upset over a planned missile-defense system, is taking aim at South Korea's pop stars and TV shows
Sri Lankans who once embraced Chinese investment are now wary of Chinese domination
Secretary of State Rex Tillerson largely disappears in the Trump Cabinet
Must-read stories from the L.A. Times
Get the day's top news with our Today's Headlines newsletter, sent every weekday morning.
You may occasionally receive promotional content from the Los Angeles Times.