The Donald Trump of Asia? Brash, unrepentant mayor leads Philippine presidential race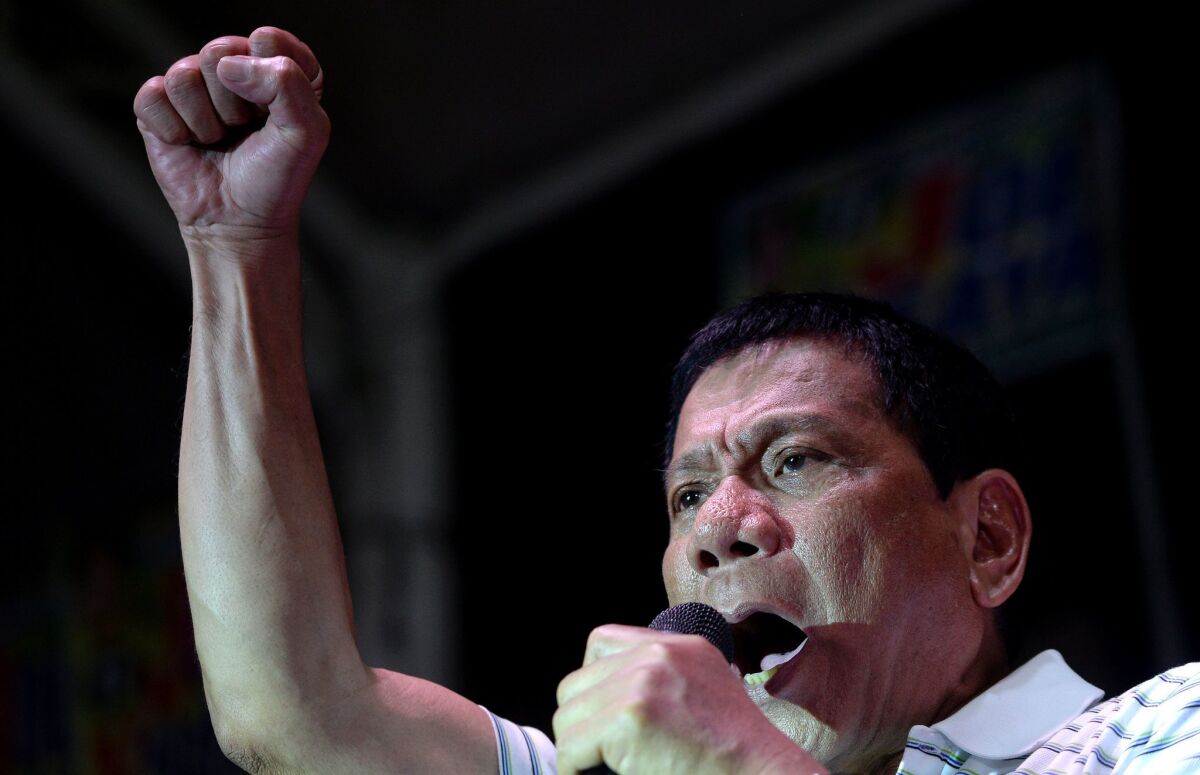 Reporting from Manila —
Gina Lopez is hardly the kind of person you'd expect to support a presidential candidate who has endorsed vigilante death squads, made disturbing comments about rape, and vowed to kill his own kids if they ever took drugs.
As head of a prominent nonprofit focused on child welfare, education and the environment, she might be expected to back someone more moderate. But when Philippine voters head to the polls on May 9, she's casting her ballot for Rodrigo Duterte, the tough-talking, foul-mouthed mayor of the southern city of Davao.
"What I like about him is that he is fearless — he does not care about anyone or anything, he does not say anything to pander to anyone. It's why he gets in trouble," said Lopez, chairwoman of the ABS-CBN Lingkod Kapamilya Foundation Inc., who says she met personally with four of the five candidates at the start of the campaign to decide who would get her support.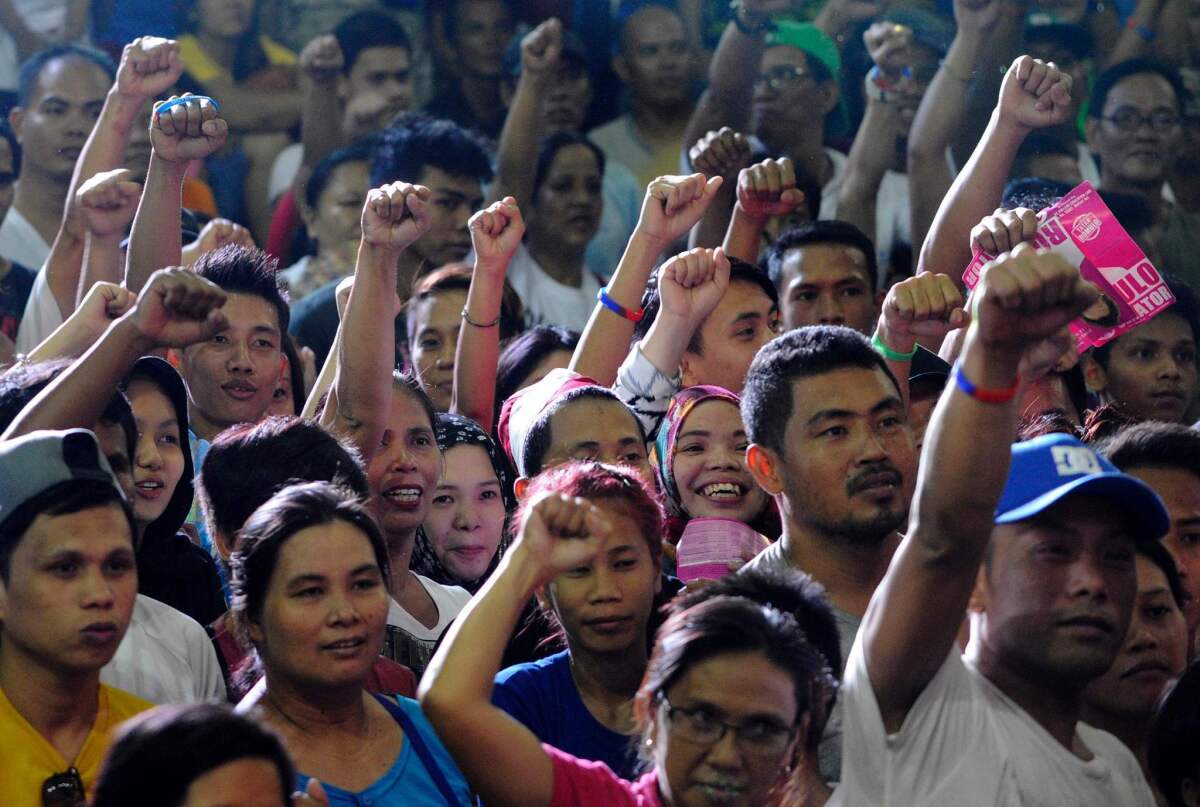 "After studying data and meeting everyone, I feel his personality is most suited to lead the country for now," she said. "In order to make [things] happen, you need more than intelligence. You need a certain gutsiness and willpower and energy to make it happen."
Lopez is hardly alone. Over the last three months, even as Duterte has topped each offense with almost daily new outrages, opinion surveys show he has taken the lead among voters across all social classes and catapulted to the front of a five-way race. His supporters include upper-crust business leaders, streetwalkers and gay activists—strange company for a candidate who has attracted howling denunciations from Human Rights Watch and other like-minded groups.
A late entry in the race to replace Benigno Aquino III, who like all Philippine presidents can serve just one six-year term, Duterte wasn't initially viewed as the favorite. He's never held a national-level political office and had a relatively small campaign war chest. His rivals appeared formidable: two senators, the current vice president and a former Cabinet minister from Aquino's party who is the grandson of a former president.
Aquino has presided over a period of relative prosperity and stability. In the last few years, the Philippines — long considered a "sick man" of Asia — has seen its economy boom. In a country long rife with graft, his administration stepped up anti-corruption efforts, arresting a host of top officials, including Aquino's predecessor, Gloria Macapagal-Arroyo. The chief justice of the Supreme Court was impeached.
This guy makes Trump look like an angel.
— Lynn T. White III, Philippine political expert
But some say he hasn't gone far enough. And there have been high-profile blunders, including a deadly bus hostage crisis, a slow response to a devastating typhoon in 2013, and the death of 44 special forces troops in a botched terrorist raid. Roads in the capital, Manila, are clogged with traffic. Power outages plague the country.
Duterte, 71, contends that the country needs a man who will kick some butt — and he's the man to do it.
He's pledged to "solve crime and corruption" in three to six months. He's vowed to dissolve Congress if it gets in the way. Confronted with accusations that he's sanctioned death squads in Davao to carry out extrajudicial killings of suspected drug dealers and other criminals, he's responded by warning lawbreakers: "I would kill all of you who make the lives of Filipinos miserable."
At the same time, he has unleashed a stream of comments, particularly about women, that have been nothing short of shocking. In widely reported remarks, he described himself as a womanizer with two wives and two girlfriends—and said he saves money by housing the girlfriends in a cheap boardinghouse. He also was quoted describing the gang rape and killing of an Australian missionary in a Philippine jail. The female victim, Duterte said, was beautiful, so he "should have been first."
Nevertheless, political analysts say they can understand Dutarte's appeal.
"People are eager to see transformational change. They feel that someone who will take the bull by the horns — that kind of executive is what's needed," said Gerard Finin, director and senior research fellow at the East-West Center in Honolulu who studies Philippine politics.
Enrico Trinidad, a former vice president of the Philippine stock exchange, described Duterte as an upright manager. "With fewer resources than cities in metro Manila, Mayor Duterte has given the constituents of Davao all that they deserve — an efficient, incorruptible and compassionate government," said Trinidad, 56, who is now president of MOCYRI Holdings Corp., a real estate group.
Duterte's appeal comes in part from the fact that his ideology doesn't fit in a neat box. He's against legalizing divorce, for example, but has said he would consider supporting same-sex marriage. Although many women find his comments offensive, he championed the adoption of a wide-ranging women's rights ordinance in Davao.
It's not just on the domestic front that Duterte is pledging bold action. He promised to take on China if the Philippines prevails in an international tribunal over claims in the South China Sea and Beijing doesn't abide by the decision or open talks.
"I will ride a jet ski and plant the Philippine flag there in their port," Duterte said.
Although Washington and Manila are longtime allies, Duterte sees Uncle Sam as a less-than-reliable friend. Last year, before declaring his candidacy, he told visiting military attaches from both China and the U.S. that "America would never die for us."
Such brashness has earned Duterte comparisons to a certain presidential contender in the United States.
"This guy makes Trump look like an angel," says Lynn T. White III, an emeritus professor of politics and international affairs at Princeton University and author of a 2014 book, "Philippine Politics: Possibilities and Problems in a Localist Democracy."
To be sure, Philippine voters have long been attracted to strongman-style leaders. Ferdinand Marcos, who was elected president in 1965 and later ruled the country as a dictator, campaigned as a World War II hero and as someone, White noted, who "killed a man and advertised the fact." More recently, Joseph Estrada, who was president from 1998 to 2001, was an action-film star.
Duterte is far from having the support of a majority of Filipinos. A poll taken April 16-20 by the firm Pulse Asia showed him with 35% nationwide support, with Sen. Grace Poe at 23% and a pack of other candidates trailing. But in the Philippine election system, candidates don't need a majority — whoever gets the most votes wins.
Filipinos supporting other candidates say they fear Duterte could precipitate diplomatic and economic crises.
"If he becomes president, the man can't control his mouth.... There could easily be an international diplomacy meltdown," said Carlos Celdran, an artist and activist in his mid-40s who is supporting a rival candidate.
But Trinidad, the former vice president of the stock exchange, said voters are willing to take a risk. "At the end of the day, a majority of the Filipino people are fed up, and Duterte is their agent of change," he said.
Times staff writer Makinen reported from Beijing and special correspondent DeLeon from Manila.
ALSO
Trump spurs a fresh wave of Latino activism
Sharpton: Larry Wilmore's calling Obama the 'N-word' was in 'bad taste'
On his Santa Monica mountaintop, a billionaire envisions lofty thoughts
---
Must-read stories from the L.A. Times
Get the day's top news with our Today's Headlines newsletter, sent every weekday morning.
You may occasionally receive promotional content from the Los Angeles Times.