On his Santa Monica mountaintop, a billionaire envisions lofty thoughts on politics and culture
Nicolas Berggruen scuffs along a dirt road overgrown with foxtails, high in the Santa Monica Mountains. The Los Angeles basin falls at his feet.
The skyscrapers of downtown, the gantry cranes at the port and the peaks of Catalina are diminished by a vast panorama stretching from Saddleback Mountain in the east to the blue of Santa Monica Bay below, from Mt. Baldy in the haze and a slice of the San Fernando Valley at his back.
"Watch out for rattlesnakes," he says, stopping on the brow of a small knoll.
Upon this stretch of undeveloped dirt, one-time landfill for the city, Berggruen is hoping to build the headquarters for a think tank that bears his name. He purchased these 450 acres, just west of the 405 Freeway in the Sepulveda Pass, last year and hopes to break ground before the decade is over.
The Berggruen Institute could be the last large project built in the eastern Santa Monica Mountains, a cloistered campus that would occupy half the remaining, private open space between Topanga State Park and the San Diego Freeway.
Five years ago, Berggruen, 54 and one of the richest men in the world, stepped away from the businesses that created his fortune. He had grown bored with his wealth and set a new challenge for himself: to create a destination where global politics and culture can meet.
At the time, he had a reputation as the homeless billionaire, a hotel habitué jetting around the world in his Gulfstream. Now he's ready to put that image aside.
By way of explanation, he points to a distant high-rise, snuggled against the Hollywood Hills. There, he says, is the nursery for Olympia and Alexander, his two-month-old babies, brother and sister born from one egg-donor and two surrogates.
"If you don't think California can be transformative," he says, "then you might as well pack your bags and leave."
Back in the Escalade, the architectural plans for the project are tucked into a gray slipcase. Berggruen doesn't want to share the details before speaking with the neighboring communities.
He will say that after interviewing 30 architects, he tapped Herzog & de Meuron — famed for the Beijing National Stadium, the incandescent Bird's Nest — to make a statement as dramatic in design as the ideas it hopes to foster.
See the most-read stories this hour >>
Home for up to 50 visiting scholars, the institute will develop a portion of the property. Its campus will have gardens, conference rooms, dining facilities, bungalows and a private residence for the chairman. He says the footprint is smaller than the Getty and smaller than what had been planned.
Lying between the Getty Center and the community of Mountaingate, the property had been apportioned for a series of new homes until its owner, Castle & Cooke, sold it for $45 million.
Berggruen knows that any development will be controversial. He is asking nearby residents to imagine a monument both virtuosic and commanding, "a secular monastery" as he calls it.
Forthcoming and guarded, boyish and intense, Berggruen is a paradox, a man willing to engage with the sometimes ugly, messy political problems dividing the world, while cosseted, if not isolated by his wealth.
Entering the think tank fray
In its fifth year, the Berggruen Institute is on its way to establishing itself in a crowded landscape of think tanks.
Funded at $500 million, the institute has been called a mini-Davos in reference to the global economic forum held in Switzerland and is ready to claim its mountaintop. Berggruen, who waves aside discussion of his worth only to say that Forbes' estimate of $1.52 billion is low, hopes to increase the endowment to $1 billion.
But the size of an endowment, said James G. McGann, director of the Think Thanks and Civil Societies Program at the University of Pennsylvania, is not always a measure of an institute's efficacy.
"I put think tanks and foundations into three categories: kooky, conventional and cutting edge," said McGann, who is uncertain where this institute lies.
Interested in the stories shaping California? Sign up for the free Essential California newsletter >>
Success comes from the quality and impact of the scholarship, and McGann is concerned that Berggruen hasn't done enough to develop a vision greater than his own.
With Berggruen as chairman, his board includes Arianna Huffington, Pakistani economist and former prime minister Shaukat Aziz, former CEO at PIMCO Mohamed El-Erian and political scientist Margaret Levi. Its administrative staff of about 20 works out of offices in West Los Angeles with branches in New York, Washington, D.C., Berlin and Beijing.
The institute has developed philosophy and culture fellowships at selected universities and the annual $1-million Berggruen Prize in Philosophy, but the work of its committees and councils lies at the heart of its mission.
Meeting regularly, they produce reports for political leaders and often publish their recommendations in the World Post, an on-line publication of the Huffington Post and the institute.
The 21st Century Council is comprised of 51 members including advisor to China president Xi Jinping, Zheng Bijian; the former president of Brazil, Fernando Henrique; former president of Mexico Ernesto Zedillo; executive chairman of Alphabet (formerly Google) Eric Schmidt and Nobel laureate Joseph Stiglitz. Their task: to help shape the agenda for the annual G-20 summits.
The Council for the Future of Europe — 30 members including former prime ministers of Germany, Sweden, the United Kingdom, Poland, Spain, Italy, Finland and Belgium — meets to grapple with the economic and political crisis facing the European Union.
Perhaps the most effective policy recommendations have come from the Think Long Committee for California, 15 members including Eli Broad, Willie Brown, George Schultz, Condoleezza Rice and Gray Davis.
Working with Common Cause, California Forward and other state groups, Think Long helped revise the ballot initiative process. It also worked with Gov. Jerry Brown to get Proposition 2, the so-called rainy-day fund, on the ballot in 2014. Both measures are now law.
The Berggruen Institute argues that the best public policy can be derived from experts in the private sector and from former politicians no longer constrained by their constituencies.
The approach, said Ted Halstead, founder and former CEO of the New America institute, is a rarity.
"Most think tanks have to earn their keep the hard way by having compelling ideas from the get-go to inspire the investment of well-to-do people," said Halstead. "If you start with money, that doesn't force you to stake out a position."
Disenchanted with wealth
The son of Heinz Berggruen, a Jewish art collector who fled Hitler's Germany in 1936, Berggruen grew up in Paris, a childhood marked by the privilege of his father's success as a close friend to Picasso, Miró, Man Ray and the families of Klee, Matisse and Kandinsky.
Berggruen recalls first visiting Los Angeles in the 1970s when he was 11 or 12. He stayed with the family of art dealer Paul Kantor, a friend of his father. Kantor lived near the Beverly Hills Hotel, and the city with "blue skies and pretty girls" offered an experience unlike anything he had known back home.
Years would pass before he returned, asides that included being expelled from boarding school, working for London developer and philanthropist Max Rayne and graduating with a business degree from New York University.
He showed an early skill in investing. Stocks led to co-op conversions and later, the creation of a group of hedge funds that he sold. His fledgling company, Berggruen Holdings, borrowed a page from Warren Buffett's playbook, acquiring distressed companies with high cash flows: hotels, manufacturers, retailers.
But somewhere into his second billion, the trappings of wealth, he said, lost their meaning. He sold an island estate in Florida, his apartment in New York.
He felt owned by his own possessions, he said. Then he started the institute.
Unraveling Berggruen's motivations is a murky business. Ego and altruism, today's reputation, tomorrow's legacy are tightly wound strands, and now as he is about to reveal his plans for the Santa Monica Mountains, he adds another: a commitment to this city and a new identity for himself and possibly for the region.
At a fifth anniversary party on Tuesday at the Beverly Wilshire Hotel, Berggruen will introduce his latest committee, 14 Angelenos — Snapchat founder Evan Speigel, former Councilwoman Cindy Miscikowski, former county supervisor Zev Yaroslavsky, architect Frank Gehry, to name a few — who will help steer the institute more directly into Los Angeles' civic life.
"This is what built California," said Geoffrey Cowan, chairman of the Los Angeles committee and president of the Annenberg Foundation Trust at Sunnylands, "people who believed that the state can be ambitious beyond its horizons."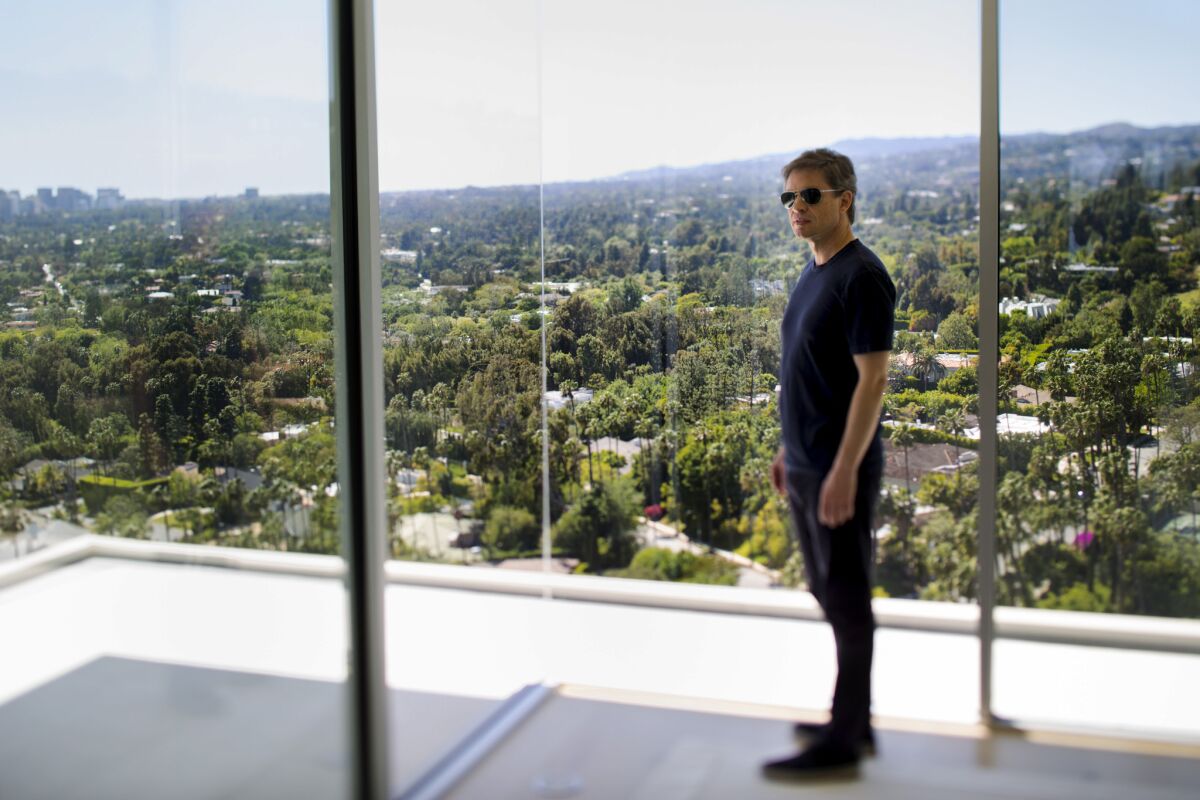 An L.A. state of mind
From the living room of his condominium in West Hollywood, Berggruen and Nathan Gardels, cofounder of the institute and editor of the World Post, are trying to answer the question: Why Los Angeles?
Berggruen says Los Angeles has given him the opportunity to do what many new arrivals have done: reinvent themselves at a distance from the past.
"In Europe, dreaming is hard," Berggruen says. "In California and in Los Angeles, there is an openness. People are more accepting of differences and willing to be surprised. New York and London are cities that own you."
Where others see its deficits, Berggruen sees virtues. A city without a center leaves its residents alone to develop new ideas. Its often daunting size offers not just physical but mental space. Individualism, even at its extreme, leads to creativity.
"Los Angeles is a state of mind," he says. "It's atmospheric, visual, conceptual. You can be independent in L.A. No one judges you here; it isn't like a 19th century novel."
In Europe, dreaming is hard. In California and in Los Angeles, there is an openness.
— Nicolas Berggruen
Gardels remembers first meeting Berggruen at a lunch for the Council of Foreign Relations seven years ago.
"My fear was that he was a rich guy looking for vanity projects," Gardels said.
Instead he found someone who was looking for a chance to make up for lost time. Berggruen calls himself a late bloomer.
"You evolve and change," he says. "Some realize early; some realize late what they want. There was a long detour, but I think it was too long. I wish I'd started on this 15 years ago; that is a regret."
Lounging on a white sofa in black socks, black trousers, black T-shirt, he wears aviator shades against the glare of the city.
Modernist décor gives his home a cool, curated appearance with little out of order: papers stacked on a Joaquim Tenreiro-designed dining table-turned desk, a copy of James Salter's "A Sport and a Pastime" lying on a desk and two floppy-eared rabbits and a purple elephant arranged — a Rosebud-like mystery — against the pillows of his bed.
Berggruen is more revealing on Facebook, posting an appreciation of Prince, a photo of a David Gilmour concert at the Hollywood Bowl, snaps of him with Elon Musk, Al Gore, Ryan Seacrest, Antonio Villaraigosa, Moby and Arnold Schwarzenegger.
He moved into this building last year, tired of his residency at the Peninsula Beverly Hills. He owns other units as well for staff and guests. To visit his children, he sends a text to a personal assistant to make sure they're not out on a walk and takes the elevator down.
His driver is holding Olympia, a sip bib over his shoulder. His personal assistant has Alexander. Berggruen huddles near and mutters to his son in French.
"Something came over me, almost hormonal. Why? I have no idea," he says, explaining his decision to start a family. He had girlfriends, but marriage held no appeal. "I went on a search to create children in a modern way, to combine nature and science and create a boy and a girl, full siblings. What an incredible thing, and not that unusual for Los Angeles."
Passion and political connections
On a Tuesday afternoon after a morning workout, Berggruen is walking to the Polo Lounge, a familiar two-mile route across Sunset Boulevard and through the residential streets of Beverly Hills. He's talking about the future.
"An ideal society sounds like Eden, a little utopian. But what do you want?" he asks and answers. "A society where people can flourish in harmony with one another."
He pauses to admire the jacarandas, just beginning to purple the sidewalk trees. The city is so peaceful, he says, perfect for walking, but you will see no one out here walking. Children voices in a playground draw near.
"So how does government function? It balances the voice of the people and the meritocratic expertise of the government to fulfill its obligation as a service provider."
Arriving at the Beverly Hills Hotel, he skirts the lobby and cuts through the bungalow court.
"Some people are passionate about gardens or families," he says. "This is what I am passionate about. The day you lose your passion, is the day you die."
At the Polo Lounge, he whispers to the host. He'd like a private table in the back. An hour later, he is joined by his friend, Nicolas Sarkozy, the former president of France, who arrives in shorts.
Twitter: @tcurwen
ALSO
Trump spurs a fresh wave of Latino activism
Park 16 years in the making pays tribute to Vietnam veterans and their letters home
UC Davis chancellor's troubles raise a question: How could such a brilliant woman stumble so badly?
The stories shaping California
Get up to speed with our Essential California newsletter, sent six days a week.
You may occasionally receive promotional content from the Los Angeles Times.