'I wasn't sure if I was alive': Horror at American University of Afghanistan ends with 13 dead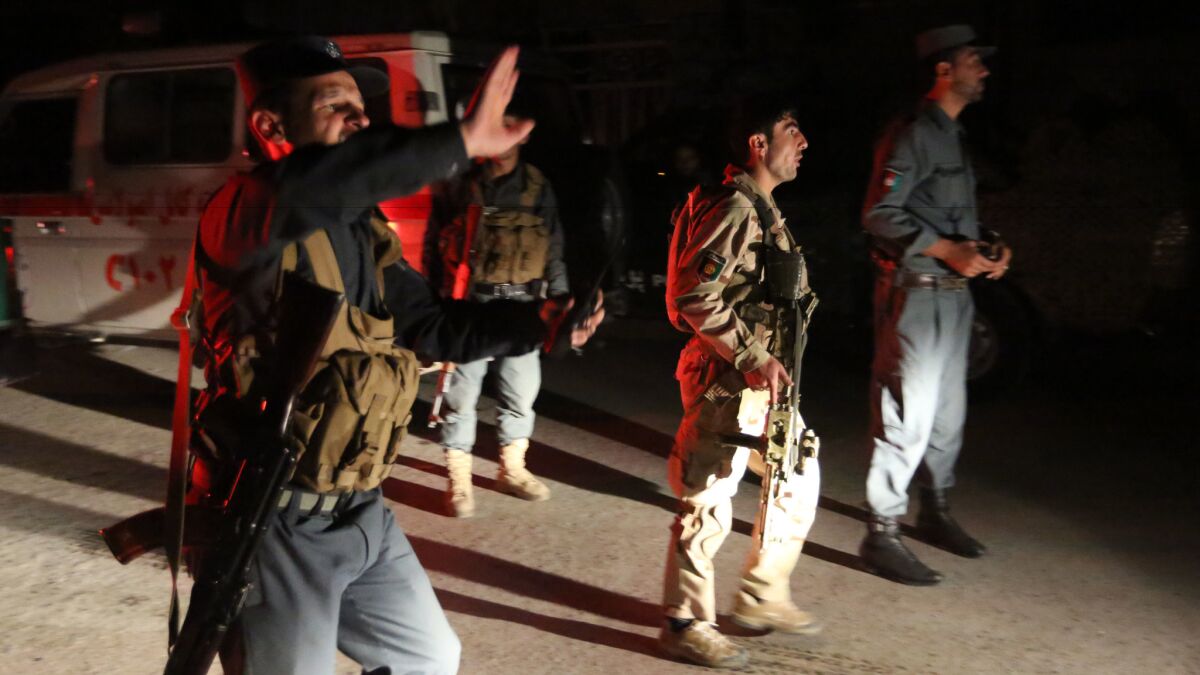 Reporting from Kabul, Afghanistan —
Masouma Ahmadi, a senior at the American University of Afghanistan, was in class listening to a lecture when an explosion shook the campus.
"The power went out. Everywhere turned to dark," Ahmadi said. "The ceiling collapsed, and dust blocked my view."
Her classmates at the prestigious university in Kabul knew immediately they were under attack. Some rushed to the door, others to the window, looking for an escape.
Ahmadi and other students ran out of the building and toward the main gate of the campus, where three security guards led them to an emergency exit. As they followed the guards, Ahmadi heard gunshots and looked behind her: Five of her classmates lay on the ground, bleeding.
They were believed to be among the 13 people killed by militants in a complex attack on the university that ended Thursday morning.
Three assailants also were dead by the end of the siege. One blew himself up in the attack; two were killed by security forces, said Sediq Sediqqi, spokesman for the Interior Ministry.
The dead consisted of seven students, three members of the Afghan security forces, two university security guards and a lecturer, according to a statement from the presidential palace. Thirty-six students and employees and nine police officers were wounded.
One of the militants detonated a car bomb at the entrance to the U.S.-funded university in western Kabul about 7 p.m. Wednesday during evening classes, Sediqqi said. They had accessed the entrance of the university through a vocational school for blind pupils next door, Kabul police chief Abdul Rahman Rahimi said.
Two other attackers then stormed the campus, shooting dead seven students outside before reaching the third story of the main university building, Sediqqi said. The militants took up positions there and began battling security forces, including members of a rapid-response police force who arrived soon after the attack began.
"Our two police were killed when the assailants threw hand grenades at them," Sediqqi said.
Hundreds of students were on campus at the time, some of whom barricaded their classrooms or fled via emergency exits. About 700 students were rescued, Rahimi said.
Ahmadi, who was still shaken Thursday as she described the attack, said she was lucky to escape uninjured. University guards led her and others to a safe area on campus, where they were told to dive to the ground several times to avoid being seen, she said.
"We really didn't know what was happening and didn't know what to do. We just panicked," she said. "I'm sure we are all traumatized. I wasn't sure if I was alive."
A classmate leaped from a third-floor window and was in critical condition, she said.
Established in 2006 with U.S. government funds, the university teaches an American-style liberal arts curriculum. More than 1,000 male and female students are enrolled.
Though no group immediately claimed responsibility for the attack, the American University — one of the country's best-known learning institutions and a symbol of U.S. largess — has long been in the crosshairs of the Taliban and other militant groups.
Afghan officials pointed the finger at Pakistan, where the Taliban leadership is based. Afghan President Ashraf Ghani spoke by phone to Pakistan's army chief, Gen. Raheel Sharif, and urged an investigation.
U.S. Secretary of State John F. Kerry condemned the attack, calling the university "a beacon of hope for all Afghans."
"This was a cowardly assault on talented and motivated scholars — students and faculty alike — dedicated to a better and more prosperous future for Afghanistan, as well as the police and security staff who help make that future possible," Kerry said in a statement.
Pentagon spokesman Adam Stump said a "small number" of U.S. military advisors assisted Afghan forces responding to the attack, though they were not directly involved in combat.
Two weeks ago, two university staff members, an American and an Australian, were kidnapped from their car by gunmen. Their whereabouts remain unknown.
Special correspondent Faizy reported from Kabul, and staff writer Shashank Bengali from Mumbai, India.
MORE WORLD NEWS
Syrian rebels backed by Turkey and U.S. claim major victory over Islamic State
Death toll reaches 159 in powerful earthquake that rattled central Italy
Colombia, FARC rebels announce accord to end 5-decade war
---
UPDATES:
Aug. 25, 12:30 p.m.: This article was updated throughout with new interviews and additional details.
9:55 p.m.: This article was updated with staff reporting, including a higher death toll.
This article was originally published at 8:25 p.m. Aug. 24.
Must-read stories from the L.A. Times
Get the day's top news with our Today's Headlines newsletter, sent every weekday morning.
You may occasionally receive promotional content from the Los Angeles Times.