Great Read: The Sao Paulo commute: Walk, bus, train, train, train, bus, walk. Repeat.
Sao Paulo, Brazil's largest city and financial center, is a chaotic metropolis approaching complete paralysis through gridlock. The city is consistently ranked among the worst in the world for traffic jams.
Reporting From SAO PAULO, Brazil —
It's 6:30 a.m., and the sun is already painfully bright as Nilda Oliveira steels herself to board her third train of the morning.
"I never sit down. I never try. I don't have the courage," the 48-year-old says, stepping back as the train arrives and men and women push urgently into a space that is much too small to contain them all, bumping haphazardly against the train and one another, rushing to the seats.
"To try to sit, you have to rush in, shoving people aside. There's a fight almost every day."
She waits just long enough, then expertly slides into a small open space she spots from afar. To her right, a boy in a Quiksilver hoodie slumps to the floor, brings his knees to his chest to fit into a corner and rests his head on his knees, looking down.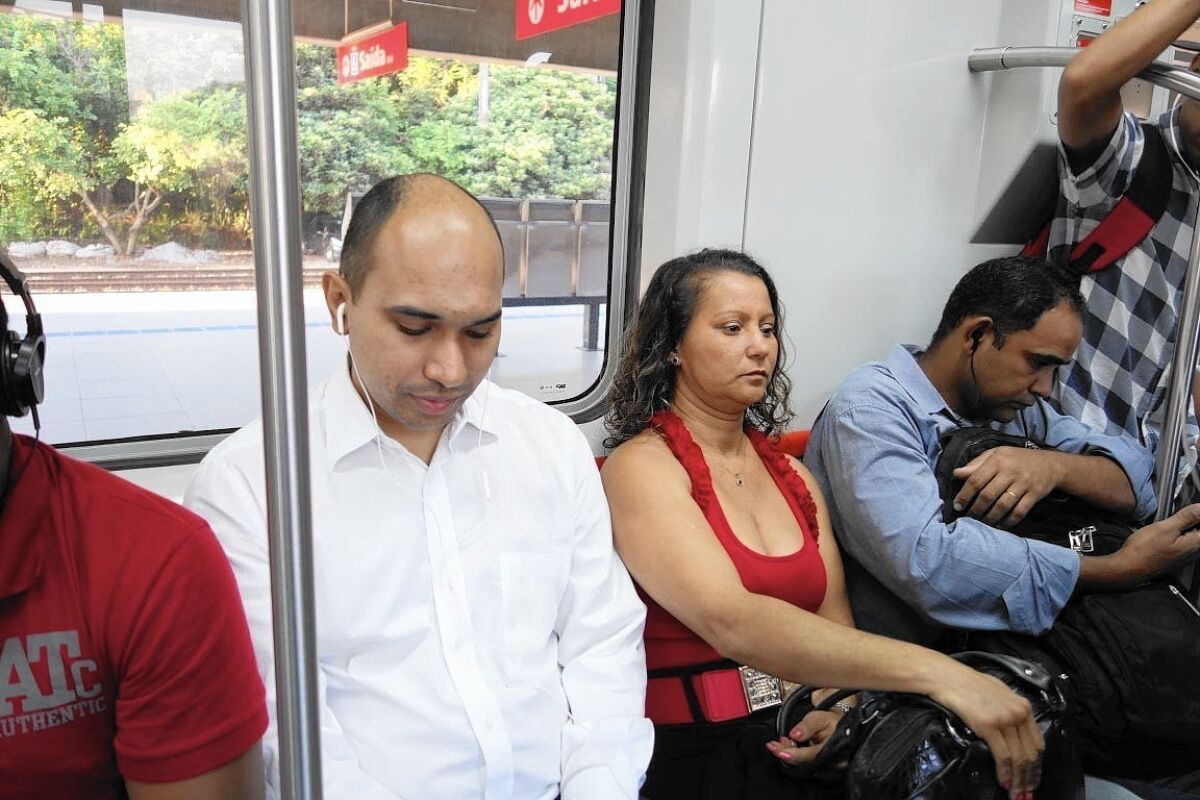 Oliveira has already been on the move for an hour and a half. About 5 a.m., she left her house and walked 15 minutes to a bus stop and caught a bus to the Guaianazes train station.
The station seems to be the only structure in the neighborhood to have been built professionally; the low-slung houses behind a fence across from the tracks are a jumble of bricks and concrete. A futuristic staircase to a highway overpass spirals up into the dark sky, one of the many scenes on Oliveira's 2 1/2-hour commute that give this megalopolis its reputation as a subtropical "Blade Runner-esque" city, partly inspired by the mega-rich who buzz above in helicopters, preferring to buy their way out of the crime and traffic on the streets below.
But most people don't have that option, and at 5:15 a.m. the Guaianazes station was already jammed. Most people were heading to work, but no one from around here wore business clothes. It was a flood of light-brown to black-skinned Brazilians — and everyone was in a nervous rush — in shorts and surf wear or jeans, T-shirts or blouses for the women.
Facing her first humongous human bottleneck of the day, Oliveira took a train toward downtown. Then she took another. Then another. Then she walked for 15 minutes, to another bus stop. Then she walked 15 more minutes, uphill. Finally she arrived at the office building where she's a kitchen maid.
She would repeat the trip this afternoon, just like she has five days a week for nine years.
We are all, quite truly, hostages of the car's dominance, forced either to drive one or take buses.
— Luiz Vicente Figueira de Mello, Universidade Presbiteriana Mackenzie
::
Oliveira is just one of millions of residents of South America's largest city who jump on the rickety transporte publico system every day.
And by all accounts, they suffer for its faults.
In the second half of the 20th century, the government of Sao Paulo, as well as the rest of Brazil, invested heavily in the automobile as the main means of transportation and looked to the United States for inspiration, even though the city had high population density.
"They sought to transform Sao Paulo, to Americanize a city whose base was much more European," says professor Luiz Vicente Figueira de Mello, a specialist in urban transportation at the Universidade Presbiteriana Mackenzie.
"The consequence of a decision not to invest in trains and metro lines has been a very low quality of life when it comes to transportation. We are all, quite truly, hostages of the car's dominance, forced either to drive one or take buses."
A 2013 Credit Suisse report found that Sao Paulo's average commute time of 43 minutes was the second-highest on a list of the world's major cities, behind only Shanghai. Los Angeles, with 28 minutes, came far behind. With Sao Paulo's population density nearly three times that of Los Angeles, most Paulistanos spend their mornings sweating and bunched up rather than listening to the radio in a car.
Sao Paulo is a thoroughly unequal city that has always prized private spaces over the public, and as a rule, anyone who can afford a car prefers to be in one. As the country became richer, more and more people could afford cars. The city's famous traffic jams got even worse. Buses slowed down.
In June 2013, more than a million people took to the streets across the country in the largest protest in more than 20 years. The protesters eventually rallied behind a collection of themes, including corruption and poor public services across the board, but the spark was lighted by an increase in bus fares. More than two-thirds of people in the city rely on the buses, and few think their quality justifies a price increase.
Almost everyone has a horror story about the daily commute in the city. Joyce de Paula, a 25-year-old regulation coordinator at a chemical company, chooses whether to spend 90 minutes each way on buses, or to save 15 minutes by switching between train, subway and bus.
"It's the traffic that's absolutely absurd," De Paula says. "When there is no traffic, such as during holiday breaks, the same trip takes a third of the time, 30 minutes."
Glaucia Carvalho, a 36-year-old marketing analyst, considers herself lucky: She has to ride only one bus, for 40 minutes each way. But she likes to sit, so she stands in line for that option.
"I wait and wait and wait," she says. "In the afternoon, I often wait for up to an hour, so I spend more time in line than I do on the bus."
Headlines in Brazil have been very depressing recently, with the economy likely to enter recession this year, the value of the currency plummeting and Congress rocked by a corruption scandal. But if you ask people what is toughest in their life, they're likely to bring up the same old problems of the daily struggle.
"The politicians need to stop robbing us; well, they've needed to stop forever," Oliveira says. "And our money needs to be invested in health, education and transportation.... We live on these trains and buses."
::
As Oliveira moves closer to the wealthy center of the city, dress shirts and ties begin to appear on the trains and the sea of faces becomes whiter. They're going to the same kinds of offices Oliveira is, but they'll be doing very different jobs.
Despite the summer sunshine, the images that rush by outside are almost uniformly gray: broken concrete, trash on train tracks and faded, off-white skyscrapers as far as the human eye could see.
Along the way, Oliveira shows off pictures of her family on her basic smartphone while rocking back and forth, and brags about her ability to withstand the commute every day and pull more than her weight at work.
"They can't survive there without me," she says. "The commute is tiring, but humans are resilient. We learn to take on more and more."
Oliveira makes a little less than the average Brazilian, $390 a month. Because her job consists of cleaning the office kitchen and serving coffee and food, she knows that she can probably do something similar somewhere that is not 35 miles from her house, in theory.
But "at my age, in my profession, changing jobs is not something that is advisable," she says on her last train.
During a brief stint of unemployment when she was 39, she saw an email posted on a job announcement flier, went for it and never looked back.
"After the age of 40, if you leave a job like mine, you won't get a new one, or if you do you'll make a lot less," she says.
She lives with her husband and son, who put in their own hours on the road. It takes her son two hours to get to work, but his father gets there in less than an hour. If she really had to, she could stop working and rely on their income, she says.
Like many on the poor outskirts of Sao Paulo, Oliveira's family doesn't come from here. She was born in Bahia state, in the less developed northeast of the country, the center of Afro-Brazilian culture. But she moved here so long ago that she has lost the accent and hustles through her day with the swagger and confidence of a native of a city that puts New Yorkers to shame for size and grit.
She smokes on the 15-minute walk to her final bus. "Never more than one or two a day," she says.
She boards and heads uphill to a neighborhood much nicer than her own.
"See, here there's no stray dogs and no homeless people on the streets," she says, taking her last steps toward the shiny office. "They don't tolerate any of that stuff around here."
Bevins is a special correspondent.
Twitter: @Vinncent
Must-read stories from the L.A. Times
Get the day's top news with our Today's Headlines newsletter, sent every weekday morning.
You may occasionally receive promotional content from the Los Angeles Times.