More than 100 are feared dead in jetliner crash in Cuba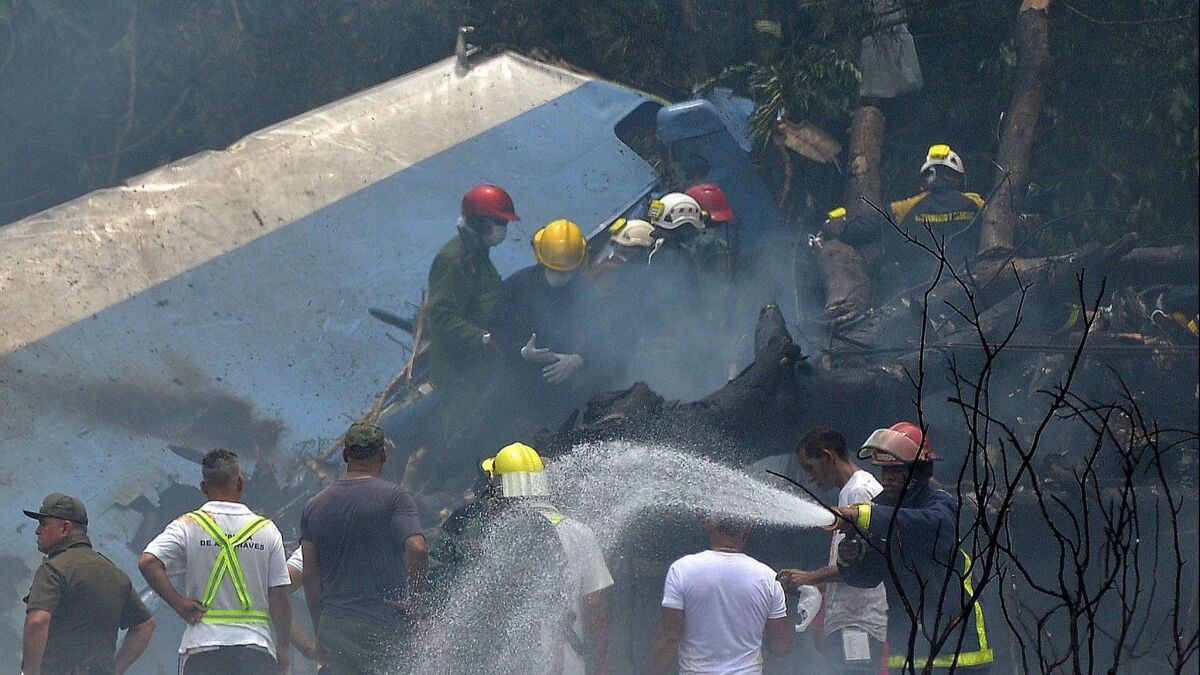 Reporting from Mexico City —
More than 100 people were feared killed Friday when a Boeing 737 passenger jet on a domestic flight in Cuba crashed shortly after takeoff from Jose Marti International Airport in Havana, officials and news reports said.
Only three survivors, all women listed in critical condition at a Havana hospital, were pulled from the crash site in an agricultural area close to the airport. A fourth person who survived the initial crash reportedly died at the hospital.
The flight was carrying 105 passengers and nine crew members, officials said. Authorities had not yet released the names or nationalities of those on board.
Earlier, authorities had reported that the plane carried a total of 104 or 105 people, but officials later updated the total to 114. At least five passengers on board were minors, including an infant, authorities said.
Officials were trying to identify the bodies after having extinguished fires at the crash site, Cuban President Miguel Diaz-Canel said on national television.
The president offered condolences to the victims and said that response to the crash had been "immediate." A special commission would investigate the incident, he said.
Casualties were confined to those in the plane and no injuries were reported on the ground in the agricultural district of Boyeros, where the aircraft went down.
There was no immediate word on the cause of the crash.
The official news outlet Granma reported that all but 11 people on board the jetliner were Cuban nationals, but it did not identify the nationalities of the foreigners.
The flight was on a domestic route from Havana, the capital, to the eastern city of Holguin.
The jet was leased by Cuba's national air carrier, Cubana Airlines, from a Mexican air charter company known as Global Air, authorities said.
Video from the scene showed smoke billowing from the crash site and emergency crews wheeling a victim to an ambulance and dousing flames emanating from the wreckage.
Friday's crash appeared to have been the deadliest in Cuban aviation history since 1989, when an Italy-bound charter crashed after takeoff from Havana, killing all 126 on board and others on the ground.
A Spanish-language tweet by BuzzFeed News Mexico included video from Cuban state television showing a plume of smoke moments after the crash. The tweet said the plane was from the Mexican company Damojh and is operated by Cubana.
Relatives and friends of passengers on Friday's ill-fated flight also hastened to the scene, but authorities diverted them to an aviation school where relatives were congregating, according to news reports.
The crash occurred at 12:08 p.m. local time, Cuban media reported.
Mexican transport officials confirmed Friday that the jet belonged to Damojh Airlines, which was founded in Mexico in 1990 and also operates under the name Global Air. The airline has three 737 jets. The one that crashed Friday was manufactured in 1979 and was leased by Cubana Airlines, Mexican authorities said.
The Mexican Embassy in Havana activated telephone lines and other emergency protocols, but there was no official word on whether any Mexican citizens were on board the plane. Cuba is a popular vacation destination for Mexicans.
Cubana Airlines is a frequent target of criticism from Cuban citizens and other travelers complaining about late flights and cancellations.
In recent months, the Associated Press reported, Cubana has taken many of its aging planes out of service because of mechanical problems that the company blames on a lack of parts and airplanes stemming from the U.S. trade embargo on the Communist-run island.
The crash Friday was Cuba's third major fatal accident since 2010, according to AP.
Last year, a Cuban military plane crashed into a hillside in the western province of Artemisa, killing eight troops on board.
In November 2010, an Aero Caribbean flight from the eastern city of Santiago to Havana went down in bad weather as it flew over central Cuba, killing all 68 people on board, including 28 foreigners, in what was Cuba's worst air disaster in more than two decades.
The last Cubana Airlines accident, AP said, appears to have been on Sept. 4, 1989, when a chartered Cubana plane flying from Havana to Milan, Italy, went down shortly after takeoff, killing all 126 people on board, as well as at least two dozen on the ground.
Sanchez is a member of The Times' Mexico City bureau.
Follow @PmcdonnellLAT on Twitter
---
UPDATES:
4:10 p.m.: This story has been updated to report that Cuban officials now say the plane carried 114 people—105 passengers and nine crew members.
1:22 p.m.: This article has been updated throughout with staff reporting.
11:45 a.m.: This article has been updated with more information about the flight, details from the crash site, a history of plane crashes in Cuba, and background information about the airline.
The article was originally published at 11:20 a.m.
---
Must-read stories from the L.A. Times
Get the day's top news with our Today's Headlines newsletter, sent every weekday morning.
You may occasionally receive promotional content from the Los Angeles Times.