U.S. reconsiders its responsibility for civilian casualties in Iraq and Syria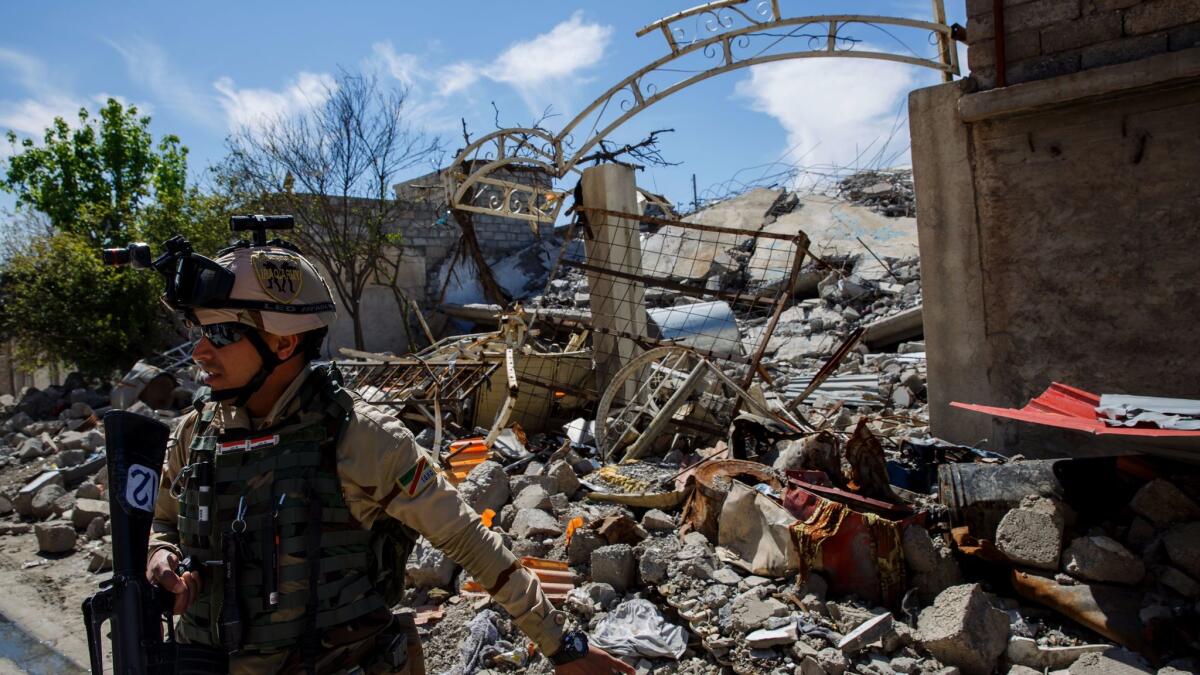 Reporting from Cairo —
As the battle against Islamic State intensifies in heavily populated cities, the U.S. military has reexamined the way it reports whether its daily bombing runs over Iraq and Syria are inadvertently killing civilians.
The review, amid mounting criticism from victims and human rights and aid groups about the procedures, found that the military failed to report 80 civilian casualties from airstrikes during the last two years.
Independent reporting suggests there may be more casualties the coalition has overlooked.
For instance, according to the report released Sunday, the coalition found "insufficient information to be able to determine if civilians were present or harmed" in an airstrike in Iraq on Jan. 17.
In April, The Times visited the site in east Mosul's Baysan neighborhood, saw the leveled home and spoke with survivors who said eight civilians were killed.
Omar Hasan Abdul Qadir, 67, said the eight were all his relatives, including four grandchildren.
"We will cooperate with anyone and talk to anyone who wants to talk to us about the incident," he said by phone Sunday, weeping. "I would love for them to know what happened to us and how they killed eight members of our family. We have been devastated, devastated."
The U.S. military now says a total of 352 civilians have been killed in airstrikes by the U.S.-led coalition since the air war against Islamic State was launched in August 2014 — still far fewer than independent monitors' estimates.
The new assessment, released as part of a monthly report, reveals the Pentagon is finding it difficult to determine how many innocent people are dying in conflict zones where there are few U.S. troops directing fire from the front lines and commanders rely instead on drone surveillance and reports from allies.
Col. Joe Scrocca, a U.S. military spokesman based in Baghdad, said the command's analysts recognized "anomalies" after poring over data for several months. He said it led them to reexamine 396 reports of civilian casualties "to identify any errors or gaps in reporting."
"We've been trying to improve the reporting process by making it more predictable and transparent every month," Scrocca said.
Scrocca said the coalition's two-person team investigating civilian casualties from airstrikes is conservative in its estimates, requiring confirmation from more than one source.
The coalition investigates civilian casualties based on reports from its staff, the news media, social media, local and international monitoring groups. It does not require investigators to visit the scene of strikes, speak with victims or other witnesses.
Coalition warplanes have carried out 20,205 strikes in Iraq and Syria since 2014. The number of civilian casualties has steadily risen in recent months as combat shifted to densely populated west Mosul, where coalition warplanes are dropping more bombs than at any point since the war began.
Before the Mosul offensive launched on Oct. 17, Iraqi officials dropped leaflets and aired television advisories urging residents to stay home rather than flee, promising the military would protect them.
The difficulty of conducting a bombing operation in such an urban environment drew international attention when scores of civilians were killed in a strike on a cluster of buildings in west Mosul's Jadidah neighborhood on March 17.
The Pentagon is still investigating the incident, but Iraqi civil defense officials responsible for removing the bodies said the strike killed more than 270 people.
The Pentagon is increasingly at odds with critics in human rights groups, who say thousands of civilians have been killed in the air campaign.
Airwars, a London-based nonprofit independent monitoring group with a staff of journalists and researchers, said its figures showed at least 3,325 civilians have been killed in 566 strikes.
"Iraqi and Syrian civilians continue to pay a high price for their liberation," said Chris Woods, director of Airwars.
Scrocca said the true tally of civilian casualties probably lies somewhere between the coalition's figure and that of Airwars.
Based on interviews with victims, the coalition may not only be lowballing the death toll: It appears to be overlooking and rejecting legitimate claims.
Qadir, the survivor of the Jan. 17 airstrike, said he is still willing to assist the coalition in investigating. "I really don't know at all what was the justification to hit the house with many kids and women inside. I do have witnesses that our house was hit," he said.
But Scrocca said the coalition could not find Qadir or other survivors of the strike. "All we have is an allegation, no proof or way to interview victims," he said.
The Times also visited a residential compound in west Mosul's Mahata neighborhood, where survivors said a March 13 airstrike killed at least 21 people, including four children, in three houses that were reduced to a heap of crumbling concrete.
Survivors said they had not been contacted by Iraqi or coalition authorities, and the strike was not mentioned in Sunday's report. Scrocca said the coalition is investigating.
"My house has been destroyed by an airstrike and that is very clear," survivor Shahab Ahmed Aaid, 25, said on Sunday. "All my neighbors are witnesses. I want the coalition and U.S. to investigate and be fair about it."
The Times had also spoken with Raed Mohammed Hasan, 30, at his damaged east Mosul home, where he said 11 people were killed by a coalition airstrike Jan. 21, including his 10-month-old daughter, Rania. Mohammed said he heard Islamic State fighters nearby before the strike, but they escaped.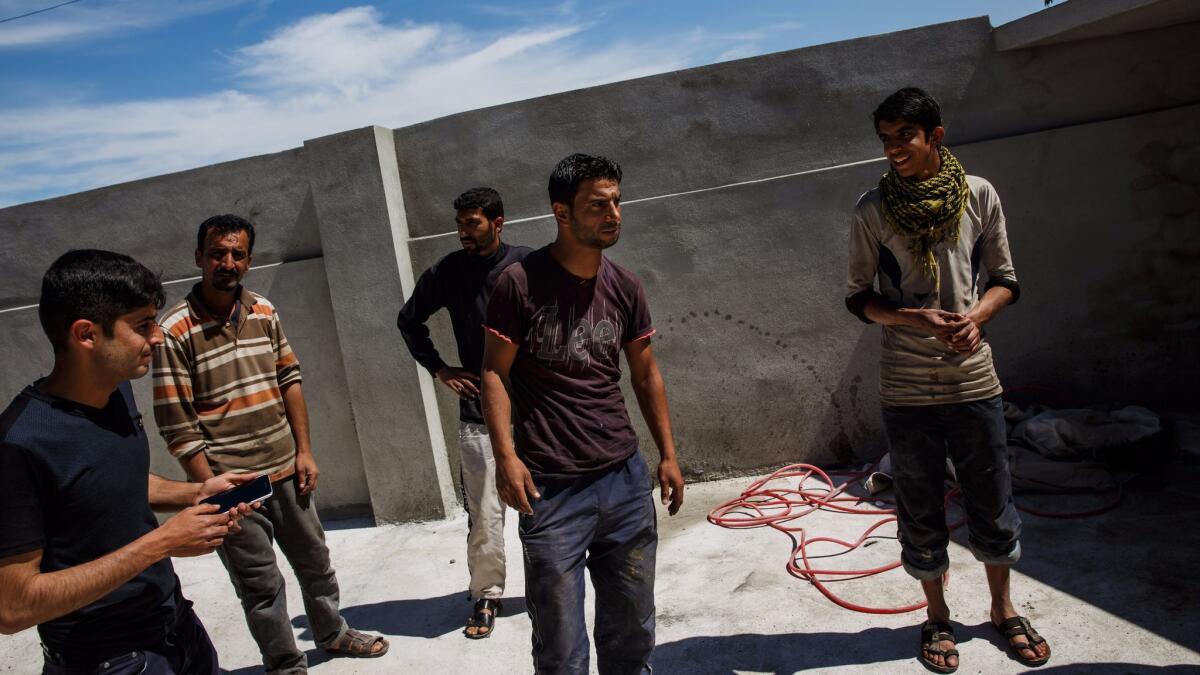 He called for an independent investigation.
"We want the United Nations to get involved in the investigation, and we want them to be neutral and fair," Mohammed said.
Scrocca said that airstrike wasn't mentioned in Sunday's report because the coalition received the allegation only last month and The Times' report included "no specific location or contact info for us to follow up on."
The coalition confirmed that a Dec. 11 strike targeting Islamic State fighters in east Mosul's Falah neighborhood killed eight civilians after it ignited a weapons cache, creating secondary explosions and a fatal fire in the victims' home across the street. The coalition made no mention of the strike's sole survivors: Mohammed Mumtaz, 30, and his 8-year-old son, Yaman. Mumtaz said he was not contacted by the coalition, and did not expect compensation.
"Nothing can compensate for my loss," said Mumtaz, a pharmacist who lost his wife, parents, two brothers, sister-in-law and two nephews.
U.S. forces have blamed Islamic State, also known as ISIS, for packing buildings full of civilians and stationing snipers on the roofs in what may be an effort to lure airstrikes and cause civilian casualties.
Sunday's report confirmed that eight civilians were mistakenly killed and a dozen injured on Nov. 17 in east Mosul's Aden neighborhood by a strike meant to hit Islamic State fighters.
Victims included Imad Jasim's brother, two sons, four nephews and an unborn niece. His mother suffered burns to her scalp and back. His 40-year-old sister's legs were broken and she still cannot walk.
"The way they are targeting ISIS is wrong: They will target one ISIS militant and as a result many civilians will die," Jasim, 30, said Sunday.
An unemployed taxi driver, he is trying to get his injured relatives treated, but said no one will lend him the money.
The coalition does not have a system for victims to appeal for compensation, although Scrocca said that payments "may be offered as a token of sympathy and regret…. They can only be offered if we have sufficient information on victims, which we rarely are given."
Hennessy-Fiske reported from Cairo and Hennigan from Washington. Special correspondent Wael Resol in Irbil, Iraq, contributed to this report.
molly.hennessy-fiske@latimes.com
ALSO
How long can Jordan keep walking the Middle East tightrope?
Dodging rubble is one thing — in Mosul, cyclists contend with mortars and gunfire too
'Even the stones reek with sadness': Here is what's left of Aleppo
Sign up for Essential California for the L.A. Times biggest news, features and recommendations in your inbox six days a week.
You may occasionally receive promotional content from the Los Angeles Times.