Nearly 300 died in Mosul airstrike, making it one of the deadliest attacks on civilians in recent memory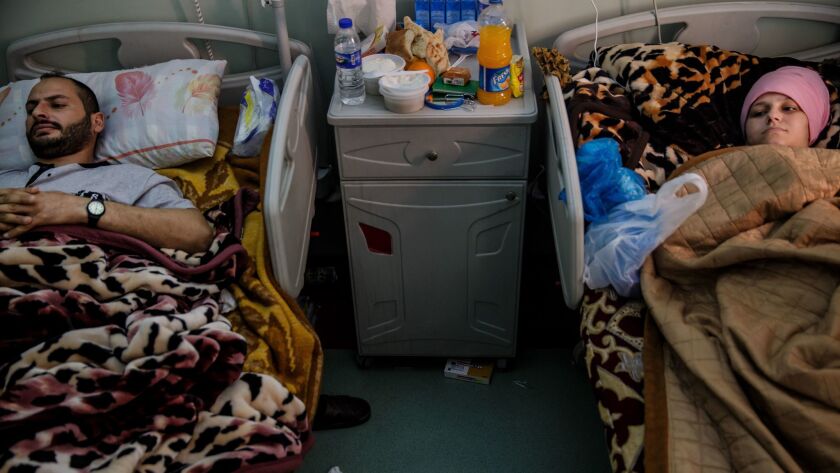 Reporting from Irbil, Iraq —
Iraqi officials said Wednesday that they had removed nearly 300 bodies from the site of an apparent airstrike in west Mosul, the largest civilian death toll since the battle against Islamic State began more than two years ago and among the deadliest incidents in decades of modern warfare.
More bodies were being removed Wednesday as the U.S.-led coalition investigated whether it was responsible, Iraqi officials blamed Islamic State, and the injured continued to suffer.
The attack came after government officials urged residents at the start of the Oct. 17 offensive to stay in their homes. Responsibility for the deaths has been disputed, as has the number killed.
Lt. Gen. Stephen Townsend, the top U.S. general commanding the fight against Islamic State in Iraq and Syria, has said that there was "at least a fair chance" that the U.S.-led coalition was responsible for the strike, but if so, it was "an unintentional accident of war, and we will transparently report it to you."
The coalition has not released an estimated death toll. It is still investigating, with results expected by month's end, said U.S. Army Col. Joe Scrocca, a Baghdad-based spokesman for the coalition.
The Pentagon has acknowledged 229 civilian deaths from coalition airstrikes in Iraq and Syria since the U.S. campaign against Islamic State began. Independent monitoring groups such as the London-based nonprofit Airwars put the casualty figures much higher, at about 2,700 civilians killed in airstrikes in both countries during that time.
The strike is believed to have killed more than 200 people, the highest death toll since the campaign against Islamic State began three years ago.
Iraqi civil defense officials called to the scene of the apparent airstrike on March 17, in the Jadidah neighborhood, initially said more than 200 people had been killed. At least 50 bodies were visible in the area they were excavating a week after the attack.
As of Wednesday, they had removed 278 bodies, many of them children, and it was unclear how many more were buried beneath the rubble, said Civil Defense Lt. Col. Taha Ali.
But Sabah Numan, a spokesman for the Iraqi Counter Terrorism Service, which has led the push into the city since the offensive began in October, insisted that far fewer bodies had been recovered — 61 — and that the total death toll was likely lower, 100 to 130. He also raised questions about whether the damage was caused by an airstrike at all.
He noted that Iraq's Defense Ministry released a statement this week saying field inspections by military commanders at the site found no evidence of airstrikes
Coalition fighter jets had bombarded the neighborhood at the request of Iraqi commanders, Numan said, but an expert team found no sign of holes that would prove it had sustained an airstrike.
Instead, Numan said they found walls had been booby trapped by militants, who parked a car full of explosives nearby, forced civilians into their homes and then used the houses to fire at security forces.
"ISIS planted IEDs in the houses," Numan said of Islamic State. "We checked the walls."
He said three government committees investigated, one from Prime Minister Haider Abadi's office, "and they all reached the same result."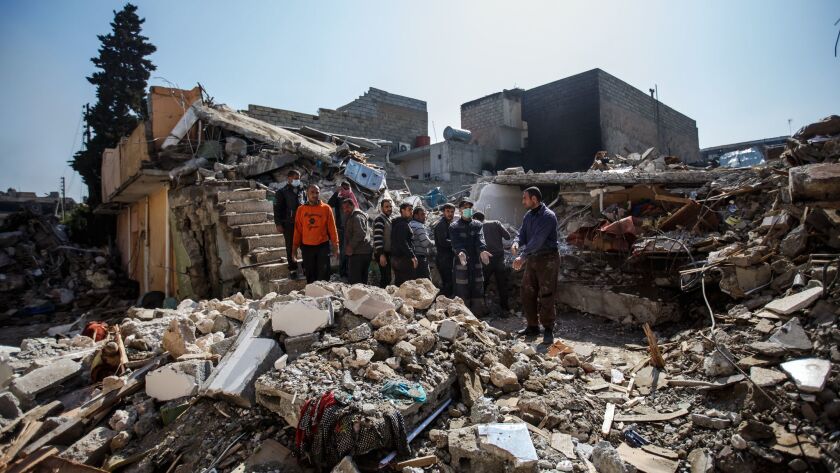 When Abadi met with military commanders this week, he said, "ISIS stores explosives in some buildings and when a strike happens, it may cause an explosion and subsequent casualties." The prime minister said he had instructed commanders to take greater precautions to avoid civilian casualties even as they accelerate the campaign to recapture the city.
Access to Jadidah and other neighborhoods near the front line was restricted after The Times and others visited the site a week after the alleged strike.
Numan said commanders only limited access for reporters and other civilians to ensure their safety.
Troops were still instructing residents to shelter in place, although "sometimes, as the situation needs, we evacuate people."
"We took care of the civilians and tried to keep them alive," as troops advanced from east to west Mosul, Numan said. "We want to do our job and defeat ISIS soon, but not causing casualties to civilians. So we are balancing the speed of the fighting and the safety of civilians."
He said troops have not slowed their pace in the wake of the strike, freeing Jadidah and several nearby neighborhoods, including the Maghreb neighborhood Wednesday.
"Jadidah is fully safe," he said. "It's behind us."
But many of the injured are still reeling.
Suhaida Hussein was seven months pregnant with her first child, a boy, when the attack occurred.
Hussein, 19, and her husband were buried in the rubble. When relatives and neighbors rescued them, they were unable to walk, both having suffered potentially crippling spine injuries.
Hussein later said her first thought wasn't about her back: It was about her pregnancy, which she thought was over.
"When my husband came to me, I was crying and saying 'My son is gone,'" Hussein recalled from her hospital bed this week. "He said, 'I don't care. I just want to see you.'" As it turned out, the fetus was fine. But Hussein remains hospitalized, still unable to move her legs.
She and her husband are being treated at a hospital 50 miles east in Irbil, but doctors told them they will have to leave in a few days. They're not sure where they will go, and hope help will arrive soon for the injured.
"I don't want to go back," said her husband, Khaled Aswa Jasim, 34, a vegetable vendor, from his bed next to hers in their cramped hospital room. "I lost my house, my car, even my back. Anywhere, just not Mosul."
molly.hennessy-fiske@latimes.com
Twitter: @mollyhf
ALSO
'Take Ahmed and let me die': Victims of U.S. airstrike in Mosul recount a day of horror
U.S. condemns suspected Syrian chemical attack on civilians, but says the Assad government is a 'political reality'
New report shows mounting number of civilians killed in Iraq
---
Must-read stories from the L.A. Times
Get the day's top news with our Today's Headlines newsletter, sent every weekday morning.
You may occasionally receive promotional content from the Los Angeles Times.