Massive Disney-Fox deal expected to get close antitrust scrutiny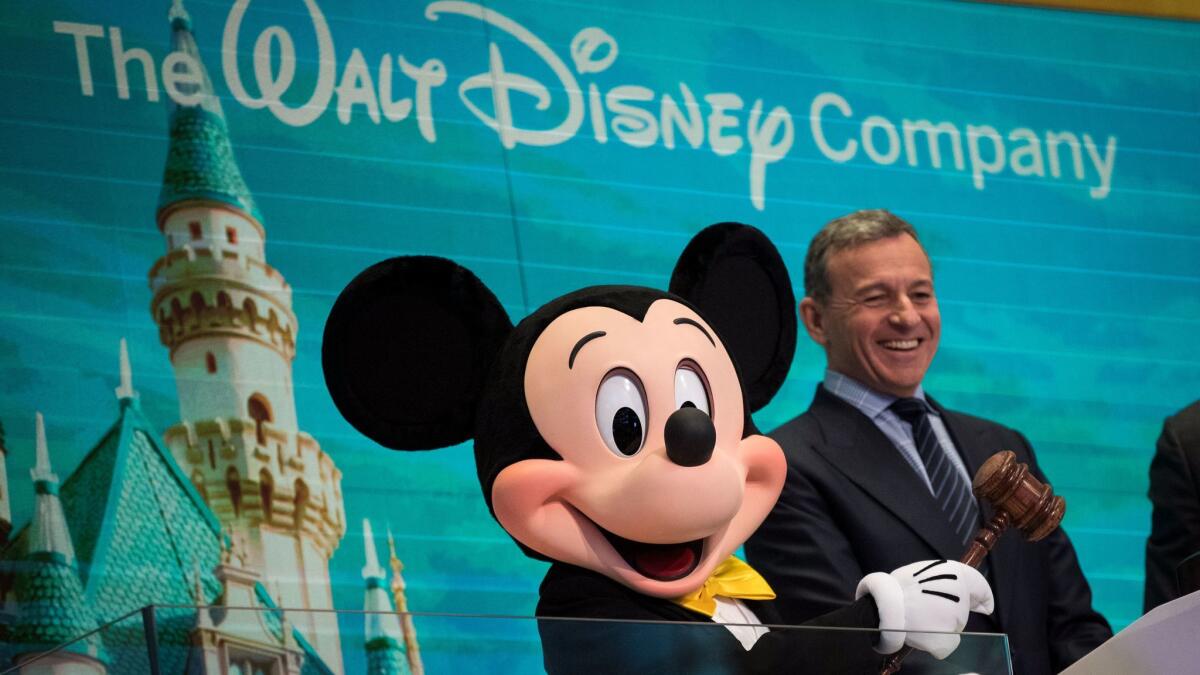 Walt Disney Co.'s proposed takeover of 21st Century Fox is likely to raise thorny regulatory concerns at a time when the Justice Department has been putting media mergers under the microscope.
Disney's $52.4-billion stock deal to acquire key parts of Fox would create an unprecedented entertainment colossus and could trigger antitrust concerns because it would erase one of the six major Hollywood studios and would fortify Disney's dominance in sports broadcasting.
Indeed, the companies' agreement calls for Disney to pay a lofty $2.5-billion breakup fee to 21st Century Fox if the merger is blocked by federal regulators on grounds "relating to antitrust laws or communications laws."
Burbank-based Disney, which owns ESPN, would take over 22 regional sports channels under the deal, including Prime Ticket, Fox Sports West and Fox Sports San Diego. The merger would not include Fox's FS1 and FS2 sports channels, but the deal still could give Disney greater leverage with cable and satellite distributors.
"Any increase in Disney sports programming will be extremely problematic and will get intense scrutiny" from antitrust regulators, said David Balto, an antitrust lawyer and former policy director at the Federal Trade Commission.
In addition, Disney would take control of online streaming service Hulu by amassing a 60% stake, which would give it a huge presence in the emerging digital media market.
"Given the size of the acquisition, it will raise eyebrows in Washington," said Gene Del Vecchio, a marketing professor at the USC Marshall School of Business.
"Will it reduce options for consumers or increase prices?" Del Vecchio said. "Will it give Disney undue power? Power not only in terms of consumer choices and prices, but power for the back-end of their business — theater owners etc."
The deal quickly drew opposition from some critics, including the Writers Guild of America West, the union that represents writers of movies, TV and other media.
"The antitrust concerns raised by this deal are obvious and significant" by "substantially increasing the market power of a combined Disney-Fox corporation," the union said. The union added that it would "work to ensure our nation's antitrust laws are enforced."
Rep. David Cicilline of Rhode Island, the top-ranking Democrat on the House Antitrust Subcommittee, said his panel "should look at this proposal very closely."
"If it's approved, this merger could allow Disney to limit what consumers can watch and increase their cable bills," Cicilline asserted.
The Justice Department already has sued to block another massive media merger — AT&T's proposed $85-billion purchase of media company Time Warner Inc., which includes CNN, HBO, TNT and Warner Bros. Studio. President Trump lamented that tie-up a year ago, when he was still on the campaign trail, saying: "It's too much power in the hands of too few."
After the Disney-Fox deal was announced, Trump called 21st Century Fox Executive Chairman Rupert Murdoch and "congratulated him on the deal," White House press secretary Sarah Huckabee Sanders told reporters Thursday.
Despite speculation that the deal could lead to substantial job cuts as Disney slashes redundant operations, Sanders said Trump thinks "this could be a great thing for jobs and certainly looks forward to — and hoping to see a lot more of those created."
Disney is expected to argue that it needs to bulk up its entertainment assets to compete with video and other entertainment inroads being made by technology titans Google, Facebook, Amazon and Netflix. The deal appears designed to bolster Disney's plans to launch its own streaming services in the next two years.
Prominent media executives have lamented a shift in power in their marketplace and Washington's seeming willingness to allow technology companies to steamroll traditional providers.
In October, for instance, media mogul Barry Diller said it was becoming nearly impossible to compete with streaming giant Netflix and the billions of dollars that Netflix is devoting to original programming.
"Any antitrust review would have to take that argument into account," said Preston Padden, a longtime media executive who worked for Disney and Fox at various points in his career.
But it's unclear whether the growth of Netflix, Amazon and others is enough to let Disney clear its antitrust hurdles with Fox, said Scott Martin, an antitrust lawyer with the law firm Hausfeld.
"It's an argument people will make, but it's almost too early to tell," Martin said. "It has a lot more weight than it did five years ago, but it depends on how much credence you put in it."
Regulators might view Disney taking control of Hulu via the Fox deal "as a positive development insofar as it makes Hulu more competitive" with Netflix and other streaming services, Martin said.
The Disney-Fox deal would be a classic "horizontal" merger because the two companies currently are direct competitors. The proposed union would eliminate a competitor from the market, and the Justice Department has long been wary of those deals.
Nearly three years ago, the Justice Department was gearing up to block Comcast Corp.'s proposed takeover of another cable company, Time Warner Cable (formerly part of Time Warner Inc.). The government frowned on that proposed merger even though the two companies served separate geographic regions.
Comcast withdrew its offer in light of the government's opposition. Time Warner Cable was eventually acquired by the much smaller Charter Communications, which became the largest pay-TV operator in Southern California under a service Charter calls Spectrum.
The AT&T-Time Warner Inc. deal is known as a "vertical" merger because the two companies generally do not directly compete against each other, and historically the government has given a green light to these types of mergers.
But the Justice Department veered from that course last month when it sued AT&T over its Time Warner deal. The government hasn't successfully blocked a vertical merger since Jimmy Carter was in the White House.
Regulators are sure to focus on how the Disney and Fox cable sports divisions would meld, "although I don't think it will be a deal killer" because ESPN is largely a national sports network and the Fox networks are regional with exclusive rights to hometown teams, said Tuna Amobi, a media analyst with CFRA Research.
Martin, likewise, said "I'm not sure putting ESPN with the regional sports networks really harms consumer welfare" but it's not clear the government would feel the same way.
Hulu is another area that could draw the attention of regulators because they have expressed interest in allowing the video streaming market to flourish. In the past, traditional media companies have resisted the growth of that market because it has accelerated pay-TV cord cutting, which hurts their traditional businesses.
Fox and Disney each own 30% of Hulu. Comcast Corp. owns 30% and Time Warner Inc. owns the remaining 10%.
Twitter: @MegJamesLAT, @PeltzLATimes
Times staff writer David Ng contributed to this report.
ALSO
Disney's deal to buy Fox studio could bring substantial layoffs, analysts say
How key Fox executives could fare after sale to Disney
Disney has a wholesome, family-friendly image. Will acquiring Fox create a culture clash?
---
UPDATES:
3:30 p.m.: This article was updated with the White House saying President Trump congratulated Fox chief Rupert Murdoch on the merger.
11:40 a.m.: This article was updated with quotes from the writers' union and a U.S. Congress member opposed to the deal.
7:10 a.m.: This article was updated with details about Disney's agreement to pay a $2.5-billion breakup fee if regulators block the deal.
This article originally was published at 4:35 a.m.
Inside the business of entertainment
The Wide Shot brings you news, analysis and insights on everything from streaming wars to production — and what it all means for the future.
You may occasionally receive promotional content from the Los Angeles Times.