U.S. faces tough battle proving AT&T would use Time Warner to squeeze competition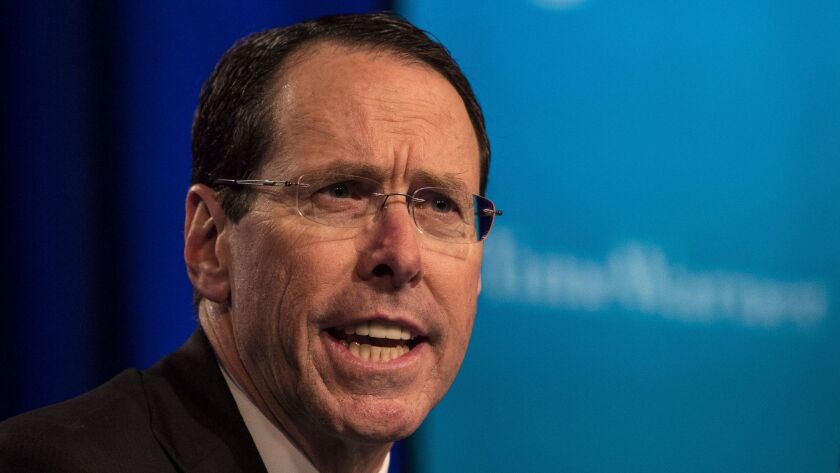 Reporting from Washington —
Nearly 70 years ago, a landmark antitrust lawsuit changed how Hollywood did business. That case — United States vs. Paramount Pictures — banned major movie studios from owning cinema chains because that gave them too much power.
Now, the U.S. Department of Justice has sued AT&T in an attempt to block the telecommunications giant from acquiring Time Warner Inc., the owner of HBO, CNN, TNT, TBS, Cartoon Network and the Warner Bros. film and television studio. Once again, the government is frowning on a company controlling both the creation and distribution of programming.
The lawsuit, filed Monday in U.S. District Court in Washington, could establish a new benchmark for antitrust cases. But it also could be a boondoggle if the Justice Department fails to prove its case that AT&T could use Time Warner's programming "as a weapon" to squeeze competition and hike prices.
"This is a reasonably good case for the government — but not an easy one to win," said Nicholas Economides, an economics professor at New York University's Stern School of Business.
That's because the government has become more timid in recent decades about challenging "vertical" integrations, such as the 1948 Paramount Pictures case, which began when the Justice Department, under President Franklin Roosevelt, ordered the studios to sell their theaters.
AT&T's proposed $85.4-billion takeover of Time Warner is classified as a vertical merger because the two companies' primary forms of business do not directly compete with each other. AT&T provides phone, broadband internet, telephone and television service. Time Warner produces movies and television shows.
Most analysts say the government will have a tough time persuading a judge that an AT&T-Time Warner combination is anti-competitive. A key part of the case could be critical comments from President Trump about CNN, one of Time Warner's top media assets, which raises questions about whether Trump is trying to use the merger review process to exact revenge.
Trump, who calls CNN "fake news," was asked about the lawsuit Tuesday as he departed the White House to spend Thanksgiving in Florida.
"Well, I'm not going to get involved in litigation. But, personally, I've always felt that that was a deal that's not good for the country," Trump said. "I think your pricing is going to go up…. But I'm not going to get involved."
Investors Tuesday were not flustered by the lawsuit. AT&T stock closed at $34.33 a share, down 31 cents, or 0.9%. Time Warner shares closed at $89.56, up $1.85, or 2.1%.
Moody's Investor Service has said that if the merger collapses, AT&T would have to pay Time Warner a $500-million breakup fee and redeem a large portion of the debt it issued to fund the transaction, which could cost the company about $300 million.
Wall Street had been expecting the suit after AT&T Chief Executive Randall Stephenson made it clear this month that the Dallas telecommunications giant would not bend to the Justice Department's demand that it divest some of the Time Warner assets, such as Turner Broadcasting, which includes CNN. AT&T has hired prominent Los Angeles litigator Daniel Petrocelli to handle the case.
"When we announced this deal, the best legal minds in the country agreed that this transaction would be approved since our companies don't even compete with each other," Stephenson said in a news conference in New York after the lawsuit was filed.
The Justice Department has not prevailed in a vertical merger case in court in nearly 50 years — not since the Nixon administration. That's because legal views on vertical integration have evolved.
David Balto, a former policy director for the Federal Trade Commission, said the government has long been concerned about the effects of vertical integration. "You can go all the way back to the Paramount Pictures and other cases," he said.
But now such mergers are seen as a way to gain operating efficiencies without causing disruption in the market, he said.
"The case relies on antiquated antitrust law from a period of time ... when we received television programming through rabbit ears," Balto said. "And the case is likely to receive rabbit-ears reception by a skeptical court."
The government's lawsuit argued that AT&T would use its market clout to keep Time Warner programming, such as CNN, HBO and sports programming on TNT and TBS, away from its rivals. But analysts say that is unlikely because TV programmers make more money by selling their programming to as many outlets as possible.
"They are going to have a hard time proving that in the courts," said Geoffrey A. Manne, executive director of the International Center for Law and Economics in Portland, Ore. "There are so many factors that make that theory unlikely — it's a stretch."
The Justice Department also argues that the merger could stymie technology innovations, including the expansion of streaming services. The government argues that AT&T would have an incentive to thwart Netflix, Google Amazon.com and other innovators because they compete with AT&T's satellite TV service, DirecTV, and its U-Verse service.
"The issue of innovation is an important one," Economides said. "Satellite TV and cable companies face a significant challenge from Netflix. The cable TV providers are on the ropes as they face the innovators Netflix and Amazon.com."
AT&T's Stephenson said that was part of the rationale for the merger — to better compete against the tech companies. His company believes the Justice Department is looking at the competitive landscape through an old lens.
"This comes at a time when the communications and media industries are undergoing some rather radical change," Stephenson said. "Massive large-scale internet companies with market caps in the hundreds of billions of dollars are creating tons of original content and they're distributing it directly to consumers."
Balto, the former FTC official, agreed with AT&T. "There are tons of different providers," he said. "The markets are changing so rapidly."
However, Economides said, the government might be trying to learn from past mistakes, when it let seemingly benign mergers go through, only to see them alter the competitive landscape. He noted that the FTC allowed Facebook to buy Instagram in 2012, thinking the combination would not be anti-competitive. But the purchase transformed Facebook into a more dominant social media platform.
"The FTC couldn't see the impact — but there was a huge impact," Economides said. "When the world is changing so fast, it's difficult to see what will happen in just a few years. It's very important to look at the future."
meg.james@latimes.com
Twitter: @MegJamesLAT
Twitter: @JimPuzzanghera
ALSO
Millions of Dish customers lose CBS signals, face Thanksgiving without network's football
Net neutrality rules targeted for repeal by FCC chairman
Can former SBA head Maria Contreras-Sweet save Weinstein Co.?
---
UPDATES:
5:15 p.m.: This article was updated with additional detail and analysis.
7:50 a.m.: This article was updated with comments from analyst Paul Gallant.
This article was originally published at 7 a.m.
---
Must-read stories from the L.A. Times
Get the day's top news with our Today's Headlines newsletter, sent every weekday morning.
You may occasionally receive promotional content from the Los Angeles Times.