NBC is expected to take Netflix favorite 'The Office' to its new streaming service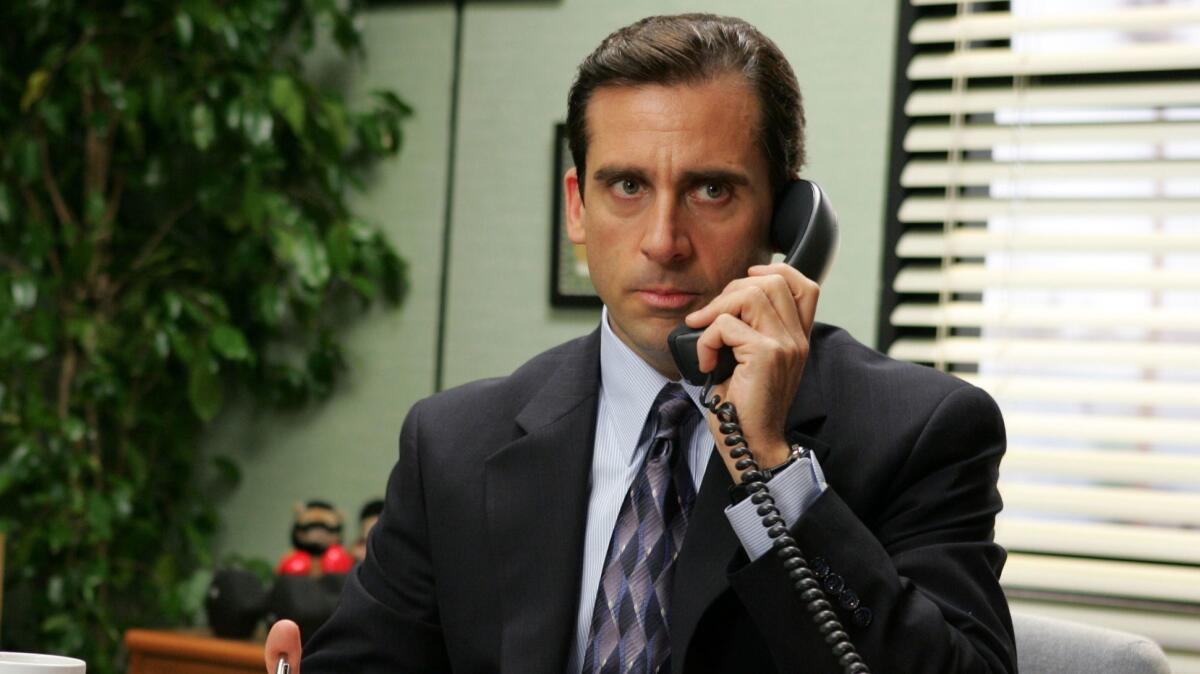 Michael Scott could be streaming his way back to NBC next year.
Linda Yaccarino, chairman of advertising and partnerships for NBCUniversal, strongly hinted Monday that "The Office" — which starred Steve Carell as the hapless boss of a paper sales company — will be part of NBCU's yet-to-be-named streaming service to be launched in mid-2020.
"The shows that people love the most and stream the most are coming home at a price that every person can afford: free," Yaccarino said in remarks to an audience of advertisers at Radio City Music Hall.
NBCU's presentation kicked off the annual "upfront week," when advertisers are wooed at venues throughout New York for a piece of the $20 billion they are expected to spend on commercials on the 2019-20 TV season lineups.
NBCU has made no official announcement on "The Office" leaving Netflix, but people familiar with the company's streaming plans say the long-running hit sitcom that ran on NBC from 2005 to 2013 will eventually be on the Comcast-owned service when current commitments expire.
Yaccarino's tease is a sign that NBCU will play hardball with its service by taking control of its most valuable properties, just as Walt Disney Co. is with its planned Disney+ offering.
The loss of "The Office" would be a blow to Netflix.
According to Nielsen data, "The Office" was the most popular TV offering on Netflix in 2018, with subscribers streaming 52 million minutes of its 208 episodes.
Once "The Office" joins NBCU's streaming service, advertisers will be able to buy commercials on it. The service will be ad supported when it launches next year and Yaccarino is already trying to get sponsors in the tent.
"Other companies are pushing advertisers out, NBCUniversal is bringing advertisers in," Yaccarino said.
The plug for the upcoming NBCU streaming service is also an acknowledgment of the changing TV landscape, where younger consumers are now choosing online sources for their video entertainment. Ad sales of digital showings of NBC's shows now account for 10% to 15% of its revenue, according to one executive at the network who was not authorized to discuss the matter publicly.
Even with the shift to online viewing, NBC is rolling out a traditional prime-time broadcast schedule, still important to advertisers and its affiliate stations.
The network is opening the season with minimal changes to the structure of its schedule. A two-hour edition of "The Voice" will return on Mondays at 8 p.m., and lead into new legal drama "Bluff City," starring Jimmy Smits, who became a star on NBC's "L.A. Law" back in the 1980s.
On Tuesdays, an hourlong "The Voice" will lead into "This Is Us" at 9 p.m. NBC has picked up its most popular drama series for three 18-episode seasons. The medical drama "New Amsterdam" returns at 10 p.m.
NBC will keep its Wednesday lineup of procedural dramas from executive producer Dick Wolf intact, with "Chicago Med" at 8 p.m., "Chicago Fire" at 9 p.m. and "Chicago P.D." at 10 p.m.
On Thursdays, NBC will have four comedies from 8 to 10 p.m., with the returning series "Superstore" and "The Good Place." New entries include "Perfect Harmony," a new entry starring Bradley Whitford and Anna Camp, and "Sunnyside," with Kal Penn. "Law & Order: SVU" returns on the night at 10 p.m.
NBC's returns its long-running drama "The Blacklist" at 8 p.m. on Fridays, followed by two hours of the newsmagazine "Dateline." "NFL Sunday Night Football" will be back on Sundays.
Returning shows "Brooklyn Nine-Nine," "Will & Grace" "Blindspot" and "Manifest" will be launched after the fall. The network is also returning its childrens' talent show "Little Big Shots," with Melissa McCarthy replacing Steve Harvey as host.
Inside the business of entertainment
The Wide Shot brings you news, analysis and insights on everything from streaming wars to production — and what it all means for the future.
You may occasionally receive promotional content from the Los Angeles Times.