Network TV viewing is down, but strong demand for ads is expected to boost upfront sales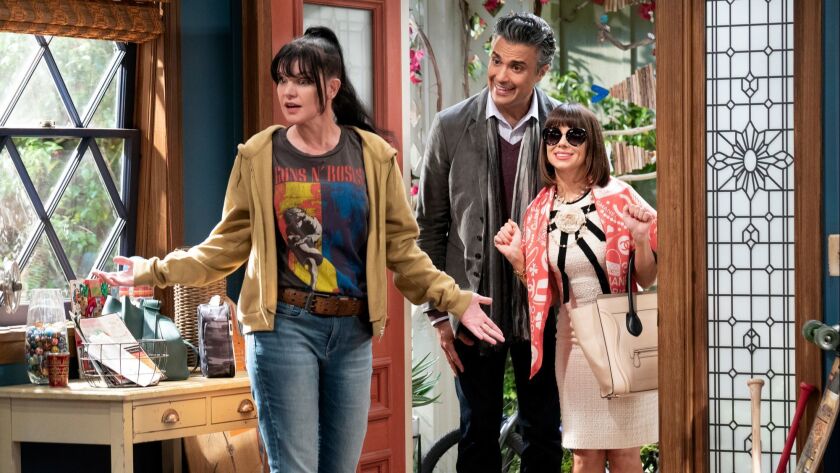 While streaming services have captured the headlines over the last year, the traditional television networks will still have their big moment next week when they unveil their 2019-20 prime-time schedules to an audience of advertisers still eager to buy commercials.
The program slates are presented by the broadcast and cable networks at Radio City Music Hall and other New York venues before their sales divisions go out to hawk the majority of their advanced commercial time for the upcoming TV season. It's what Madison Avenue calls the upfront market, and this year it's expected to hit a new high of $21.25 billion, according to research firm EMarketer, a 2.4% year-to-year increase.
Television's upfront take has grown the last three years — it was up 5.2% to $20.76 billion in 2018 — despite declining ratings due to competition from Netflix and other online video sources.
A strong economy has sustained robust ad spending in recent years. But another reason the upfront pot keeps growing, analysts say, is that shrinking ratings drive up the price of reaching viewers who still watch the networks the old-fashioned way — now known in the industry as "linear television."
"The ad market is doing well because the shows are not doing well," said Gibbs Haljun, total investment lead for the ad-buying firm Mindshare U.S. "There is a finite amount of quality rating points [a measure of viewership] in linear television. Everyone fighting for that smaller and smaller amount results in inflation."
Nielsen data show prime-time television usage among 18- to 49-year-olds declined by 11% in the current TV season, and 14% in the 18-to-34 age group.
With no sign that the decline will reverse, advertisers have to buy more commercials on next season's programs if they want to reach the same number of consumers. That has sustained demand for commercial spots even at a time when TV viewing has dropped.
The five broadcast networks — ABC, CBS, NBC, Fox and the CW — take in nearly half of the upfront dollars. Last year, they accounted for $9.6 billion, according to Media Dynamics Inc., which tracks ad spending.
Unlike digital media, in which every new website adds available options for advertisers, there are still only a limited number of TV channels that can get commercial messages in front of millions of viewers in a short period of time.
"If you need to get somebody into a new movie release or a retail sale, linear television will reach them quicker," Haljun said.
Although demand for TV commercials remains strong, the industry is still faced with the long-term decline of linear TV viewing.
Cable networks also continue to lose subscribers who forgo cable and satellite subscriptions, another factor in audience erosion and the decline in carriage fees that are a major source of revenue.
The number of people with pay TV will drop 3% to 181.4 million this year, according to EMarketer.
The networks are trying to compensate for those losses by making more deals with advertisers for commercials that reach both the viewers who watch their programs on TV and those who stream episodes later on their websites.
The growth of digital ad sales by the networks is also boosting their upfront revenues, said Eric Haggstrom, a forecasting analyst for EMarketer.
One sign used to measure the strength of the upfront — or the advertising sold well in advance of the start of the TV season — is the current pricing of last-minute ad buys. Advertisers who are looking for commercial time closer to air are paying 25% above the prices set in the upfront, according to CBS President and Chief Revenue Officer Jo Ann Ross.
Although Ross is confident that the market will grow this year, she will not have television's most-watched scripted program, "The Big Bang Theory," to sell this time around. The popular sitcom that became the "Friends" of the Comic-Con set will have its final episode on May 16 after a 12-season run on CBS.
"It's obviously going to be a loss, but I feel that with the schedule you'll see next week, we'll be better than OK," she said.
The broadcast networks have ordered most of the new programs they will present next week. CBS not only will have to impress advertisers but also critics who believe the network has failed on the diversity front as many of its shows over the years have been built around white male stars.
The network's efforts to remedy the situation include two new dramas with black actors in lead roles — "All Rise," which stars Simone Missick as a public defender in Los Angeles; and "Evil," with Mike Colter as a priest in training who helps a forensic psychologist.
CBS will also have new comedies from well-known TV stars Patricia Heaton ("Everybody Loves Raymond" and "The Middle") and Pauley Perrette, who for years was among the most popular characters on the network's popular procedural drama "NCIS."
The CBS presentation will also have a different look on stage at Carnegie Hall. For the first time in 20 years, the former network boss Leslie Moonves will not be greeting ad execs, having been ousted last year due to sexual misconduct allegations.
Walt Disney Co. has a planned change for its networks. ABC, ESPN, Freeform and the recently acquired FX and National Geographic — one of the assets to come from 21st Century Fox — will be presented together.
ABC series pickups include a prequel to its hit sitcom "black-ish" and a new drama starring "How I Met Your Mother" favorite Cobie Smulders based on the graphic novel series "Stumptown."
Fox is expected to tout its commitment to live programming — its lineup will have NFL football on Thursday and WWE "Smackdown" on Friday. But the network has ordered eight new scripted series, including the police drama "Deputy," starring Stephen Dorff and "neXt," a thriller set in the world of artificial intelligence. The network also has a new animated series, "Bless the Hearts," with "Saturday Night Live" alum Kristen Wiig.
NBC's new series orders include "Council of Dads," a drama about a father with a cancer diagnosis who prepares a team of friends to care for his family.
The CW is continuing to build on its lineup of comic book-based series with "Batwoman" from the DC Comics universe, and "Katy Keene" based on the Archie comics character. The network has also ordered a mystery series based on the Nancy Drew detective novels.
---
Inside the business of entertainment
The Wide Shot brings you news, analysis and insights on everything from streaming wars to production — and what it all means for the future.
You may occasionally receive promotional content from the Los Angeles Times.