Must Reads: Roy Orbison hologram concert in L.A. invites awe and debate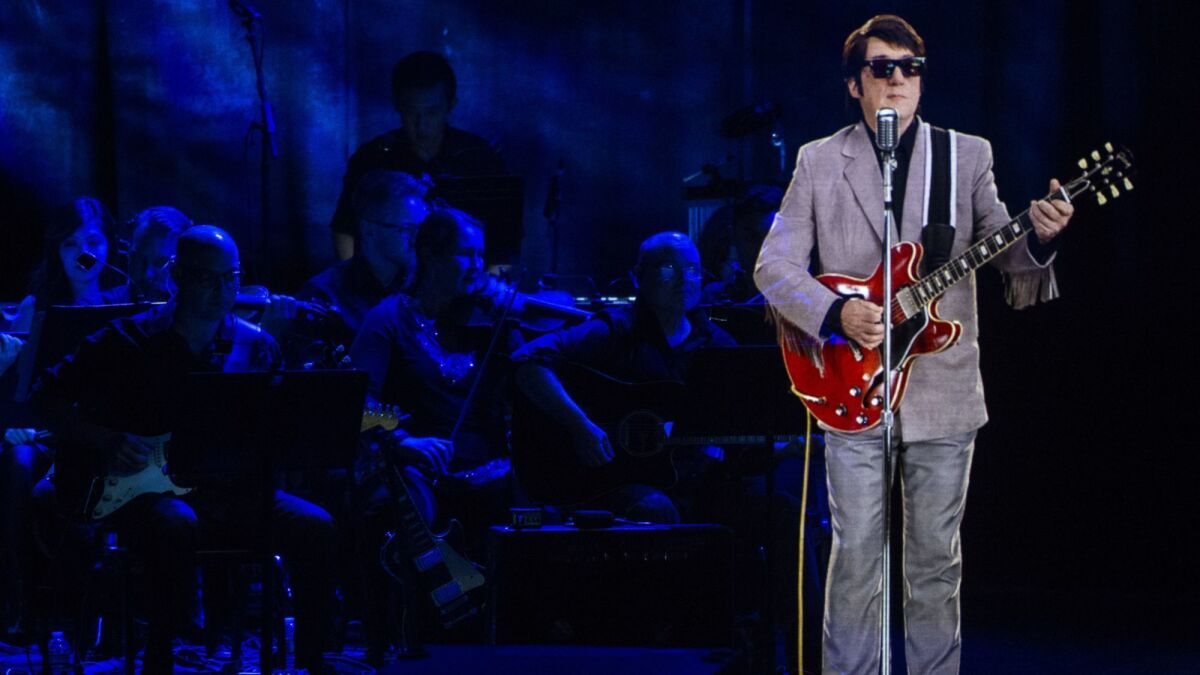 In the darkened Wiltern Theatre in Los Angeles, hundreds of people couldn't wait to see legendary rocker Roy Orbison. A live orchestra pumped up the crowd with a medley of his hits. Old photos of him flashed across a giant screen.
Then, the crooner appeared to rise magically from the stage, wearing his signature light gray suit and black shades and jamming on a red Gibson guitar to his 1960 hit "Only the Lonely." Fans screamed as they quickly positioned their smartphones to record the spectral image.
"This is as good as seeing him in person as you'll ever get," marveled 71-year-old Ray Sadowski, who paid about $200 for a pair of tickets to the Tuesday night show.
Thirty years after his death, Orbison (at least the digital version of him) is going on a national tour, the latest and possibly the most ambitious example to date of how holographic technology is transforming the music industry. The hologram's 65-minute show, which features 16 songs and orchestral accompaniment, is among the first full-length concerts to feature a holographic dead singer.
Such images and shows are becoming more common, as families of deceased celebrities look for new ways to prolong and capitalize on their legacies. But as technology evolves and it becomes easier to create three-dimensional, lifelike visuals of artists, there's growing debate over how those images will be portrayed — and whether they truly represent how the artists behaved when they were alive. That has prompted some celebrities to add language in their contracts about holograms and to be more meticulous about selecting who is in charge of their estates. It has also sparked threats of lawsuits from estates to bar companies from profiting from a celebrity's image without their permission.
"This is a big issue," said Aaron Moss, a partner with law firm Greenberg Glusker. "With new technology, you could essentially make somebody an unwitting and involuntary actor in a film that a celebrity has no part of."
Buzz surrounding holograms of dead celebrities picked up after a digital representation of late rapper Tupac Shakur appeared on stage at the 2012 Coachella Valley Music and Arts Festival. The singer's likeness was projected onto a Mylar screen, reflecting the image on stage. Although the technique produces a holographic image, it is not technically a hologram, which is defined as a three-dimensional image from a laser.
Soon, other acts followed, with a holographic version of jazz singer Billie Holiday on stage at Hologram USA's Hollywood theater. Pop star Michael Jackson also was digitally resurrected at the Billboard Music Awards. Last year, a holographic image of Black Sabbath singer Ronnie James Dio went on tour through Los Angeles-based Eyellusion.
The growth in technology has spawned a cottage industry of companies specializing in creating these effects. It has also created new revenue opportunities for music labels looking to boost record sales.
The Dio holographic concert alone sold on average 1,200 tickets over 11 dates, said Jeffrey Pezzuti, Eyellusion's chief executive.
Pezzuti says music companies have a back catalog they need to continue to sell, and if artists "are not in front of people, it's hard to get a lot of buzz." Holographic images can solve that issue for deceased legacy artists. "It's a whole industry change,'' he said. "We can keep the legacies going and keep them on the road."
Orbison's hologram was made by Base Hologram, led by Brian Becker, the former chief executive of Clear Channel Entertainment, a major promoter of live entertainment events. Unlike other companies, Base Hologram says its images of deceased celebrities are projected by a single machine without the help of a screen or previous concert footage.
The Los Angeles company hired a model to mimic Orbison's actions, and computer animation work was done to create a digital representation of Orbison that is beamed onto the stage. Orbison's voice was taken from previous recordings and later paired with a live orchestra and synced to the hologram's movements.
This year, the company brought the Orbison hologram tour to 15 locations in Europe, selling 38,000 tickets. Los Angeles was the first stop on the North American tour.
The concerts have attracted older audiences who grew up with Orbison's music as well as millennials curious about the technology. Next year, Becker says he expects revenue at his firm to be in the range of $25 million to $35 million.
"Not only can we experience these artists again, we can experience them in different ways, in a new environment," Becker said.
Base Hologram is also launching a tour this year of the late opera singer Maria Callas, who died more than 40 years ago.
"I hope that it will be effective in exposing her to new audiences," said Jeff Bronikowski, Warner Music Group's head of innovation and a senior vice president overseeing global digital business development. The concerts could bring in additional album sales or streaming revenue, he said.
Although holograms have created new moneymaking ventures, their growing use has also stirred anxieties among celebrities who are worried about how they'll be portrayed after they die.
"It's very hard to control that from the grave," said Derek Crownover, head of the entertainment law practice group at Dickinson Wright in Nashville.
Some states, including California, have laws that protect a celebrity's right to control how their image or likeness is used and those rights can be passed onto family members or an estate. But even with those protections, family members could come under fire for how they handle a dead celebrity's image when it doesn't resonate as authentic to fans.
In 2013, a Johnnie Walker whiskey ad featuring a digital representation of martial artist Bruce Lee was criticized by some fans. The company had consulted with Lee's daughter for the ad, but some fans felt the branding didn't match the lifestyle that Lee had when he was alive because he abstained from drinking alcohol.
"In general, the fans of the celebs like to cherish the image of the celebrity that they watched when they were alive," said Denver D'Rozario, a marketing professor at Howard University. "When you distort it, they protest it. It messes with the fan's memories."
One controversial commercial used footage of the late legendary dancer Fred Astaire to market a Dirt Devil vacuum cleaner. Astaire's widow, who was in charge of the estate, approved of Dirt Devil using his image, but his daughter told Variety that she was "saddened that after [my father's] wonderful career, he was sold to the devil."
The growth of holographic dead celebrities in concert could also increase the appraised value of their image or likeness when they die, which could mean more taxes for the estate, said Laura Zwicker, a partner at law firm Greenberg Glusker. That could put additional pressure on the estate to earn money to pay for those additional expenses.
"The more we see name and likeness exploited, the bigger hurdle we have to value those rights," Zwicker said.
Base Hologram says that it has worked closely with family members of deceased celebrities to create holograms that are true to who they were when they were alive.
Alex Orbison said he thinks his father would have liked the idea of a holographic concert because he loved Hollywood and cinema. "He really loved the special effects in movies," such as when Princess Leia appeared as a hologram in "Star Wars," Orbison said.
To make the depiction more realistic, the Orbison family suggested tweaks to an early version of the hologram, such as adjusting his sunglasses between sets because he would be sweating.
"While it was technically great at the test shoot, we wanted to add back all that human element," Orbison said.
The hologram took about a year to create. The company worked with the Orbison family to create a concert that included songs that the legendary rocker had never performed live on stage before.
Orbison said he was nervous when the show had its opening night in London. The pressure was so great, "it was almost like stage fright," Orbison said.
But as the holographic version of his father reached the high notes and fans cheered during "Crying," it was Orbison's turn to cry — from relief.
"It was seeing couples holding hands and the way that these families looked at each other," Orbison said. "The fact that these people were having the experience of my dad … in 2018 is just so incredible."
Still, there were some awkward moments during Tuesday night's performance. When a song finished and the hologram said "Thank you," some audience members laughed, unsure of the appropriate response to a programmed event.
Roy Orbison's hologram wasn't static during the concert. He turned to acknowledge the orchestra, though for most of the concert, he faced the audience. There were no dance moves. Organizers said that was typical of concerts Orbison did in his lifetime.
Sho Guo, 34, said she would have liked to see Orbison interact more with the audience. When people yelled "Encore!" Orbison didn't acknowledge them.
"You don't have that in the hologram," Guo said.
But for Sadowski, it was an opportunity to "see" Orbison that he couldn't pass up. Using binoculars he brought to the Wiltern, he saw the moving fringes on Orbison's jacket and was impressed by how the hologram's mouth was perfectly synced to Orbison's voice.
His wife, Pat, said the experience was "fabulous."
At first, she didn't know what to expect because the concert was a surprise. This one was going to be "a little different," her husband warned her. "Don't get spooked by it," he said.
Twitter: @thewendylee
Inside the business of entertainment
The Wide Shot brings you news, analysis and insights on everything from streaming wars to production — and what it all means for the future.
You may occasionally receive promotional content from the Los Angeles Times.