California franchisees accuse 7-Eleven of racial discrimination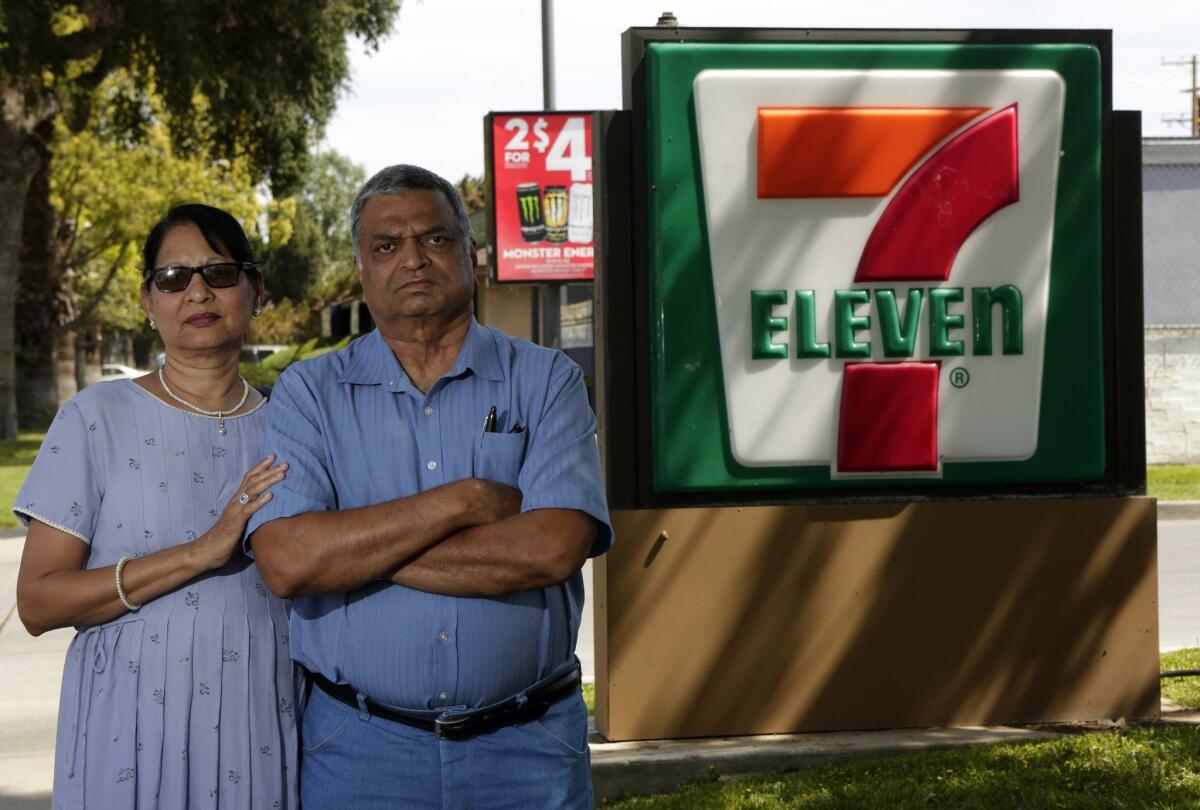 A new organization of California 7-Eleven franchisees is suing the convenience store chain, alleging the company violated store operators' civil rights through racial discrimination, as well as other complaints.
The Franchise Owner's Assn. of Greater Los Angeles, along with other franchisee organizations, says it represents more than 1,200 members who are accusing 7-Eleven Inc. of racial discrimination, invasion of privacy and illegal surveillance and mistreatment.
The suit, filed Friday in federal court in Los Angeles, is the latest list of allegations aimed at the Dallas company, which is owned by Seven & I Holdings Co. in Tokyo.
The group said it does not want any money from 7-eleven, but is asking for a court declaration affirming that 7-Eleven's actions are in violation of both federal and California state laws.
More than a dozen franchisees around the nation have sued 7-Eleven in the last two years, claiming they were stripped of their stores illegally, without evidence and any compensation. Some plaintiffs say 7-Eleven targeted successful stores in high-traffic areas, then flipped them to new franchisees willing to pay the company higher fees.
Ethnic South Asian franchisees across the state say they were specific targets of these practices because of their cultural and work habits, which sets this case apart from past lawsuits, said Louis Tambaro, a partner with New Jersey law firm Marks & Klein, the franchise owners group's lead counsel.
7-Eleven balked at the allegations of racial discrimination and said it will "vigorously defend itself."
"This is a frivolous lawsuit filed by a very small number of Franchisees and a local franchisee group," the company said in a statement.
In the past, 7-Eleven defended its store takeovers, stating that some franchisees were stealing, often by falsifying sales records.
Adnan Khan started running his first 7-Eleven store in South El Monte 34 years ago, and now has five stores in areas such as Baldwin Park and West Covina. He said the company used traumatizing intimidation tactics to try and get him to sell his stores, which he says are top-selling locations.
"Investigators were stalking me, taking personal information and trying to make me afraid enough to give in," he said.
Khan, who also recently filed a lawsuit against the company, said many of his fellow franchisees who lost stores were not only targeted because of their location but also because of their South Asian heritage.
"Many franchisees are first generation, hard working and came to the U.S. with their families and all their money to make a living," said Khan. "They pour themselves into these stores because that's their culture, and once they are built up to high-selling stores, 7-Eleven comes in and kicks them out."
The lawsuit accuses 7-Eleven of abusing ethnic South Asians and their "cultural traits of hard work, respect for authority and community-mindedness." The suit specifically cites a time period after the company was acquired by Seven & I Holdings, saying that 7-Eleven's new owner promoted "exploiting the trust of South Asian franchisees to make large profits."
Jas Dhillon, who is listed as a plaintiff in the lawsuit, was born in India and raised in the San Fernando Valley. He started working in his parents' 7-Eleven store as a child in 1976 and eventually took it over.
Dhillon said he has worked with a host of exploited South Asian immigrants, many of whom are Indian and Pakistani, and said 7-Eleven "understands their cultural psychology" and thus knows how to intimidate them to give up their stores.
"In India we have been taught to serve our master and take the path of least resistance," said Dhillon. "So the company will threaten or intimidate and workers give in to keep their honor in the community and walk away to keep their dignity but without a penny."
The franchisee is also vice chairman of the National Coalition of Assns. of 7-Eleven Franchisees, and said this is going to become a national movement.
"We are working with store owners in Boston, Florida and Seattle who are experiencing the same thing," Dhillon said. "These stores are our bread and butter and South Asians had been afraid to speak out before."
Past lawsuits have accused 7-Eleven of "churning" stores, meaning the company snaps up profitable stores by inventing what the plaintiffs contend are false accusations of fraud and then resells the stores.
The turnaround practice gives the company "millions in additional profits," according to the lawsuit.
However, the company cited multiple lawsuits against franchisees accused of violating the law by diverting profits, illegally using trademarks and tinkering with sales reports.
As a result, the company beefed up surveillance and investigatory practices over the years by using undercover shoppers and installing expensive cameras.
Barry Kurtz, a franchise attorney from Encino, said the company's surveillance practices could be seen as intimidating to franchisees because they are so robust, but the company uses them "because they've probably had experiences in the past where their franchise community has been ripping them off."
Kurt McCord, a former corporate investigations supervisor for 7-Eleven, said he stepped down last year because he disagreed with the company's practices.
In court documents, he said some investigation practices used on some franchisees amounted to a "predatory program."
McCord said the company set a yearly target for store takeovers -- this year's is 120.
Khan and Dhillon argue that they and other South Asian immigrants helped make the company into what it is today, and are being treated as employees who can be tossed aside instead of independent store owners.
Founded in 1927, 7-Eleven has been wholly owned by Seven & I Holdings since 2005. The system includes more than 52,500 convenience stores in 16 countries. California, with 1,600 stores, has the most of any state.
More than three-quarters of the 7,800 stores in the U.S. are operated by franchisees who pay for the right to use the company's name. Franchisees split their gross profits evenly with 7-Eleven.
However, the group of California franchisees state that the company is utilizing "dominant and rigid" oversight by controlling everything from an employee's paycheck to a store's lighting and temperature.
"These people bought into the franchise thinking they were independent store owners, but the company has made significant changes to the relationship over time and they are now legally classified as employees," Tambaro said.
Khan said each his five stores are worth $300,000 to $700,000 because of their top sales, and he fears the company will find a way to ensure he gets nothing.
"7-Eleven leaves people like us penniless," Khan said. "We slave away for years, have our families working all hours just to make something of our store and they can take everything away."
Twitter: @bri_sacks