Tariffs on China could spark a response, hitting agriculture, tech and aerospace in the U.S.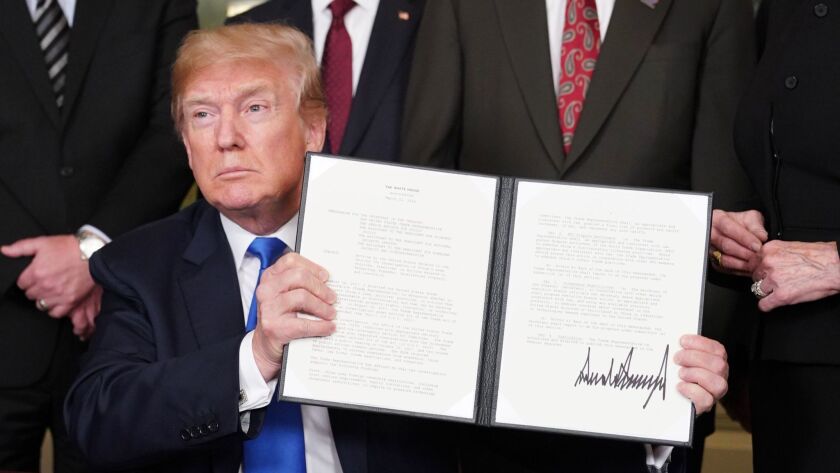 President Trump's call Thursday to impose tariffs on Chinese products prompted an outcry from several U.S. industries that expressed fear of an all-out trade war that could ultimately hurt U.S. consumers, farmers and manufacturers.
The effect of Trump's move won't be clear until the U.S. submits a final list of products subject to the new taxes, which should be announced this spring after a public comment period. Also crucial will be how China responds.
Already, leaders in the agriculture, retail and technology industries are predicting their business will pay a heavy price in a trade war with China.
Trump ordered about $50 billion in tariffs on a wide range of Chinese imports Thursday, as well as new restrictions on Chinese investments in the U.S. The moves are the latest by Trump to counter what he sees as unfair trade practices by other countries, especially China.
Only hours later, China announced plans for tariffs of $3 billion on imports from the U.S., including fruit and wine. Some media reports suggest the tariffs were in response to earlier taxes proposed by Trump on Chinese steel and aluminum.
Regardless of what instigated the response, Chinese officials said they won't hesitate to fight back at tariffs imposed by the U.S.
"China will certainly take all necessary measures to resolutely defend its legitimate rights and interests," said a statement from its Ministry of Commerce just hours before Trump's formal announcement.
Amid fears of a trade war, the Dow Jones industrial average closed Thursday down 724 points, or nearly 3%.
Shares of Boeing Co., which had plans to sell China about $1 trillion in aircraft over the next two decades, dropped $17.56, or more than 5%, at the close of business. The aerospace giant declined to comment Thursday on the proposed tariffs.
China could hit other major U.S. companies such as Apple and Ford. Even Hollywood's movie industry could feel a sting in a trade war.
The nation's biggest technology trade group, the Information Technology Industry Council, criticized Trump's call for tariffs, saying the U.S. should instead negotiate with China to resolve trade conflicts.
"As the administration considers how it will address these serious issues, we encourage it to act consistent with international obligations and in close collaboration with other countries," ITI President and Chief Executive Dean Garfield said in a statement Thursday.
The group says Trump's tariffs will increase the price of components from China used in U.S.-made devices.
China's Commerce Ministry said it plans a 25% tariff on U.S. pork imports and recycled aluminum, and 15% tariffs on American steel pipes, fruit and wine. California's top exports to China include about $1 billion in almonds and other nuts, along with about $285 million in fresh fruit, about $250 million in hay, and $140 million in dairy products.
Following Trump's tariff announcement, the American Soybean Assn. repeated its concern about the potential effect of retaliation from China. China is the largest purchaser of U.S. soybeans, consuming nearly a third of U.S. production, worth $14 billion annually.
"Multiple reports indicate the Chinese have U.S. soybeans squarely in their sights for retaliation, and this decision places soybean farmers across the country in financial danger," said Iowa farmer and American Soybean Assn. President John Heisdorffer. "It's extremely frustrating to have the administration taking aim at our largest trading partner."
The Retail Industry Leaders Assn. also issued a statement blasting Trump's call for tariffs, saying American consumers will ultimately pay a price for the move.
"Make no mistake, these tariffs may be aimed at China, but the bill will be charged to American consumers who will pay more at the checkout for the items they shop for every day," said Hun Quach, vice president of international trade for the retail trade group. "This trade tax has the potential to wipe out any gains the average American family received from tax reform."
The brewing trade war comes at an awkward time for the movie industry, which relies on China as an important and growing market for its films.
Hollywood is trying to negotiate for a greater share of box-office receipts from movies released in China, where they now collect about 25% of revenue from ticket sales.
Studios also hope China — the world's second-largest cinema market — will increase the number of foreign pictures allowed into the country through a revenue sharing agreement.
But those plans are certain to take a back seat during a broader trade war, said studio executives, who did not want to be named speaking publicly. Studio executives are still weighing the implications of China's decision to abolish its media regulatory arm, the State Administration of Press, Publication, Radio and Television, and set up a new system under tighter control from the State Council to oversee censorship, propaganda and control of media and entertainment.
China has recently been the source of billions of dollars in tourism spending in the U.S. But that could also be cut in a trade war. The number of foreign visitors to the U.S. began to drop recently, after years of growth. But travel from China to the U.S. has remained strong.
China has in the last few years grown to be the fifth-biggest source of travelers to the U.S., behind only Canada, Mexico, the U.K. and Japan. In 2017, about 3 million Chinese traveled to the U.S., a 2% increase over the previous year, according to the U.S. Department of Commerce.
Chinese visitors are the biggest spenders of all international travelers to the U.S., spending an average of $6,900 per trip, according to the U.S. Travel Assn.
Travel experts say China could retaliate by imposing limits on Chinese businesses that want to travel to the U.S. So far, there has been no indication of such a move, industry insiders say.
Bloomberg was used in compiling this report.
---
Your guide to our clean energy future
Get our Boiling Point newsletter for the latest on the power sector, water wars and more — and what they mean for California.
You may occasionally receive promotional content from the Los Angeles Times.