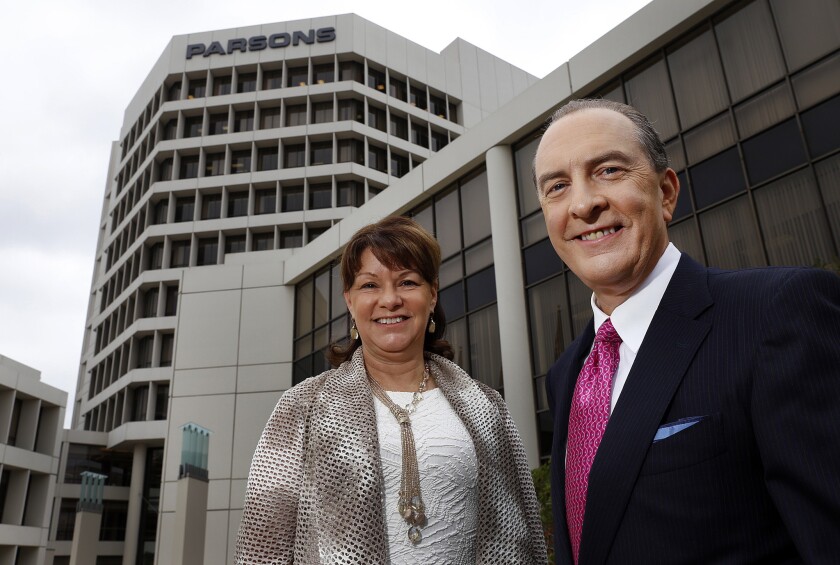 The board of directors at construction and engineering company Parsons Corp. needed to fill a seat two years ago.
Naturally, they wanted someone with communication and leadership skills. They also needed someone new: an expert to help them battle computer hackers, cyberthieves, electronic spies, digital vandals and anybody else out to wreak havoc in a connected world.
The privately held Pasadena firm's latest board member is Suzanne Vautrinot, a retired Air Force major general who helped create the Department of Defense's U.S. Cyber Command and led the Air Force's IT and online battle group.
Parsons is at the forefront of a fast-expanding trend in corporate governance: the elevation of cybersecurity experts to the boardroom, a perch traditionally occupied by former CEOs and specialists in marketing and finance.
In recent months, AIG, Blackberry, CMS Energy, General Motors and Wells Fargo have added a board member with computer-security knowledge. Delta Air Lines and Ecolab did the same in recent years.
The reasons are clear. Cyberattacks on large companies skyrocketed 44% last year from 2013. Cybercrime costs businesses more than $400 billion a year, according to Lloyd's of London.
Interested in the stories shaping California? Sign up for the free Essential California newsletter >>
Boards are responsible for advising chief executives on setting goals and plans to achieve them, and to question the challenges standing in the way. Not adequately addressing a cybersecurity risk could prove costly — in money, reputation, legal bills, lost time and lost customers.
Just ask Target. Since hackers breached its payment systems two years ago, Target has spent $256 million cleaning up the mess, with insurance expected to cover about a third. Though costing a small slice of revenue, the damage was enough to sack the chief executive and scare away many customers for several months. Government investigations and several lawsuits from affected customers and business partners are ongoing.
In other cases, cyberthieves steal sensitive corporate data, which could cause the company's competitive advantage to slip and its reputation to wane.
Data show that corporate boards have a long way to go. Just 11% of public-company boards queried this year reported a high-level understanding of cybersecurity, the National Assn. of Corporate Directors said. A review by the New York Stock Exchange and security firm Veracode found that two-thirds of board members questioned think their companies are ill-prepared for a cyberattack. Yet consulting firm PricewaterhouseCoopers reports that 30% of boards surveyed never talk about cybersecurity at all.
That fact raises eyebrows. "There's some liability in not taking every measure you can to protect your clients, to protect your revenue stream," said Gary Matus, managing director at the executive recruiting agency RSR Partners. "To give people confidence, you have to be getting the best advice you can."
To Parsons Chief Executive Charles Harrington, having a cyber pro on the board was a no-brainer. The nature of Parsons' business demanded it. Along with classified government work, Parsons builds bridges, utility plants and military bases. Harrington realized that those projects' IT networks needed protection. Computer viruses were spreading that could destroy the infrastructure Parsons assembled. So he has been preparing his company for what he calls the age of "electronic battlefields."
He bought two cybersecurity companies. Pairing them with Parsons' engineers and scientists, they aimed to "bake" in security rather than "bolting" it on after.
Harrington knew the direction was right, but needed someone with a new perspective to help him strategize, and communicate that strategy to the board. He tapped Vautrinot, whom he calls a "rare individual with the deep technical set and the communication skills needed to gravitate to a board." And she's "not afraid to dig in and get her hands dirty."
NEWSLETTER: Get the day's top headlines from Times Editor Davan Maharaj >>
She's no rubber stamp. Vautrinot visits the company's cybersecurity teams. She helps think through what will persuade a customer to pay for cybersecurity services, likening it to the challenge years ago of getting people to wear bicycle helmets. In the boardroom, she cuts through jargon, explaining opportunities to protect the technological backbone of railroads, toll roads and the like. She advises on how the 15,000-employee company should protect its own worldwide network, under constant threat because of the sensitive projects Parsons undertakes.
"You can bring the passion, you can champion, you can ask good questions," she said. "You can help other board members see 'Is it viable? Can we do this and grow as a company?'"
In February, Vautrinot joined Wells Fargo, which is heavily investing other cost-savings into information security. She's also on the boards of Ecolab and Symantec.
Demand for board members such as Vautrinot is increasing, board recruiters said.
David Burg, U.S. cybersecurity leader at PwC, said he's still receiving an "amazing" number of requests from boards for basic education. For example, PwC helps boards compare their company's security approach with competitors'.
There's a big problem with the whole trend, though: a shortage of cyber-qualified board candidates.
John Pironti, a risk and security advisor for the professional group ISACA, is urging his members to ask for more responsibilities during this "big hump of sensitivity," so they'll be primed for larger advisory roles in the future — including on boards of directors.
Harrington is open to that idea. Three years ago, Parsons' board decided to allow employees to join boards of other companies, though it hasn't yet fielded any requests.
"Depending on how critical their IT network is to them, absolutely, having someone on the board can shift the dialogue," Harrington said of other companies. "Cyber finds a way onto our agendas one way or another."
paresh.dave@latimes.com
Twitter: @peard33
ALSO:
Happy trays: A renovated Clifton's cafeteria is set to reopen after nearly four years
Machine 'learners' compute cloud cover to balance power supplies
Pebble Beach 2015: Concours d'Elegance concludes with best in show
---