Pebble Beach 2015: Concours d'Elegance concludes with best in show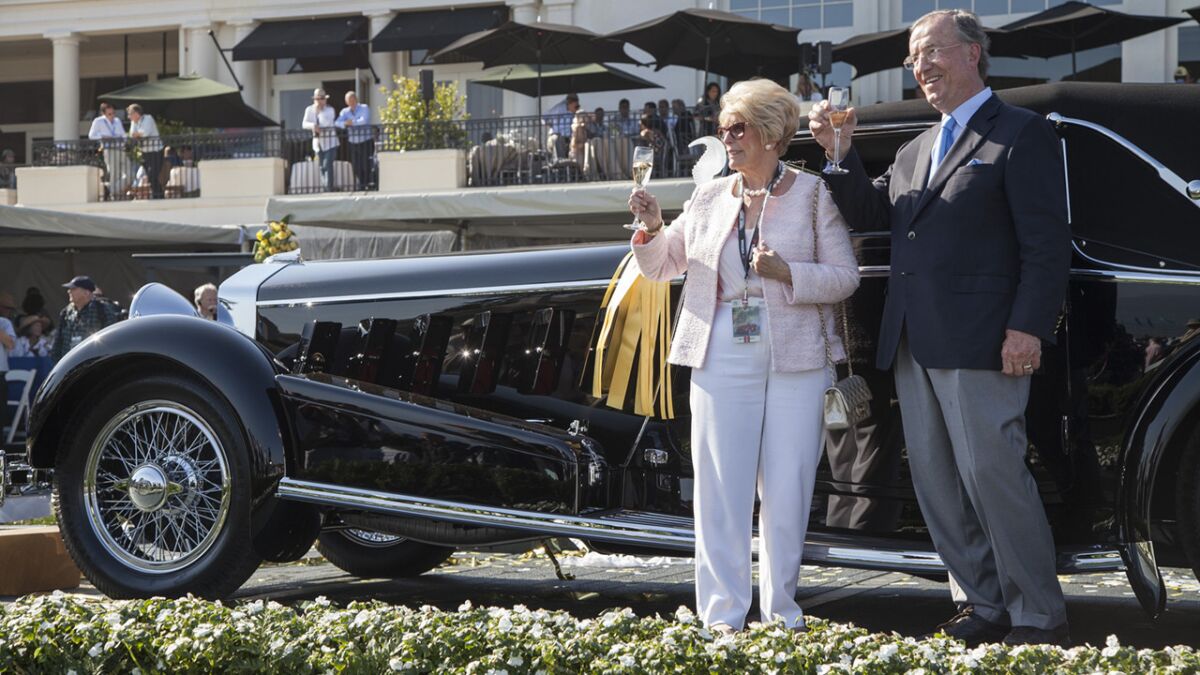 More than 20,000 enthusiasts crowded onto the fairway at the Lodge at Pebble Beach to ogle automobiles and pay homage to auto design at the 65th annual Pebble Beach Concours d'Elegance.
The yearly running of the cars, held on the legendary golf course by the Pacific Ocean under a brilliant, sunburning sky, culminated with a best of show win for Jim Patterson. His 1924 Isotta Fraschini Tipo 8A took the top prize and accompanying gold ribbon, besting a classic 1914 Rolls Royce, 1937 Delahaye and 1953 Abarth 1100.
The prize marks the conclusion of the multiple day auto extravaganza known as Monterey Car Week. The festivities began six decades ago as a friendly race along Pebble Beach's 17 Mile Drive, but has grown into a massive event that draws up to 85,000 attendees and includes car shows, car pageants, car rallies and car auctions.
Winner Patterson of Louisville, Ky., is a regular Concours participant, and last won in 2010. His vehicle was also a blue ribbon winner, named best in its "European Classic Early" class.
"I'm a little bit overcome, and a little bit emotional," Patterson said. "In this business, if you win at Pebble Beach, you've done the ultimate. Nothing else compares."
Patterson was alone in the top winner's box, but he was not alone. The Concours judges are generous, and named more than two dozen other vehicles winners in other classes, which included the unsurprising ("Vintage" or "Duesenberg") and the uncommon ("Post War Cunninghams"). First-place winners in each category received traditional blue ribbons.
The judges were choosing from a field of 220 entrants, organizers said, representing 15 countries. Many of the contenders, in addition to rolling onto the Pebble Concours d'Elegance grounds, had also completed the Tour d'Elegance -- an 80-mile road trip to Big Sur and back that is considered a major mechanical accomplishment for some of the oldest vehicles involved.
The day began with the now-traditional Dawn Patrol, a recent ritual in which the truly faithful make their way in the darkness to Pebble's 18th green to watch the contenders roll onto the fabled fairway.
Many were heard to complain that the event, which was once an intimate affair attended only by the cognoscenti, now draws hundreds.
There was little audible complaining on the fairway, though, as capable masters of ceremony kept the awards moving quickly. Car enthusiast and former late-night TV host Jay Leno, whose "Jay Leno's Garage" car show is set for an October debut on CNBC, was on hand to lighten the mood.
In a cheerful, self-congratulatory note, the event organizers announced that to date they have raised and donated more than $20 million to charity.
"I know it barely buys you a Ferrari," Leno said. "But it's pretty good!"
Twitter: @misterfleming