New dating apps cut to the chase, set up dates quickly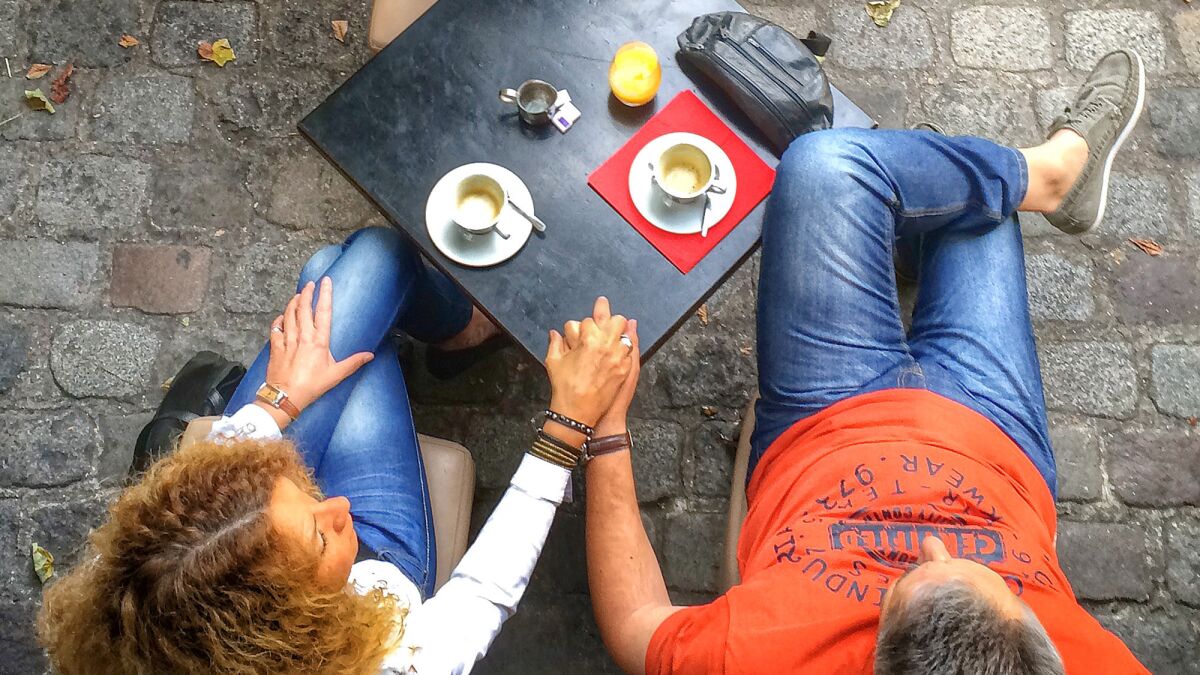 Tedious, frustrating, emotionally draining — that's how Eve Peters felt about online dating after seven years in the industry. Customers repeatedly told the former product lead at OKCupid Labs the whole affair is too time-consuming, and, based on complaints and her own personal experience, she felt it was burning people out.
People poring over profiles to separate the cream from the creeps, messaging back and forth for weeks or months with potential partners, investing energy trying to impress only to meet in person and realize in an instant there's no personal chemistry — for many, it felt like a waste of time.
But, Peters thought, if you can tell in half a minute of meeting someone whether there's chemistry, then why not cut to the chase and just meet up?
She crafted a new approach: an app where users can meet people without hassling with features on traditional online dating apps. Forget rummaging through in-depth profiles and messaging back and forth. If two people are interested in each other, they're going on a date. Tell the app when you're available, and it'll tell you when and where you're meeting.
"I liked it because I felt like it wasn't super involved; I didn't have to write a biography about myself," said Jamie Stuckey, 29, who took part in the beta test for Peters' app, Whim, which is due to launch this year. "If you're going to use something like a dating app, you want it to be time friendly. With Whim, you know if you're matched with someone, it's someone looking to go on an actual date. They're willing to take the first step to get to know you."
This approach to online dating may seem brazen, but an increasing number of apps are heading in a similar direction in a bid to carve out their own piece of the online dating pie, which was worth more than $2 billion as of 2014 and growing at 5% each year. The days of essay-length profile pages and months of back and forth messaging are numbered. At least that's what the developers of the new dating apps are counting on.
Whim, which will launch as a subscription service priced from $12 to $30 a month (depending on how many months users commit to), has no detailed profile pages. There is no messaging system. Users choose which nights they're free for a date and are then presented with pictures and short descriptions, one candidate per screen.
They can swipe left to pass on a person or right to express interest, a feature the Tinder dating app pioneered. If they find a "match" (when both people swipe right), Whim sets them up on a date. Based on the users' location and availability, the app tells them when and where their date will happen. Phone numbers are exchanged in case either person needs to change plans.
Clover, a full-featured online dating app, recently added On-Demand Dating, similar to what Whim has planned. The basic version of the app is free, but users can pay $9.99 a month for access to premium features, including advanced filters, account verification, and read receipts that show when a message recipient has opened the message. Arranging a date will be as easy as ordering "a pizza or a cab," said Clover Chief Executive Isaac Raichyk.
Clover's researchers found that users suffered the same online dating fatigue Peters described: They invested time and emotions upfront, only to be disappointed to see their digital dream in the flesh.
"People don't have a lot of time to devote to dating nowadays, and most of the existing dating services and apps are painfully inefficient," he said. "On-Demand Dating streamlines the dating process. Getting the whole 'Hey, let's meet up' stuff out of the way upfront is a huge psychological icebreaker for people."
Eli Finkel, social psychology professor at Northwestern University, said the direct approach to online dating reduces the chances of people embellishing their profiles or creating unrealistic expectations.
"At the end of the day, having a live, face-to-face interaction with someone is the best way to figure out who is compatible with you," Finkel said.
Not everyone is convinced the direct approach is destined to displace traditional online dating. Dating consultant Steve Dean said sites such as OKCupid and Match.com remain popular because they give users control over their matches. Dean said if the sites' algorithms determine he's a strong match with someone, he knows he'll have an enjoyable date, even if romantic sparks don't fly. Match is a subscription-based service that starts at $23.99 a month if users subscribe for three months; OKCupid offers a free and premium version, which starts at $7.95 a month.
The New York-based Internet and media company InterActiveCorp, or IAC, is the largest player in the online dating industry and owns both brands, with a majority stake in Tinder. It also owns other online dating platforms including HowAboutWe, Chemistry.com and Meetic. According to IBISWorld analyst Jeremy Edwards, major players such as IAC, EHarmony and Zoosk make it hard, "though not impossible," for new entrants to succeed in the industry. They simply need to be innovative enough to capture significant market share.
Easier said than done. New apps that have found success, including Tinder, have been gobbled up by IAC through investments and acquisitions. In 2013, IAC's online dating properties made a combined $788 million.
The history of computer dating is older than you might think. As early as 1965, thousands of people turned to a computerized dating service developed by Harvard students that promised to match like-minded individuals. Participants of Operation Match filled out lengthy questionnaires, which they submitted with $3, and a program on an IBM 1401 computer would match questionnaires to similar responses.
OKCupid's and Match.com's algorithms are more complex than what the Harvard graduates achieved almost 50 years ago. But there still isn't an algorithm that can determine whether two people will click when they meet in person, Finkel said, which is why there's no replacement for a face-to-face encounter.
Online dating's future doesn't have to go one way or the other, though. Jonathan Badeen, Tinder co-founder and engineering vice president, pioneered the swipe right feature for the app. Tinder is free to use, but its co-founders have talked about offering premium features at a later date. Badeen believes the apps and services that stick will evolve with technology and culture: apps developed for mobile, wearables or even virtual reality, and adaptable to what people find comfortable.
Tinder recently bought Tappy, a disappearing photo messaging service similar to Snapchat, although it's unclear what Tinder will do with the technology.
Only a few years ago, meeting a stranger online was taboo in many countries. Now, people climb into cars with strangers via services such as Uber and Lyft, or stay in strangers' homes through Airbnb. The idea of grabbing a drink with someone you found through an app doesn't seem so strange. The change in culture and comfort levels has paved the way for apps such as Tinder and Whim. As people keep changing, so too will the apps.
"It might be the services that remain are able to cater themselves to the user, so they're able to see if a person wants to get to dates quickly, or if they want to spend more time messaging," Badeen said. "I don't think there's a cookie-cutter one-size-fits-all solution."
For Stuckey, Whim's direct approach works for her.
"I feel like in life, you just gotta do it," she said. "I don't want to send someone a million messages. I want to see them and see if we have a connection. If we meet each other and have fun, great. If not, we can move on. I don't want to waste even more time on apps or on the Internet."
Twitter: @traceylien