Disney buys Anaheim land, sparking expansion speculation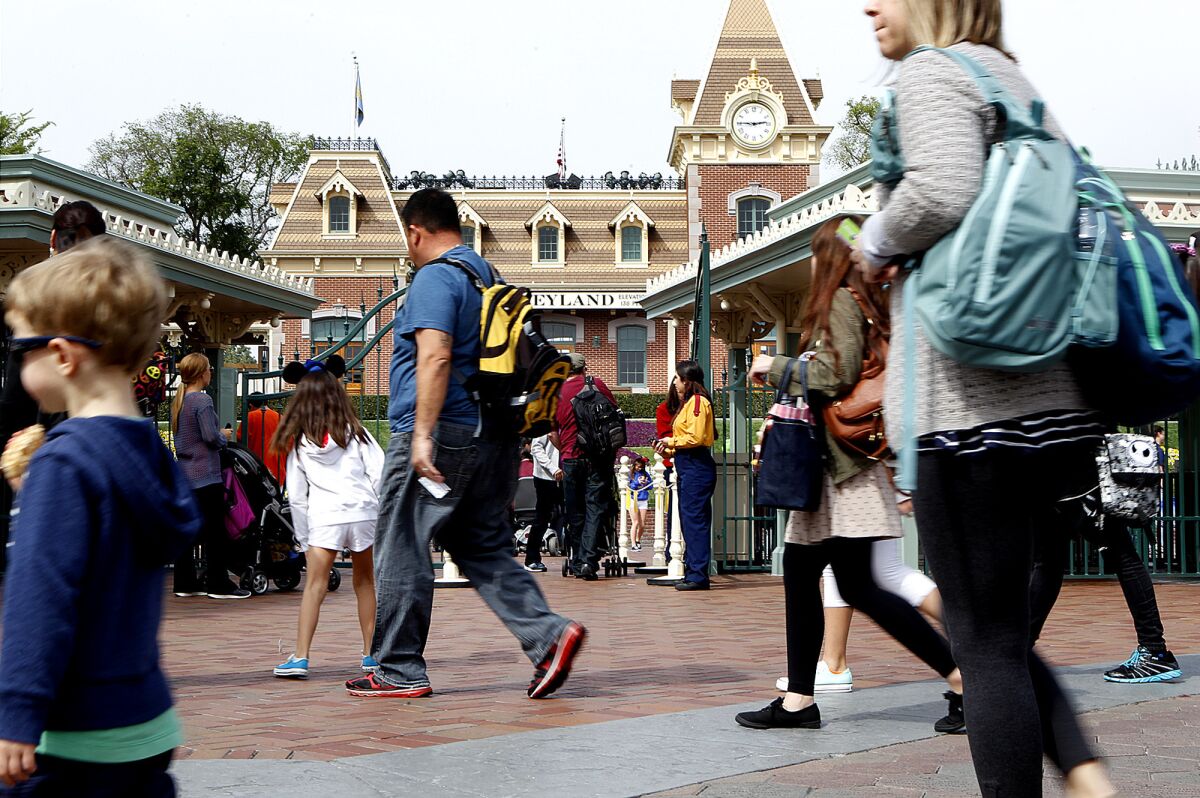 The Walt Disney Co. has purchased three parcels of land near its Anaheim resort, sparking speculation that the property would free up land for a future park expansion involving Disney's Star Wars or Marvel's superhero characters.
"People have put two and two together and they know that something cool could be coming down the line," said Robert Niles, a Disney expert and founder of Themeparkinsider.com.
Disney acquired the Marvel and Star Wars characters through purchases of Marvel Entertainment Inc. in 2009 and Lucasfilm in 2012.
But resort officials are not commenting on a future park expansion, except to say that any expansion will remain within the resort's current footprint.
Interested in the stories shaping California? Sign up for the free Essential California newsletter >>
Property records show that an arm of the Walt Disney Co. bought in March the Carousel Inn and Suites at 1530 S. Harbor Blvd. in Anaheim. Last year, the company purchased two large office buildings at 1515 S. Manchester Ave. and 1585 S. Manchester Ave. in Anaheim.
"With the resort's continued growth resulting in additional cast members and a record number of guests, this property will help to support additional infrastructure needs, including warehouse and office space and parking," said Disneyland spokeswoman Suzi Brown.
All three parcels, a total of about 14.7 acres, are connected and sit across Harbor Boulevard from Disney California Adventure. Disney would not disclose how much it paid for the three parcels but property records say the total value of the land is about $60 million.
All the expansion speculation is not just wishful thinking. Disney officials have committed to the city of Anaheim that they will invest at least $1 billion in the park by 2024 under an agreement that ensures the city will not impose an entertainment tax on the resort for the next 30 years.
Disney Chairman and Chief Executive Robert Iger told shareholders in March that the company has plans for a park expansion but has not divulged any more details.
Todd Regan, founder of the Disney blog site MiceChat.com, said he believes the land purchase means Disney can move some behind-the-scene operations at Disneyland to the Manchester property, freeing up space for an expansion within the boundaries of the park's property.
He said Disney's so-called Imagineers have likely already designed the rides and attractions for a Star Wars expansion and a Marvel heroes addition at the park.
"It's really a no-brainer that Star Wars will take over at Disneyland and Marvel will probably go into Disney California Adventure," he said.
SIGN UP for the free In the Loop theme parks newsletter >>
To read more about travel, tourism and the airline industry, follow me on Twitter at @hugomartin.
MORE ON DISNEYLAND:
Six hotels that will give you a free ticket to Disneyland
Disneyland: 60 things you might not know about the Magic Kingdom
Disneyland got off to a nightmare start in 1955, but 'Walt's Folly' quickly won over fans