Gas prices in Southern California are rising toward $4 a gallon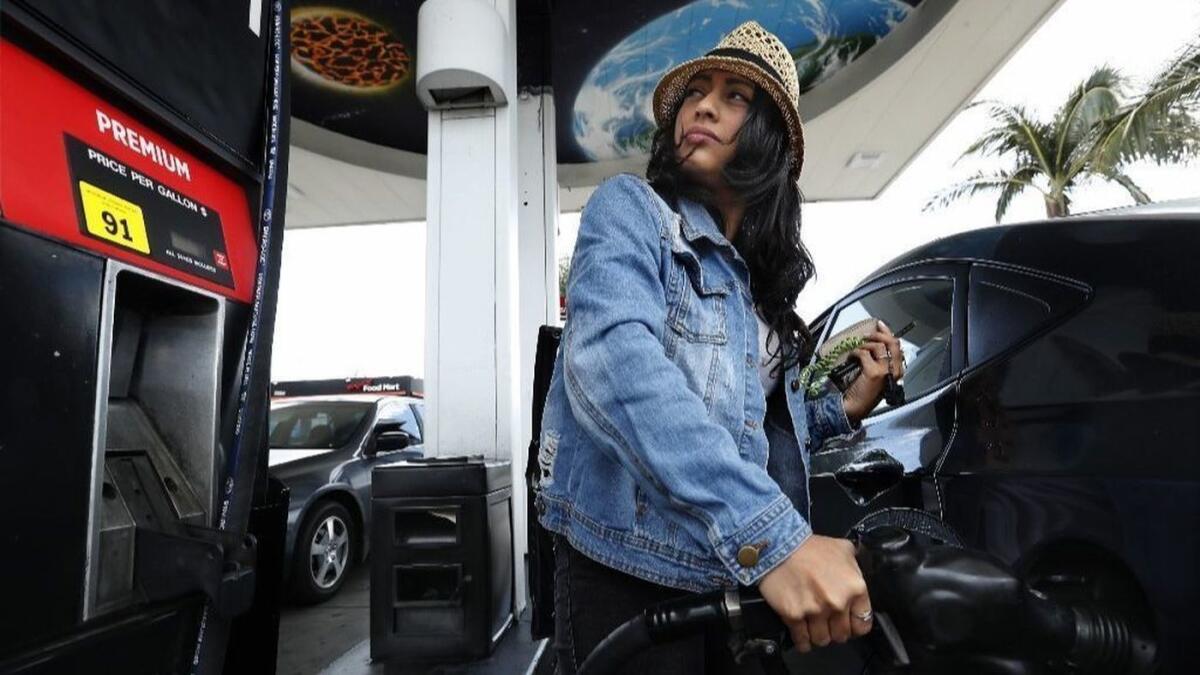 Gasoline prices are climbing toward $4 a gallon in Southern California, boosted in large part by a rise in worldwide crude oil prices.
The average pump price for regular gas in the Los Angeles-Long Beach area stood at $3.736 a gallon Thursday, up nearly 60 cents, or 19%, from a year earlier, according to the American Automobile Assn.
Prices for midgrade and premium blends have climbed to $4 or more a gallon at certain stations in the area.
The average regular price for all of California stood at $3.683 a gallon, up 18% from $3.114 a year earlier, the AAA said. It's still well below the state's record high of $4.671, set in October 2012.
Part of the increase in the last year reflects a 12-cent increase in California's fuel excise tax that went into effect in November, bringing that state tax to 41.7 cents a gallon.
The sharp gains also stem from climbing oil prices. The price of the benchmark West Texas intermediate crude oil for near-term delivery on the New York Mercantile Exchange rose 0.8% to $72.12 a barrel Thursday. Brent crude, used to price international oils, added 0.5% to $81.72 a barrel in London.
The oil contract's price has shot up more than $20 a barrel, or 39%, in the last 12 months after the Organization of the Petroleum Exporting Countries and Russia agreed in late 2016 to restrain crude production and ease a global oil glut.
President Trump's decision this summer to reimpose sanctions on Iran, an OPEC member, also has helped lift prices by raising fears of curtailed Iranian exports, analysts said.
Trump, in turn, has continued to criticize the 15-nation OPEC for not pumping enough oil to push down prices.
In his speech to the United Nations on Wednesday, Trump said "OPEC nations are, as usual, ripping off the rest of the world, and I don't like it. Nobody should like it.… We are not going to put up with it — these horrible prices — much longer."
Last week, Trump tweeted that the "OPEC monopoly must get prices down now!"
But at a meeting of energy ministers last weekend in Algeria, OPEC leader Saudi Arabia and Russia signaled there would be no proposed boost of their oil output, saying there were adequate supplies to meet global demand.
Patrick DeHaan, head of petroleum analysis at GasBuddy, which tracks fuel prices, warned Monday that oil and gas prices aren't likely to drop soon.
"With a muted response from OPEC to President Trump's exhortation via Twitter that OPEC do something" to force prices lower, "we may see energy markets rally as concerns grow that Iran's sanctions, effective in November, may pose more [of] a challenge to global supply than anticipated," DeHaan wrote on GasBuddy's website.
"With Iran's oil essentially out of reach, gas prices may not see the typical decline we had been expecting" in the fall, he wrote. "That's not going to be good news for motorists."
Gasoline prices in California are higher than the national average because of the state's unique blend of fuel to accommodate the state's strict environmental laws, which few refineries outside California are capable of producing. In addition, California's taxes are higher than those of most other states.
The national average price for regular gas stood at $2.873 a gallon Thursday, up 30 cents, or 12%, from a year earlier, the AAA reported.
The 12-cent increase in California's gas tax last year was intended to pay for road and bridge repairs and an expansion of mass-transit projects. Critics of the higher tax are trying to repeal it with Proposition 6 in the November elections.
Twitter: @PeltzLATimes
---
UPDATES:
3:05 p.m.: This article was updated with closing oil prices.
10:15 a.m.: This article was updated with Trump's comments about OPEC, an analyst's comments and details of the average national gas price.
This article was originally published at 8:50 a.m.