Higher prices at the pump may be looming after OPEC agrees to cut output to push up oil prices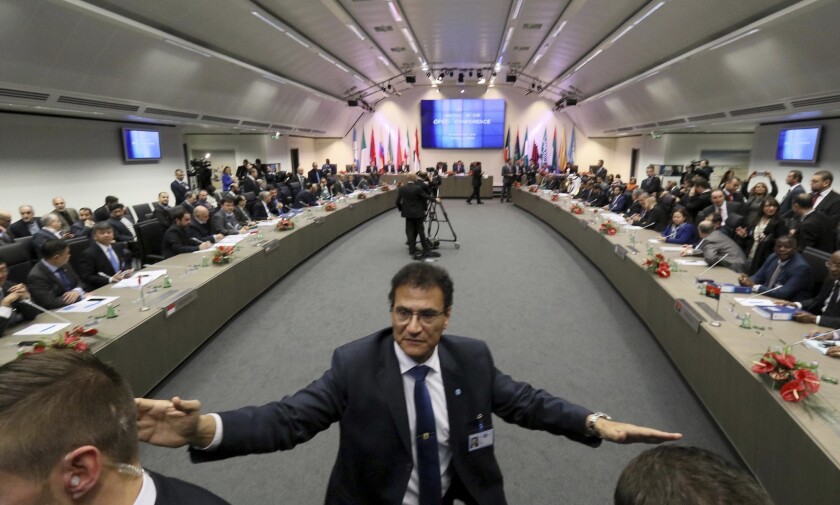 OPEC ministers have agreed to cut production of crude oil for the first time in eight years, a move that may produce ripple effects from global financial markets to the U.S. economy and trickling all the way down to the corner gas station.
"I think it is a good day for the oil markets, it is a good day for the industry and ... it should be a good day for the global economy," Saudi Energy Minister Khalid al-Falih told reporters Wednesday after the announcement was made at the Vienna headquarters of the Organization of the Petroleum Exporting Countries. "I think it will be a boost to global economic growth."
Under the plan, the cartel will cut production by roughly 1.2 million barrels a day. OPEC's dominant member, Saudi Arabia, will absorb the biggest hit by cutting about 500,000 barrels a day.
The deal also extends to some non-OPEC countries, such as Russia, which is slated to reduce production by 300,000 barrels a day.
OPEC controls about one-third of the world's oil supply, and a number of energy analysts on Wednesday said they expect prices to reach the $55 to $60 dollar a barrel range in fairly short order.
Gasoline prices generally move with oil prices, so an uptick in crude almost certainly will mean that motorists will pay more at the pump. But the increase may be muted, said Bernard Weinstein, associate director of the Maguire Energy Institute at Southern Methodist University.
"Right now, we've got huge inventories of gasoline and diesel," Weinstein said. "And you're going into the winter season where people tend to drive less. … We may see a 5- to 10-cent increase over the next week or so, but I think gasoline and diesel will remain relatively inexpensive, at least until next spring."
The longstanding rivalry between the Saudis and Iran, a country looking to boost its revenue from oil after years of international sanctions, nearly derailed Wednesday's meeting, and the agreement with non-OPEC countries won't be formally addressed until a meeting on Dec. 9.
Analysts at Barclays expressed skepticism about the deal, calling it "too good to be true."
Nonetheless, oil prices surged within moments of initial reports of the deal being struck. The price of the U.S. benchmark West Texas intermediate crude jumped $4.21, or 9.3%, to close at $49.44 a barrel in New York. Brent crude, the global oil benchmark, rose $4.09, or 8.8%, to $50.47 a barrel in London.
The last time OPEC countries cut production was in December 2008 when Brent crude was trading at $40 a barrel.
The projected cut is intended to stem a two-year slide in oil prices. In November 2014, OPEC surprised energy analysts by keeping production levels high, instead of cutting supplies to bolster prices.
Prices plunged from more than $100 a barrel in the summer of 2014 to as low as $26 a barrel in February of this year.
The price drop proved disastrous for many OPEC countries that depend on oil revenue to keep their economies afloat.
North American producers also suffered, reversing many of the gains they made in shale oil formations in recent years and resulting in an estimated 200,000 layoffs and dozens of bankruptcies that affected the larger U.S. economy.
"I would argue one of the reasons we have reported very sluggish economic growth over the last two years is because of the drop in the investment in oil and gas companies," Weinstein said.
In California, for example, the number of active oil rigs plummeted from 44 in the fall of 2014 to just four earlier this year, according to the oilfield services company Baker Hughes. That's the lowest number for the state since Baker Hughes began compiling figures in 1992. The November rig count for the state stands at six.
Nikolewski writes for the San Diego Union-Tribune.
rob.nikolewski@sduniontribune.com
---
UPDATES:
1:50 p.m.: This article was updated with staff reporting, including closing prices for oil and a discussion of the potential impact on gasoline prices.
This article was originally published at 8:55 a.m.
---
Must-read stories from the L.A. Times
Get the day's top news with our Today's Headlines newsletter, sent every weekday morning.
You may occasionally receive promotional content from the Los Angeles Times.