Airlines, TSA prepare for a record number of summer passengers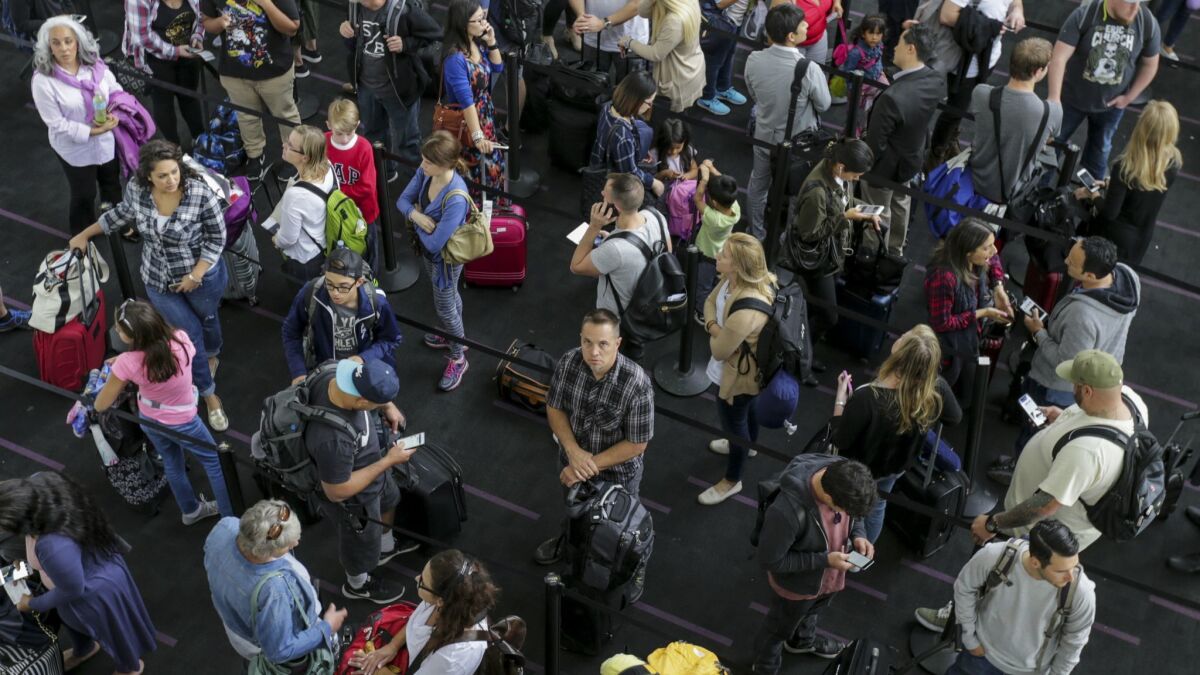 If you plan to fly on vacation this summer, prepare for unprecedented crowds at the airport.
A record 246.1 million passengers are expected to fly during the season, a 3.7% increase over a record set last year, according to Airlines for America, a trade group for the nation's biggest airlines.
The Transportation Security Administration also predicts a record number of air travelers at airport screening lines from Memorial Day weekend through Labor Day. The TSA expects to screen an average of 2.6 million passengers per day this summer, up from an average of 2 million passengers throughout the year.
Both the airlines and the TSA say they are prepared for the surge in air travelers, which the trade association has accurately predicted before.
The TSA said it has increased staffing by more than 600 screening officers since the start of the year and expects to add an additional 1,000 officers before the peak of the summer travel season.
The airline trade group says the country's air carriers plan to add 116,000 seats per day to serve the spike in demand for air travel — a surge that industry experts attribute to a strong economy, low unemployment and relatively inexpensive fares.
"We are cautiously optimistic that we are ready," Sharon Pinkerton, a senior vice president at Airlines for America, said in a conference call with reporters Wednesday.
The average annual domestic airfare dropped in 2017 for the third straight year to $348, according to the U.S. Bureau of Transportation Statistics.
It is unclear if fares will continue to fall. The trade group reported that airline expenses, including wages and fuel costs, rose faster than revenues in the first three months of 2018, cutting into profit margins.
John Heimlich, chief economist for the trade group, said increases in expenses for the airline industry can lead to higher fares but the increase is usually delayed by several months.
"In the long term, total revenue has to keep up with expenses," he said.
But Heimlich said raising fares will be difficult because competition remains strong, especially from ultra-low-cost carriers such as Spirit and Frontier airlines.
During the conference call, Pinkerton complained that the latest funding bill for the Federal Aviation Administration includes a measure to let the federal government regulate how much airlines can charge for bag and reservation change fees.
The U.S. approved deregulation for the airline industry 40 years ago, and Pinkerton said she fears the fee regulations represent "the camel's nose under the tent" that could lead to more regulations.
"This represents turning back 40 years of success," she said.
To read more about the travel and tourism industries, follow @hugomartin on Twitter.
---
UPDATES:
12:10 p.m.: This article was updated to include comments from Airlines for America officials during a conference call Wendesday morning.
This article was originally published at 3 a.m.
---
Sign up for the California Politics newsletter to get exclusive analysis from our reporters.
You may occasionally receive promotional content from the Los Angeles Times.