Los Angeles Times journalists vote 248-44 to unionize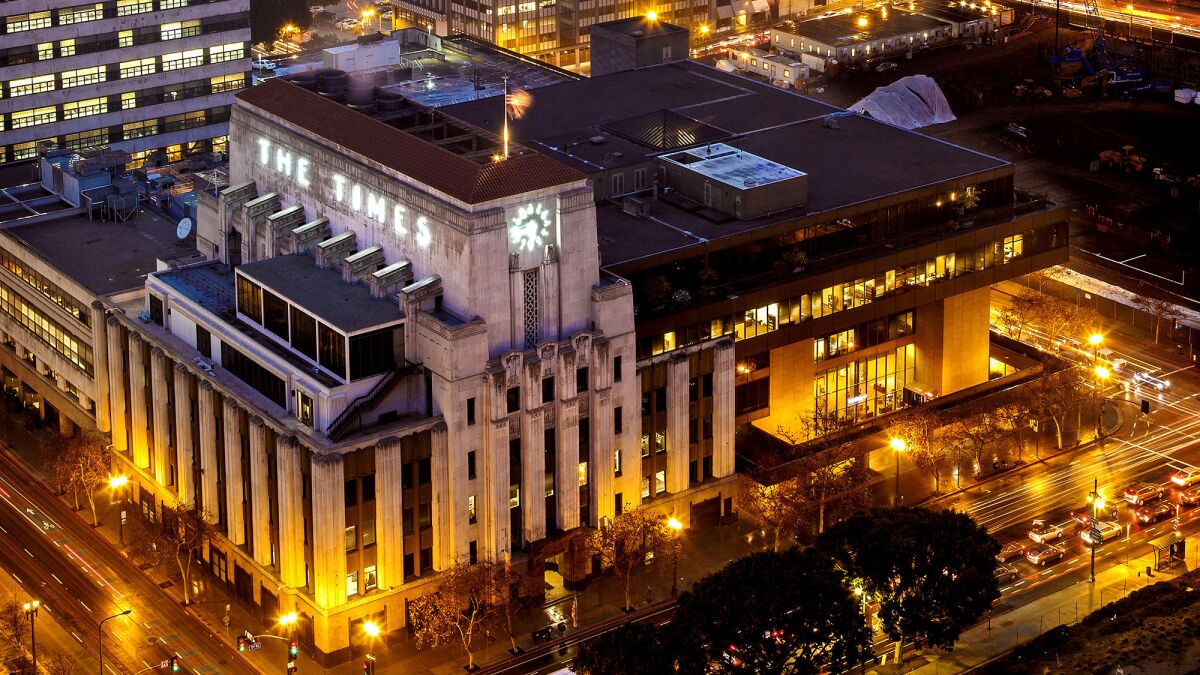 Journalists at the Los Angeles Times have overwhelmingly elected to form a union, a first for the 136-year-old news organization that for much of its history was known for its opposition to organized labor.
The union drive was launched publicly in October and culminated in an election earlier this month. Results, tallied Friday by the National Labor Relations Board, show workers voted 248 to 44 to be represented by the Washington, D.C.-based NewsGuild-Communications Workers of America.

For the record:
6:15 p.m. Jan. 19, 2018A previous version of this article said Ross Levinsohn allegedly used homophobic slurs while an executive at Guggenheim Partners. The alleged actions took place while he was chief executive of Guggenheim Digital Media.
"We respect the outcome of the election and look forward to productive conversations with union leadership as we move forward," said Marisa Kollias, spokeswoman for Tronc Inc., The Times' parent. "We remain committed to ensuring that the Los Angeles Times is a leading source for news and information and to producing the award-winning journalism our readers rely on."
Guild organizer Kristina Bui, a copy editor at The Times, said: "This was a long time coming, and we're all thrilled that this has finally happened. The newsroom has put up with so much disruption and mismanagement, and this vote just underscores how much of a say we need to have in the decision-making process. The newsroom is demanding a seat at the bargaining table."
A staff organizing committee of 44 Times journalists had urged workers to unionize in response to years of corporate turnover, advertising declines and cutbacks that have shrunk The Times' staff from more than 1,000 in the late 1990s to fewer than 400 today. Organizers said they hoped to bargain for job protections, salary increases and equal pay for men and women, and they argued that executives of the Chicago-based owner are overpaid.
Management, in emails to workers, said a union would not be able to solve the fundamental financial challenges facing The Times and other newspaper companies, which have faced steady declines in print advertising revenue coupled with much slower growth — or declines — in online revenue.
Through the first nine months of last year, Tronc reported that print advertising revenue was down 17% from the same period a year earlier, while the company's digital ad revenue fell 6%.
Tronc also owns the San Diego Union-Tribune, Chicago Tribune, Baltimore Sun and other daily and weekly newspapers. The union vote affects only workers at the Los Angeles Times and local Times Community News publications.
The NewsGuild, formed in 1933, represents 25,000 journalists, including reporters and editors at the New York Times, Washington Post and Wall Street Journal. The Los Angeles Times was one of the few major U.S. newspapers whose journalists were not part of a union.
Union representation overall has been declining in the U.S. for decades — about 12% of American workers were covered by a union contract in 2017, down from 19% in 1987, according to federal data — but organized labor has made gains in the online media business.
Workers at digital news outlets Vox Media, Huffington Post and Vice Media have all organized recently and are now represented by the Writers Guild of America, East.
The Times had a long history as an anti-union organ. In 1910, a bomb placed by a man linked to a local ironworkers union destroyed much of The Times' office at 1st and Broadway in downtown Los Angeles. Twenty-one people, including a Times editor and a telegraph operator, died in the blast.
Over the next several weeks, the guild will hold an election to select its officers, and bargaining over a contract will begin.
Meanwhile, The Times is also grappling with continued management turmoil in the wake of a National Public Radio report that Ross Levinsohn, named the Times' publisher in August, had twice been sued over sexual harassment allegations. The report also alleged Levinsohn had used homophobic slurs when he was chief executive of Guggenheim Digital Media.
Tronc Chief Executive Justin Dearborn said in a Friday a email to Times employees that Levinsohn had agreed to take an unpaid leave of absence and that law firm Sidley Austin would conduct an investigation into the allegations.
Follow me: @jrkoren
---
UPDATES:
2:35 p.m.: This story has been updated with additional details about Times management.
12:55 p.m.: This story has been updated with additional context.
11:50 a.m.: This story was updated to include next steps for the guild.
This story was originally published at 11:20 a.m.