Wells Fargo CEO retires amid accounts scandal and is replaced by a longtime company insider
John Stumpf resigned Wednesday as chairman and chief executive of Wells Fargo & Co., bowing to mounting criticism from lawmakers and others who said he should lose his job over revelations that bank employees created as many as 2 million accounts without customer authorization.
The wrongdoing by the San Francisco bank was exposed by a Los Angeles Times investigation and led to an $185-million settlement with regulators last month, sparking the biggest banking scandal since the financial crisis and renewing calls for a breakup of the nation's biggest banks.
Stumpf, 63, had been chief executive since 2007 and chairman of Wells Fargo's board since 2010.
Timothy J. Sloan, 56, a longtime Wells Fargo executive who was named president of the company last year, immediately replaced Stumpf as chief executive, the bank said.
Stumpf is not set to receive any severance, according to public filings. However, he still will retain more than $100 million in vested stock, plus accumulated pension and 401(k) benefits exceeding $24 million, according to the filings.
"I am grateful for the opportunity to have led Wells Fargo," Stumpf said in a statement. "While I have been deeply committed and focused on managing the company through this period, I have decided it is best for the company that I step aside. I know no better individual to lead this company forward than Tim Sloan."
This week, the bank signaled that Sloan was in line to succeed Stumpf, announcing several management changes, including naming a new head of its wholesale banking unit, which Sloan had previously led.
Sloan will not inherit the company's chairmanship. That role will go to former General Mills executive Stephen Sanger, now the company's lead independent director. Critics of the bank had called not only for Stumpf's resignation but for the bank to separate the CEO and chairman roles.
In after-hours trading, investors reacted positively to the news, sending shares up 1.65% to $46.07. Shares had been off nearly 9% since the day before the $185-million settlement was disclosed last month.
In an interview with The Times on Wednesday, Sloan said it is "a privilege" to take over as CEO, though he acknowledged that he is taking over at a difficult time.
"Our reputation has been impacted by some of the mistakes we made in our retail banking business," said Sloan, who has been with the bank for 29 years. "We'll regain our customers' trust and continue to grow."
He said he's not sure how long that will take. "I wish it could be a week from now," he said, adding that it will more likely be a process that takes at least months if not years.
In an earlier interview on CBNC, Sloan said the last five weeks have tainted the bank's reputation. But regulators say bad practices at the bank went on for years.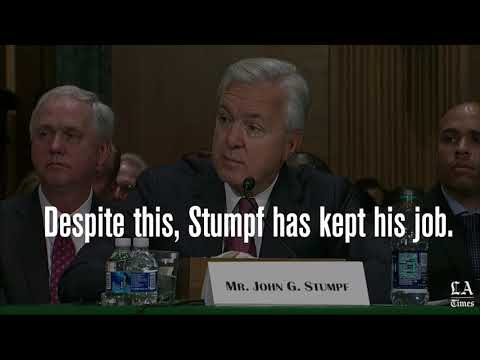 Wells Fargo CEO John Stumpf testified before congress after the bank was caught opening two million fake accounts.
Sloan told The Times he was not trying to minimize the scope of the scandal.
"I don't mean to downplay that at all," he said. "I don't mean to minimize the impact. But the changes we've made, I think, are working."
Sloan also said that Stumpf was not pushed out. The Wall Street Journal and New York Times reported that he submitted his resignation in a brief and unexpected letter to the board Wednesday, just two days before a quarterly earnings call Stumpf was expected to lead.
"This was a decision made by John Stumpf," Sloan said. "He wasn't fired, he wasn't asked to leave. He decided it was in the best interest of the company to retire."
Sloan, who lives in San Marino but also owns a residence in San Francisco, said he plans to continue to split his time between the two.
Though the bank's critics had called for Stumpf to resign weeks ago, Wednesday's announcement did little to satisfy them. In fact, some immediately raised questions about Sloan's possible connection to the scandal.
"Mr. Stumpf's retirement does nothing to answer the many questions that remain," said Sen. Sherrod Brown (D-Ohio), who harshly criticized Stumpf last month at a meeting the Senate Banking Committee held on the Wells Fargo scandal.
"We are still waiting for answers as to how Wells Fargo plans to right its wrongs against customers and the low-paid employees who weren't given the benefit of a retirement package when they were fired for refusing to cheat," he said.
Rep. Maxine Waters (D-Los Angeles), called it "more than appropriate" that Stumpf retire given his direct responsibility" for failing to stop fraudulent activity at the bank. But she questioned whether Sloan was the right person to replace him.
"I remain concerned that incoming CEO Tim Sloan is also culpable in the recent scandal, serving in a central role in the chain of command that ought to have stopped this misconduct from happening. Indeed, as recently as June of this year, Mr. Sloan was telling the news media that Wells Fargo's aggressive cross-selling strategies were fundamentally sound and didn't need to change," she said in a statement.
Paulina Gonzalez, executive director of banking advocacy group California Reinvestment Coalition, said she wants to ensure there are "criminal investigations for anybody involved in the scandal" and also questioned Sloan's appointment given his tenure at the bank.
Carrie Tolstedt, the community banking executive who ran the division where much of the unauthorized accounts activity took place, reported to Sloan after he was named president last year.
"We have a lot of questions for Mr. Sloan," Gonzalez said. "He was there for the entirety of the accounts scandal."
Stumpf had said he intended to stay at his post, telling members of the House Financial Services Committee investigating the matter on Sept. 29 that he was "accountable for leading Wells Fargo as the company restores the trust of customers, team members and investors."
However, the ballooning scandal sparked a bevy of civil lawsuits, investigations by the Justice Department and calls for an industrywide probe into whether other banks might be pushing workers to open unauthorized accounts.
In retrospect, the beginning of the end for Stumpf came Sept. 8, the day the $185-million settlement with federal regulators and the Los Angeles city attorney's office, which had been investigating the bank's sales practices, was announced.
L.A. City Atty. Mike Feuer filed a lawsuit against the bank last year after starting an investigation prompted by the 2013 Times article. His legal action drew the Consumer Financial Protection Bureau and the Office of the Comptroller of the Currency into the probe.
Their investigation and an internal Wells Fargo review found that, since 2011, the bank had fired 5,300 workers for creating as many as 1.5 million checking and savings accounts, and more than 500,000 credit card accounts, without customers' permission.
Regulators said workers created those accounts as they tried to meet unrealistic sales goals that required workers to open a daily quota of new accounts.
Workers used personal information from existing customers to open new accounts, sometimes creating fake PINs, forging signatures and transferring customers' money into unauthorized accounts to make them appear legitimate.
The direct effect on consumers so far appears to be relatively small. The bank last month said it has already refunded about $25 on average to 100,000 customers to compensate for unauthorized fees and has set aside a total of $5 million for payouts. But some customers have complained unauthorized credit cards might have lowered their credit scores and raised their borrowing costs.
More broadly, the revelations have damaged consumer trust in the financial system, prompting some Republican lawmakers to tell Stumpf during the House hearing last month that he had strengthened the case for stricter financial regulation.
"The damage you have done to the market, to your industry, far exceeds the damage to your own business," Rep. Mick Mulvaney (R-S.C.) told Stumpf during the blistering Sept. 29 hearing of the Financial Services Committee. "Y'all were rotten."
Stumpf, during his appearance before the Senate Banking Committee, faced an unending stream of critical questions, many of which he did not or could not answer to lawmakers' liking.
Lawmakers particularly lambasted Stumpf for blaming dishonest workers rather than aggressive sales quotas for the creation of unauthorized accounts. The bank said most of the 5,300 workers who lost their jobs were low-level branch employees, though some managers also were let go.
He apologized and said he was accountable for the bank's problems, but lawmakers in both houses repeatedly said that true accountability would require his firing or resignation.
The bank gradually made some concessions, pledging to end its sales-quota system and, later, "clawing back" some stock awards and other compensation owed to Stumpf and Tolstedt.
Stumpf lost about $41 million in unvested stock awards and eligibility for an annual bonus, which has totaled $4 million for several years, though that still left him with his large vested stock, pension and 401(k) benefits.
Tolstedt, 56, will give up $19 million in stock awards and could lose more than $30 million in stock options pending the results of an internal investigation. However, more than $40 million in vested stock awards and options are hers to keep.
Tolstedt, who had announced her retirement this summer effective at the end of the year, stepped down Sept. 27 as the scandal intensified.
The board also said it had started its own internal investigation that could lead to other executives losing pay or otherwise being punished.
Stumpf had appeared a perfect match for an institution much more focused on plain-vanilla banking and less on investment banking and trading than peers such as Bank of America, Citibank and JPMorgan Chase.
He did not come from a Wall Street background or have an Ivy League pedigree. He grew up on a dairy farm outside tiny Pierz, Minn., and earned degrees from St. Cloud State University and the University of Minnesota.
Stumpf started his banking career in 1982 at Norwest Corp., a Minneapolis bank that in 1998 merged with Wells Fargo. He oversaw a handful of regional operations for Wells Fargo before being promoted to a top post in 2002 as head of the community banking division.
Times staff writer Jim Puzzanghera contributed to this report.
Twitter: @jrkoren
---
UPDATES:
3:40 p.m.: This article was updated with comments from Sen. Sherrod Brown (D-Ohio) and Paulina Gonzalez, executive director of banking advocacy group California Reinvestment Coalition.
3:10 p.m.: This article was updated with the after-hours stock price.
2:50 p.m.: This article was updated with quotes from retiring CEO John Stumpf and new CEO Timothy Sloan, as well as information about Stumpf's severance and retirement package.
2:25 p.m.: This article was updated with extensive background on the Wells Fargo scandal.
This article was originally published at 2:15 p.m.