Lawmakers spew vitriol at Wells Fargo CEO and ramp up demands for wider probe of banking industry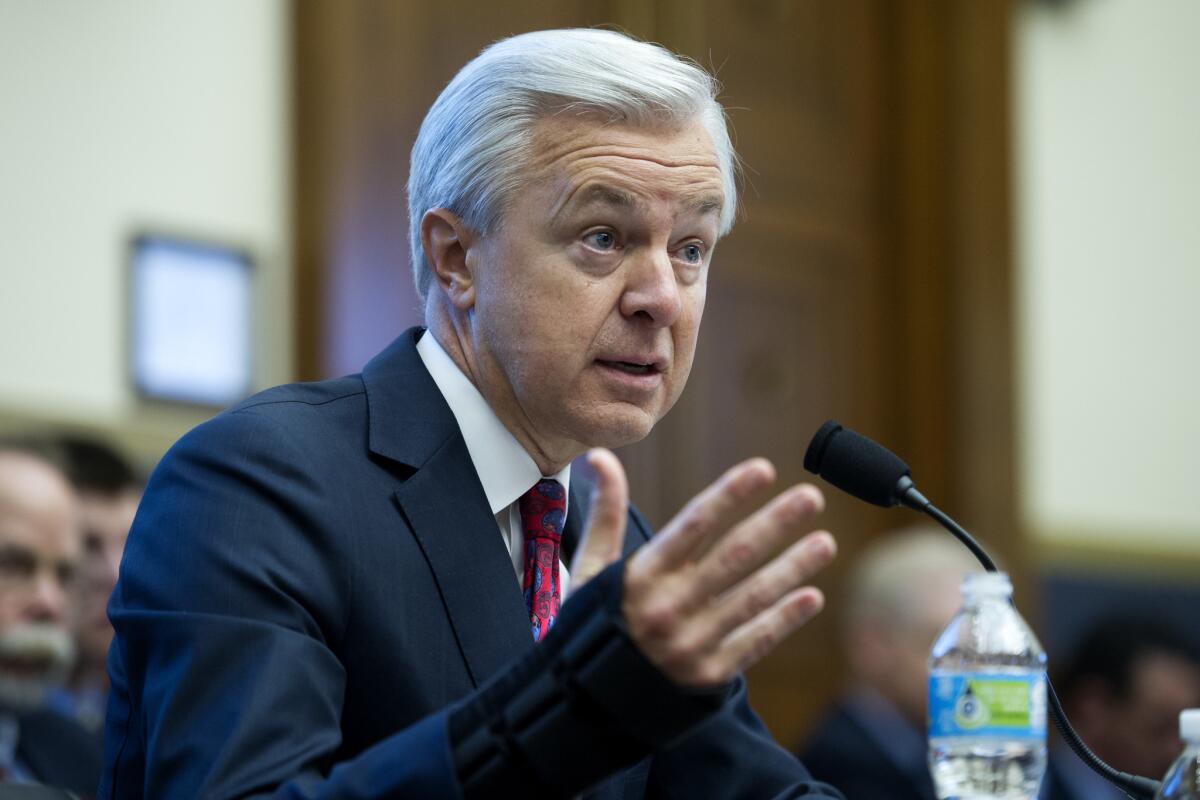 Lawmakers on Thursday intensified their calls for a wide-ranging probe into Wells Fargo & Co. — and into the practices of other banks — as political fallout from the San Francisco institution's creation of unauthorized accounts continues to grow.
During a vitriol-filled, four-hour hearing on Capitol Hill, members of the House Financial Services Committee lambasted Wells Fargo Chairman and Chief Executive John Stumpf, saying that his bank violated numerous federal laws and that its sins should lead to a broad review of industry practices.
"Your colleagues should at least come forward," Rep. Brad Sherman (D-Porter Ranch) told Stumpf, in calling for testimony from CEOs of other major banks. "I don't think, Mr. Stumpf, that you should be alone in this joyous experience."
Stumpf, 63, faced an unbroken barrage of criticism from members of the House panel just one week after experiencing similar outrage from the Senate Banking Committee. Beyond his opening statement, he didn't do much talking, with House members cutting him off as they expressed a mixture of outrage and disappointment.
"I know right from wrong. I know we have a lot of wrongs to right here," Stumpf managed to say at one point.
Stumpf and the bank have been pummeled by lawmakers and hit with several civil lawsuits in the three weeks since Wells Fargo agreed to pay $185 million to federal regulators and the Los Angeles city attorney's office to settle investigations into the bank's aggressive sales practices, first publicized by a 2013 Los Angeles Times investigation.
Regulators said a combination of unrealistic sales goals and badly structured incentives pushed thousands of the bank's employees to open as many as 2 million unauthorized checking, savings and credit card accounts over the last five years. The bank has fired 5,300 workers over the practices.
House Democrats, in line with similar calls made last week by Sen. Elizabeth Warren (D-Mass.), called for prosecutions, with Rep. Stephen Lynch (D-Mass.) saying the bank should be charged under the Racketeer Influenced and Corrupt Organizations, or RICO, Act, a statute originally designed to prosecute mob bosses.
"I do want to note that under the Racketeer Influenced and Corruption Act ... you've satisfied all the elements of that," Lynch told Stumpf. "No. 1 is fraud, and there is no question about that — mail fraud, securities fraud, you've done it all. You've covered basically every aspect of fraud in your bank over the last five years."
Rep. Maxine Waters (D-Los Angeles) told Stumpf she believes the bank is too big to manage and mentioned several fines and settlements the bank has paid, including one announced while the hearing was underway: a $24-million settlement with the Department of Justice over Wells Fargo's improper repossession of cars owned by members of the armed forces.
"I have come to the conclusion that Wells Fargo should be broken up," she said. "It appears the company just can't make it through this congressional hearing without us learning more and more information about what is going on at Wells Fargo."
The top Democrat on the House Financial Services Committee, Waters told reporters later she would begin working on legislation to force the breakup of Wells Fargo and the rest of the nation's largest banks. She provided no details.
Robert Hockett, a law professor at Cornell University who specializes in financial matters, said it's "a virtual certainty" that sales practices at other banks will be investigated.
"When an abusive practice is discovered at one institution, the assumption is it will be found to some degree at others," he said.
Republicans on the committee have been among the fiercest critics of the Consumer Financial Protection Bureau, a federal agency established after the financial crisis that was among the regulators settling with Wells Fargo this month.
Republicans on Capitol Hill have chided the CFPB for not uncovering the problems at Wells Fargo earlier, but several GOP House committee members told Stumpf that problems at the bank make it more difficult for them to argue against what they see as overly restrictive financial regulation.
"You just made it really hard for those of us who want to maintain the concept of a market economy, who want to continue to make sure that bankers, not some bureaucrat somewhere, are the arbitrageurs of capital," said Rep. Frank D. Lucas (R-Okla.).
Rep. Mick Mulvaney (R-S.C.) told Stumpf the damage done to Wells Fargo paled in comparison to "the damage that you have done to the market, to your industry."
"Y'all were rotten," Mulvaney said.
Though Republicans and Democrats remain at loggerheads on the broader issue of financial regulation, Wells Fargo has become a common enemy, temporarily uniting political adversaries during an election year.
Committee Chairman Jeb Hensarling (R-Texas) said at the beginning of the hearing that Wells Fargo may have broken seven different federal laws.
Also on Thursday, three Democratic senators – Warren, Jeff Merkley of Oregon and Robert Menendez of New Jersey – asked the Securities and Exchange Commission to investigate whether Wells Fargo and its senior executives violated federal law by failing to disclose in filings that there were problems with unauthorized accounts.
The senators also want the SEC to determine if Wells Fargo violated whistleblower protection laws by firing employees who tried to report the problems.
Thursday's hearing stretched on as more than half of the 60-member committee attended — an unusually large turnout that speaks to the level of bipartisan outrage over the still-unfolding scandal.
Wells Fargo is under federal investigation in New York and San Francisco, as well as by state and local authorities, according to a regulatory filing.
In California, state Treasurer John Chiang on Wednesday announced he would temporarily sever some business ties with Wells Fargo to punish the bank.
State Atty. Gen. Kamala Harris also appears to be investigating the bank. Asked about the bank and sanctions against it issued by Chiang, Harris said, "I cannot talk about any of our investigations."
Although lawmakers and regulators have been quick to react, the bank itself has been slower to act, though it has gradually made concessions aimed at quelling lawmakers' ire.
On Thursday, Stumpf said the bank would eliminate sales goals in its retail banking division at the end of this week. When testifying before the Senate Banking Committee last week, he pledged sales goals would be eliminated in January.
On Tuesday, the bank announced it would "claw back" some of the compensation owed to Stumpf and to another executive, Carrie Tolstedt, who oversaw the bank's retail operations while unauthorized accounts were being created.
Stumpf will lose about $41 million in stock awards and will not get a $4 million bonus this year; Tolstedt will give up $19 million in stock awards, and could also lose about $30 million in stock options pending the results of an internal investigation. The investigation, also announced Tuesday, could lead to other executives losing pay or otherwise being punished.
Wells Fargo shares have tumbled nearly 11% since the settlement was announced, closing Thursday at $44.37.
James Barth, a finance professor at Auburn University and a fellow at Santa Monica's Milken Institute, said lawmakers' calls for an industrywide inquiry are "a shot across the bow of banks."
"I'm sure every bank is internally checking," he said. "Do you think another CEO would want to go through what the Wells Fargo CEO has?"
---
UPDATES:
4:25 p.m.: This article was updated with additional details and quotes.
This article was originally published at 2 p.m.