Ric Ocasek, frontman of new wave pioneers the Cars, dies at 75
The musician and producer Ric Ocasek, whose singing, songwriting, style and demeanor as leader of Boston rock band the Cars helped define the American new wave movement of the late 1970s and early '80s, has died. He was 75.
Ocasek's death was confirmed by the New York Police Department, which said that officers responding to a 911 call Sunday afternoon discovered him unresponsive at about 4 p.m. There were no signs of foul play, according to the Associated Press. On Monday, the New York City Office of the Chief Medical Examiner announced that Ocasek died of hypertensive and atherosclerotic cardiovascular disease, with pulmonary emphysema identified as a contributing factor.
Starting with the Cars' self-titled debut album in 1978, the cool, lanky, guitar-playing frontman and his bandmates rushed the charts — and the nascent music video channel MTV — with a string of sleekly modern, ultra-catchy power-pop hits including "My Best Friend's Girl," "Let's Go," "Bye Bye Love" and "Shake It Up."
"The Cars had it all: the looks, the hooks, beat-romance lyrics, killer choruses, guitar solos that pissed off your parents, dazzling music videos," Brandon Flowers of the Killers said last year when the Cars were inducted into the Rock and Roll Hall of Fame.
The honor capped Ocasek's creative life, known not only for work with the Cars and as a solo artist but as a golden-eared aesthete who produced seminal recordings for New York synth-punk pioneers Suicide, Washington Afro-punk band Bad Brains and Los Angeles pop-punk band Weezer.
Ocasek's understated, awkward charisma was such that he married supermodel Paulina Porizkova at the peak of fame for both of them, and in doing so offered a way forward for unassuming singers less interested in the peacock antics of a Mick Jagger or Freddie Mercury. There was no need to flail about like a madman when an arched eyebrow and minimal hip shake could do the trick.
The approach was successful. "If anything, I'm recognizable," he said with typical understatement when asked about his 1980s ubiquity on MTV.
That presence was hard-earned. By the time the artist born Richard Theodore Otcasek formed the Cars with Benjamin Orr, Greg Hawkes, David Robinson and Elliot Easton, he'd been working the Northeast circuit for years. Ocasek and Orr opened for proto-punk bands the Stooges and MC5 in the early '70s and, later, recorded an album as part of a folk-rock outfit called Milkwood.
The Cars formed in 1976 and, after earning Boston radio airplay for an early recording of "Just What I Needed," soon signed with the respected label Elektra, where they joined a roster that included Queen, Carly Simon, Harry Chapin and dozens of other '70s rockers.
Amid the longhairs still buzzing over the hippie thing, Ocasek's half-spoken, coyly ambivalent delivery stood out, and suggested his avowed inspiration, Lou Reed, as channeled through a rockabilly crooner. Ocasek fawned over a former flame's "nuclear boots" and "suede-blue eyes" on "My Best Friend's Girl." For "Bye Bye Love," he highlighted a "wavy midnight" rich with "hidden innuendos" and "substitution, mass confusion, clouds inside your head."
The work thrust the so-called new wave of musicians inspired by the British and American punk movement into the mainstream. "The Cars" went multiplatinum and helped pave the way for bands such as the B-52's, Devo and later R.E.M. to jump to major labels.
The Cars' 1979 follow-up, "Candy-O," proved their debut wasn't a fluke. The record's masterful opener, "Let's Go," tapped classic pop song structures in service of thoroughly modern arrangements. Propelled by drummer David Robinson's inventive fills and synth-player Greg Hawkes' futuristic keyboard melodies, Ocasek's lyrics drove singer Orr through a song about the free-spirited bliss of a first crush.
On the 1981 album "Shake It Up," the band amped up its synth-pop leanings while infusing more experimental textures on songs such as "Shoo Be Do."
1984's "Heartbeat City" generated two more '80s jams: the catchy "Magic" and Orr's ballad "Drive." Along the way, Ocasek and the band's way with a love song infiltrated America's subconscious. In writer-director Cameron Crowe's 1982 coming-of-age comedy "Fast Times at Ridgemont High," the Cars song "Moving in Stereo" scored a memorable scene featuring a bikini-clad character played by Phoebe Cates strutting in slow-motion while an awestruck Judge Reinhold gazes from a nearby window.
If there was a throughline, it was Ocasek's casually thoughtful, and defiantly minimal, approach to writing and playing music.
After the Cars disbanded in 1988, the artist issued a number of solo albums, to modest success. When his longtime bandmate and bassist Orr — who sang lead vocals on the band's smash ballad "Drive" — died in 2000, any hope of a full-fledged reunion passed too.
Across social media, fans, peers and disciples posted loving tributes. Wrote Weezer, in part: "The weezer family is devastated by the loss of our friend and mentor Ric Ocasek." The band added, "We will miss him forever, & will forever cherish the precious times we got to work and hang out with him."
Country singer Jason Isbell quoted one of Ocasek's best lines, from "Just What I Needed," writing, "'It doesn't matter where you've been, as long as it was deep.' There's a #ricocasek lyric for you."
Tony Kanal of Orange County band No Doubt celebrated Ocasek as a producer. The Cars, wrote Kanal, "shaped American new wave and paved the way for so many of us to follow. When we were making our 'Rock Steady' album, Ric was on our dream list of people we wanted to work with and that dream came true." Kanal called him "a true gentleman."
On Instagram, Ocasek's wife Porizkova, from whom he was estranged, published a note attributed to the Ocasek family.
Acknowledging his passing, she wrote that Ocasek had been recuperating from a recent surgery, and that their two sons were helping with his recovery. She discovered him Sunday morning while delivering him his morning coffee.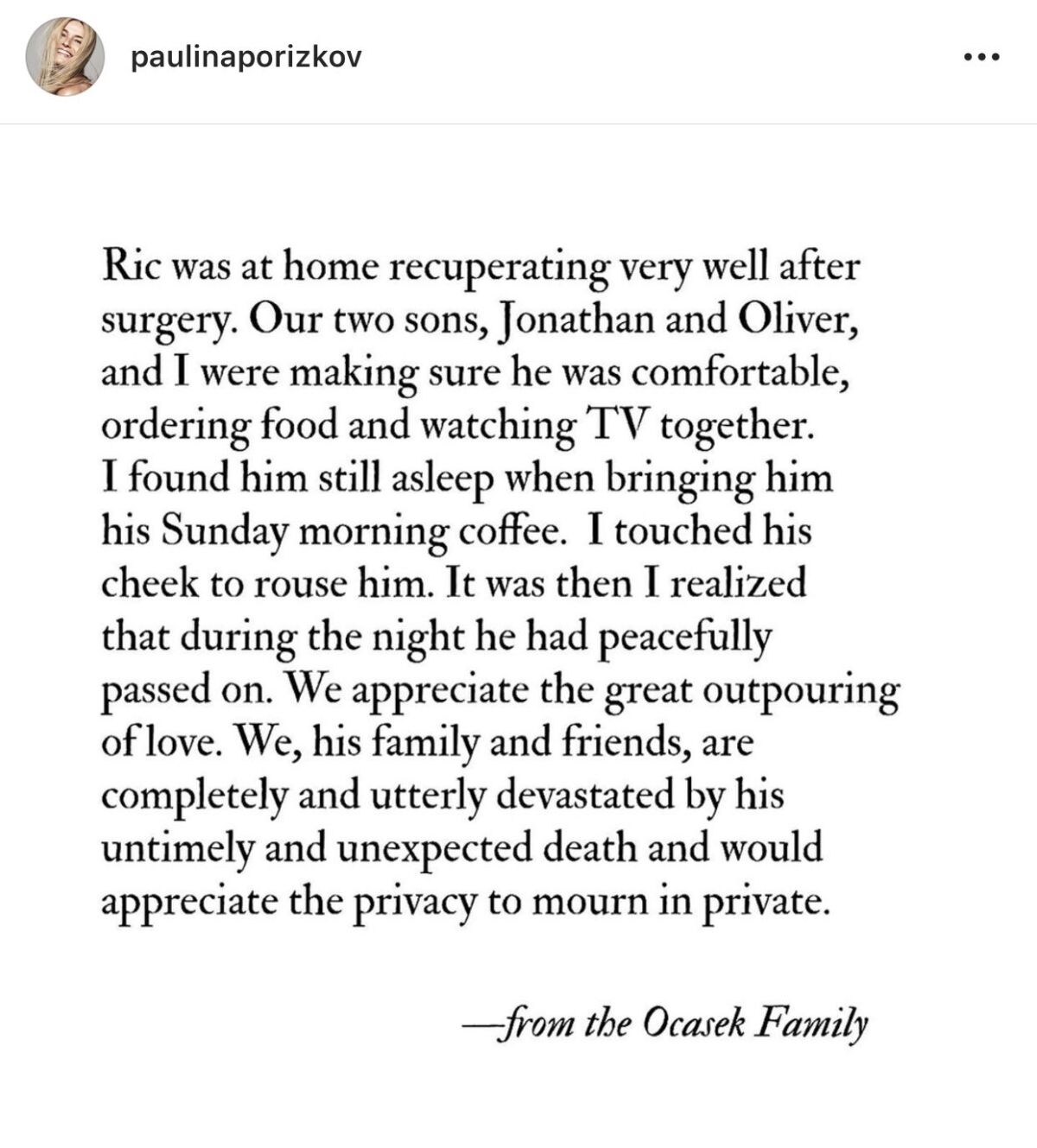 The appreciation for Ocasek's craft extended far beyond the community of successful artists. When the four surviving members reunited for "Move Like This" in 2010, the album debuted on the Billboard album chart at No. 7. Eight years later, the Cars performed a medley of their hits at the 2018 Rock Hall induction ceremony.
From the stage, Ocasek thanked his grandmother first, for "forcing me to sing for her friends in the parlor when I was 5 years old." She also bought him a Sears & Roebuck guitar when he was a teenager. "Then one day I heard a song on the radio called 'That'll Be the Day' by Buddy Holly. So I started playing guitar then."
Thus inspired, the artist's creativity ignited like a spark plug.
"So many people are so ... bored and won't even ... get out of their chairs to go look for something to do," he told Creem magazine in 1983 of his drive for musical success. "You can't rely on the rest of the world to take your hand, you know. You have to sort of get out and look for something to get involved in or just do it yourself."
Updates
3:57 p.m. Sept. 16, 2019: Includes statement from the family posted to Instagram by Ocasek's wife, Paulina Porizkova.
1:03 p.m. Sept. 16, 2019: This story was updated with Ocasek's cause of death.
9:47 a.m. Sept. 16, 2019: This story was updated with further information about Ocasek's work with the Cars, and social media reactions from peers and fans.
---
Get our L.A. Goes Out newsletter, with the week's best events, to help you explore and experience our city.
You may occasionally receive promotional content from the Los Angeles Times.