Art world veteran lands a major role in film academy's coming museum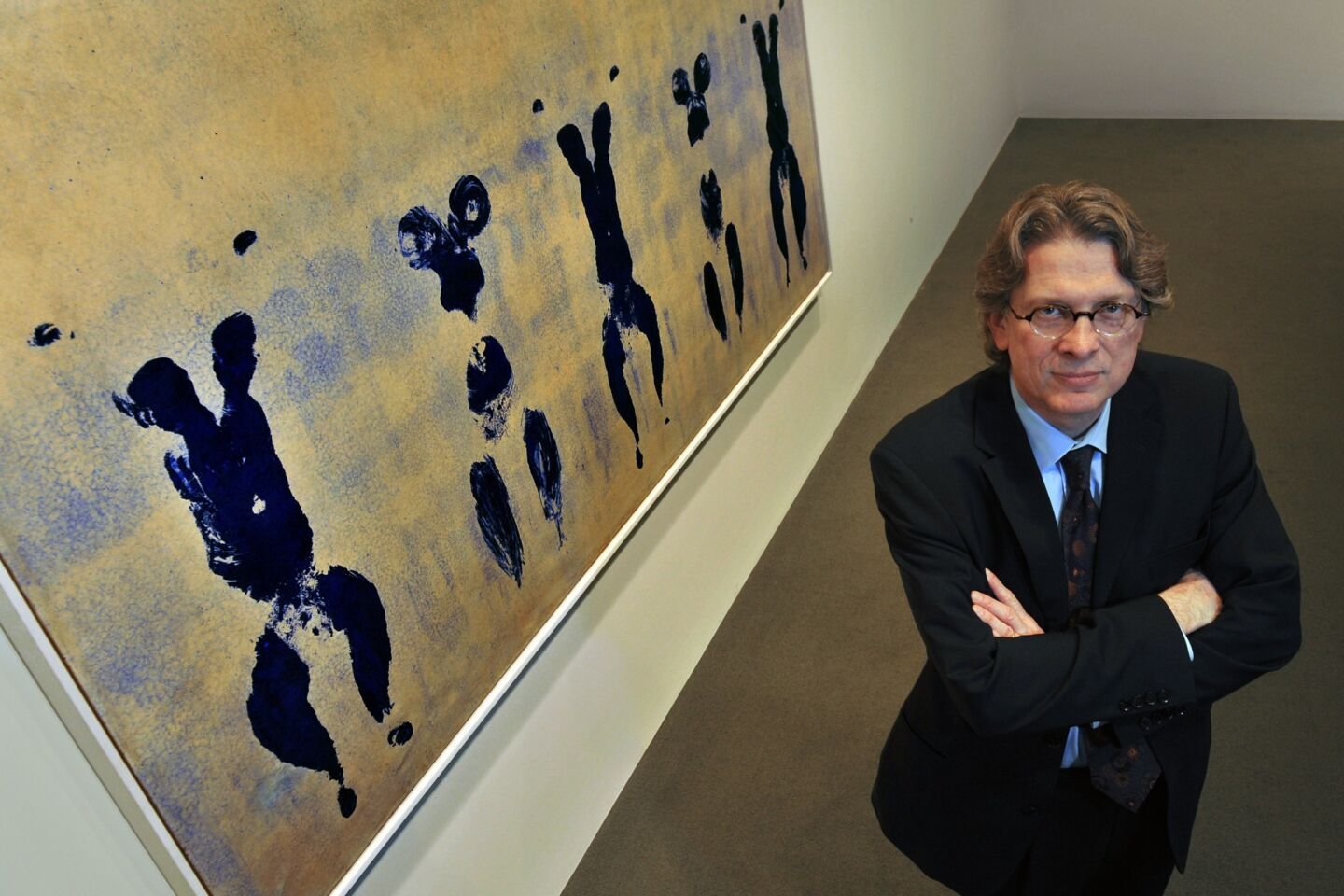 Kerry Brougher is currently the interim director and chief curator of the Smithsonian's Hirshhorn Museum and Sculpture Garden in Washington, D.C.
(The Washington Post / Getty Images)
The Academy of Motion Picture Arts and Sciences has plucked an established figure from the art museum world who has extensive knowledge of cinema to lead its highly anticipated $300-million movie museum.
Kerry Brougher, a veteran art curator who worked at L.A.'s Museum of Contemporary Art for 14 years, has been named the director of the Academy Museum of Motion Pictures, said a spokeswoman for the academy on Tuesday.
It is unclear when Brougher will start his new job. The museum isn't scheduled to open until 2017 and the spokeswoman said academy officials were unable to comment further on Brougher's appointment at this time.
INSIDE THE ACADEMY: Who's who among the members
Brougher is currently the interim director and chief curator of the Smithsonian's Hirshhorn Museum and Sculpture Garden in Washington, D.C. Before that he worked at MOCA from its opening in 1983 to '97.
Between those two positions he served as director of the Museum of Modern Art, Oxford at Oxford University in England.
"I think it's a gutsy move not to go for a commercial choice, but to go for a real serious and scholarly choice," said Paul Schimmel, the former MOCA chief curator who worked with Brougher. "I think Kerry is absolutely an ideal choice for them, really perfect. Kerry's love and passion has always been film and its relationship to art."
At MOCA, Brougher curated the show "Hall of Mirrors: Art and Film Since 1945" that ran in 1996. The exhibition featured works by filmmakers including Martin Scorsese and Stanley Kubrick, but also focused on more esoteric creations by Stan Brakhage, Chris Marker, Michael Snow and others.
John Baldessari was one of the artists whose work was featured in the show.
PHOTOS: Arts and culture in pictures by The Times
"The art and cinema show at MOCA was quite amazing, the best I've seen to date on the intersection or fusion of art and cinema," Baldessari said. "Usually it's going to be like one or the other, film or art. Here he was truly trying to make connections between the two disciplines."
During his tenure at Oxford, Brougher helped to organize the show "Notorious: Alfred Hitchcock and Contemporary Art," which explored the relationship between the famed director and artists such as Cindy Sherman and Douglas Gordon who have been influenced by Hitchcock's movies.
More recently, Brougher organized a two-part Hirshhorn show called "The Cinema Effect: Illusion, Reality, and the Moving Image" that opened in 2008. The exhibition featured works by Steve McQueen, an artist now better known as the director of this year's Oscar winner "12 Years a Slave," Isaac Julien and others.
His appointment "brings a level of legitimacy and makes it a museum choice as opposed to a film industry choice," said Alison Trope, a professor at USC's Annenberg School for Communication and Journalism and the author of "Stardust Monuments: The Saving and Selling of Hollywood." She previously worked as program director for the academy.
"If the academy was worried about people criticizing it or coming in with a critical idea about the exhibitions and curating, this gives it a legitimacy that buffers it from that kind of critique."
Brougher is expected to report to Dawn Hudson, who is the chief executive of the academy.
"They have found someone who is both completely familiar with Hollywood films and is at home with avant-garde film, and how contemporary artists engage with film," said Russell Ferguson, a professor in the art department at UCLA who worked with Brougher at MOCA and on the current Hirshhorn show "Damage Control: Art and Destruction since 1950."
PHOTOS: Behind-the-scenes Classic Hollywood
Brougher's new job will be a Southern California homecoming of sorts. In addition to his time at MOCA, he received a master's degree in the history of film and television from UCLA and a bachelor's degree in art history from UC Irvine.
Construction of the museum on the campus of the Los Angeles County Museum of Art is expected to begin later this year. The 290,000-square-foot museum will take over the landmark May Co. building and will feature galleries, movie theaters and educational spaces all devoted to the art of cinema.
The Academy Museum is designed by architects Renzo Piano and Zoltan Pali. It will include a 12,000-square-foot permanent exhibit called "Making Of" that will feature interactive areas where visitors can learn about the art of filmmaking.
The museum has attracted big ticket donations from major Hollywood players including David Geffen, who is giving $25 million, as well as Steven Spielberg and Jeffrey Katzenberg, who are giving $10 million each.
The Chinese conglomerate Dalian Wanda, which owns AMC Theatres, is giving $20 million to the museum.
ALSO:
The long Yellow Brick Road to Hollywood's new museum
Spielberg and Katzenberg give $10 million each to L.A. film museum
Chinese firm gives $20 million to motion picture academy's film museum
Get our L.A. Goes Out newsletter, with the week's best events, to help you explore and experience our city.
You may occasionally receive promotional content from the Los Angeles Times.