George Lucas says museum could land in L.A. if Chicago falls through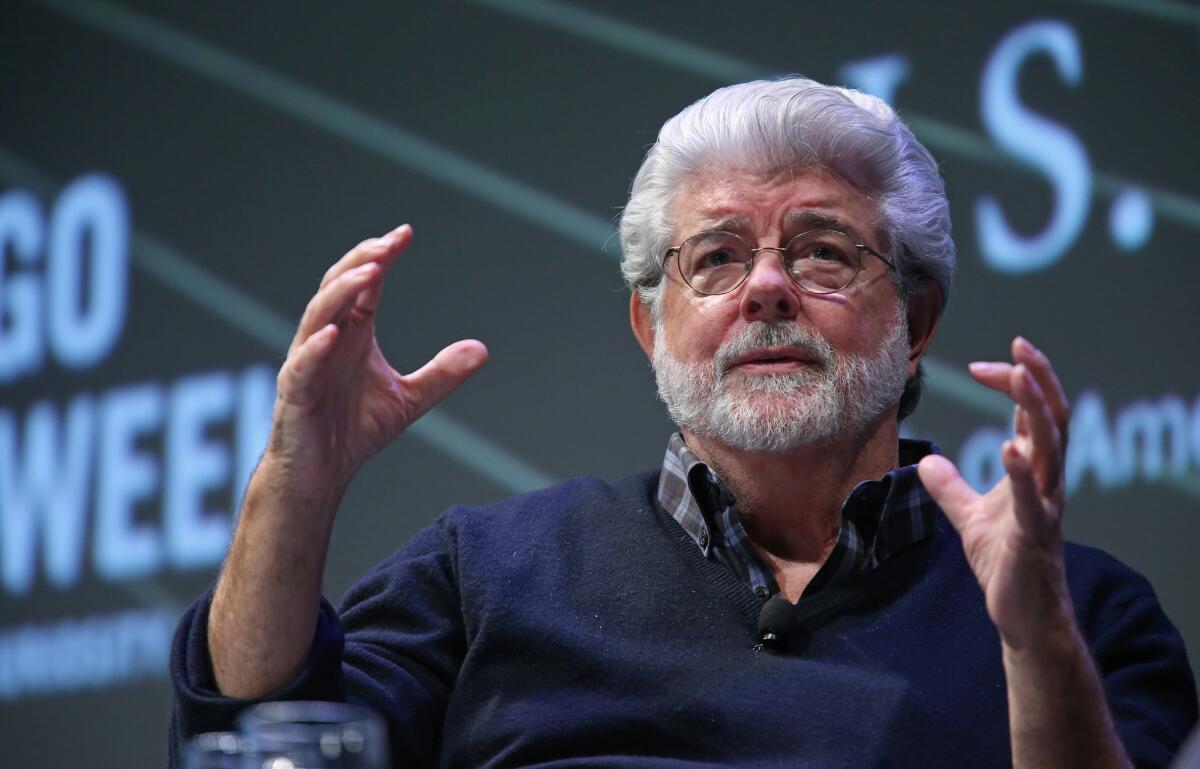 George Lucas said Friday that complications in his plan to build his Lucas Museum of Narrative Art on the Chicago lakefront may put Los Angeles back in the running.
Last summer, Los Angeles Mayor Eric Garcetti made a vigorous push to get the "Star Wars" creator to choose L.A., but the city lost out to Chicago.
"We still have to get through some lawsuits and things in Chicago," Lucas said during a recent phone call while promoting his upcoming animated feature, "Strange Magic."
"Once we make it through, we'll be on our way. But it's still a possibility that Chicago will be unable to do it," Lucas said.
The proposed Chicago site is adjacent to Shedd Aquarium and Field Museum on Lake Michigan, and, if all goes well, was expected to open in 2018.
In November, an environmental group, Friends of the Parks, filed suit against the museum in federal court, saying it would disrupt the ecosystem of the lakefront area.
If Lucas' Chicago plans fall through, he says he has his eye on other locations, including Los Angeles.
"The advantage Los Angeles has is that it's on the USC campus and I don't have to go through all the rigmarole of years and years of trying to get past everything," Lucas said. "That's an advantage because I do want to get it done in my lifetime."
Lucas turned 70 in May. But he hasn't given up on Chicago yet.
"I have faith in Chicago and [Mayor] Rahm [Emanuel], who is dedicated to making it happen," Lucas said. "But he's also coming up for election next month."
That sound you hear is millions of Angeleno voices crying out for the museum, which would feature items from Lucas' personal collection, including "Star Wars" props and costumes.
Lucas has been known to pull the plug on plans in the face of concerted resistance. He tried to build a fully functioning studio up in Marin County's Lucas Valley for years.
"I'd been trying to build it for 25 years," Lucas said of the third expansion. The first, known as Skywalker Ranch, was built in the late 1970s. It later expanded to the adjoining Big Rock Ranch. But in 2012, Lucas faced local opposition to a third expansion.
"We were ready to go, everything was passed, we'd been approved and then at the last minute we had to bring it before the county board of supervisors and they said they wanted to study it for a couple more years. I said 'I'm starting the next "Star Wars" [movie] and I want to do it here. I have one year and I can't delay at all. They said they had to wait, so I said to hell with it."
"Now they're in England, where we were originally," Lucas said of the Disney-produced "Star Wars" sequel. "But since I sold the company [to Disney], it doesn't make that much difference to me anymore."
Follow me on Twitter: @patrickkevinday
Get our L.A. Goes Out newsletter, with the week's best events, to help you explore and experience our city.
You may occasionally receive promotional content from the Los Angeles Times.