Q&A: With 'Five-O' on hiatus, Scott Caan gets to play (in a play he wrote)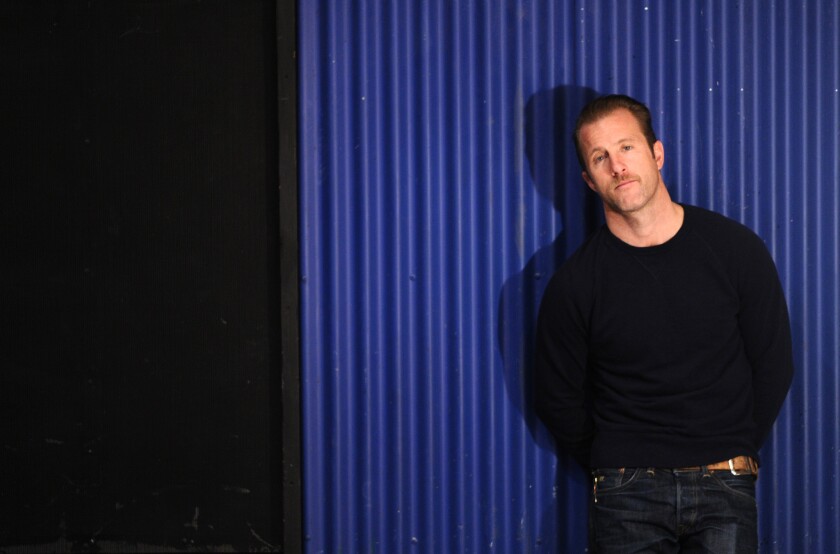 The playwright Scott Caan — yes, the same square-jawed Scott Caan who has appeared in Steven Soderbergh's "Ocean's Eleven" franchise and was nominated for a Golden Globe for his portrayal of Danny "Danno" Williams on CBS' "Hawaii Five-0" — doesn't know from hiatus. While his hit TV show is on summer break, the 38-year-old actor-writer-producer-director-photographer is starring in his newest self-penned stage comedy, "The Trouble We Come From." Last year, the prolific author released "Vanity," his second volume of photographs. This fall he'll release "The Performance of Heartbreak," a collection of his 10 one-act plays, through Rare Bird Books.
During rehearsals for the play, which runs through June 28 at the Falcon Theatre in Burbank, Caan — who began his performing career as "Mad Skillz," half of the short-lived 1990s teenage hip-hop duo Whooliganz — took time to parse his restless creativity.
------------
FOR THE RECORD

June 19, 1 p.m.: An earlier version of this article said that "The Trouble We Come From" would close July 12.
------------
In your newest play, a playwright faces impending fatherhood. Last year, you had a daughter. Autobiographical much?
I've never been good at just making stuff up, I have to base things on real events or real people and if I'm writing two male characters, like in this play, they're both versions of me. But in "The Trouble We Come From," I actually play an actor whose whole thing is studying people. His best friend is the playwright, a complete nut job who says things like, "My brain would kill me if it didn't need me for transportation."
What does acting in a play give you that film and TV does not?
That's an easy one. There's no take two. Onstage you get to wild out and just be loose and lose yourself for an hour and 40 minutes. If you told me 10 years ago I'd be on a hit TV show for five years I'd have said there was zero chance. Not to "aw, shucks" it up, but I'm lucky. The bad part is that it becomes a job — just put that piece of tape on the floor where you want me to be — and you can lose a little bit of the love for what you do. So writing plays and acting in them keeps me pumped.
How did you become an actor and playwright?
When I was doing music, I was asked to audition for "A Boy Called Hate" and I thought, "I'm not into that whole acting thing." Then I read the script about this punk 17-year-old kid who goes to juvenile hall and has a gun and has sex with a girl in a bathroom and I was like, "All right, maybe I could." After doing that first movie, I wanted to be good. My mom [Sheila Ryan] took me to Playhouse West where she had studied. We did scene nights, so I wrote a scene as a trial, and from that I ended up writing my first play, "Almost Love." It's about a twentysomething dude who has the right girl at the wrong time and can't decide what to do and ends up with a stripper from Vegas and an ounce of cocaine on the coffee table. [Laughs] You know, a nice family comedy.
Is it challenging to act in a role you've created?
There's one thought you have to try to push out of your mind: Does the audience think I'm a crappy writer?
What dramatists do you admire?
John Patrick Shanley, David Mamet, David Rabe, Sam Shepard, Israel Horovitz. My answer ends up being a little cliché, but so what?
Do you have Broadway aspirations?
Sure, but it's a tough racket. I took meetings a few months ago and they were like, "Look, we got more fancy people than you that want to do this." And I said, "Well, here's this play I wrote." And they're like, "Oh, you wrote a play? Cute."
Are there particular hallmarks of a Scott Caan play?
I write parts I would probably never get. I may look like a tough guy, but the way I think is different. I don't think I'd ever get cast as a Woody Allen character, but that's me on the inside. Generally I like to find things that are super disturbing and find the humor and heart in them. I'm interested in neurotic grown-ups trying to get through their issues and become a better person. There's always a therapist referred to in my plays. I've been in therapy since I was 14 years old.
So tell me about your childhood. What was it like growing up the son of James Caan?
I never looked at him as a movie star. I looked up to him as the toughest guy around. My old man was definitely against me being in the business; he was hoping I'd play shortstop for the Yankees. My mom was a badass too. In my family, if you bust balls it's a sign of love.
What kind of kid were you?
I never sat still. I didn't like school. I was an athlete, and then when I didn't want to play team sports … I liked surfing, skateboarding, graffiti and punk music; I was one of the bad kids, so I took that role on for a while. I wanted to figure out my own way to be my own dude.
Were movies a part of your life?
"The Outsiders" was the first movie I really liked. I wanted to grease my hair back and wear Levi's and get in fights. When I started to learn about cinema I got obsessed with certain directors — Antonioni, Fellini, De Sica, Goddard, Louis Malle, Hal Ashby — but it was Vincent Gallo's "Buffalo 66" that made me want to make independent films.
When did you take up photography?
I was directing my first movie, "Dallas 362" and the amazing cinematographer Philip Parmet taught me a lot about light and composition. From then on, I didn't go anywhere without a camera. I shoot mostly black-and-white documentary street photography, anything from the paparazzi in Cannes to a homeless guy shooting dope downtown.
It seems like you need to document the world in order to make sense of it. True?
One thousand percent. Can you just say that I said that? I'm interested in why we are the way we are, and I need a forum to discuss things that boggle my mind and trip me out.
What do you do when you're not working?
I surf and I work with a nonprofit, Walk on Water, which gives kids with special needs and their families a day at the beach. Surfers all have this thing if we get on a wave all the problems of the earth go away. It's fantastic to see that happen for kids.
Are you musical?
I can play a little bit of everything, but not well. I can blow your mind with 30 seconds at the piano and then stand up and give the impression that I am too tortured to continue and make you think I'm Mozart, but that's all I've got.
So you're not a triple threat?
I don't think I'm a singer. But I'd love to dance in a movie. And I'm really offended that they didn't ask me to be in the new "Magic Mike" movie. I'll take my shirt off and do a body roll. Channing, come on: Holler at your boy!
---
Get our daily Entertainment newsletter
Get the day's top stories on Hollywood, film, television, music, arts, culture and more.
You may occasionally receive promotional content from the Los Angeles Times.