'Soft Power' has an Asian cast. Why does that remain a radical idea for American theater?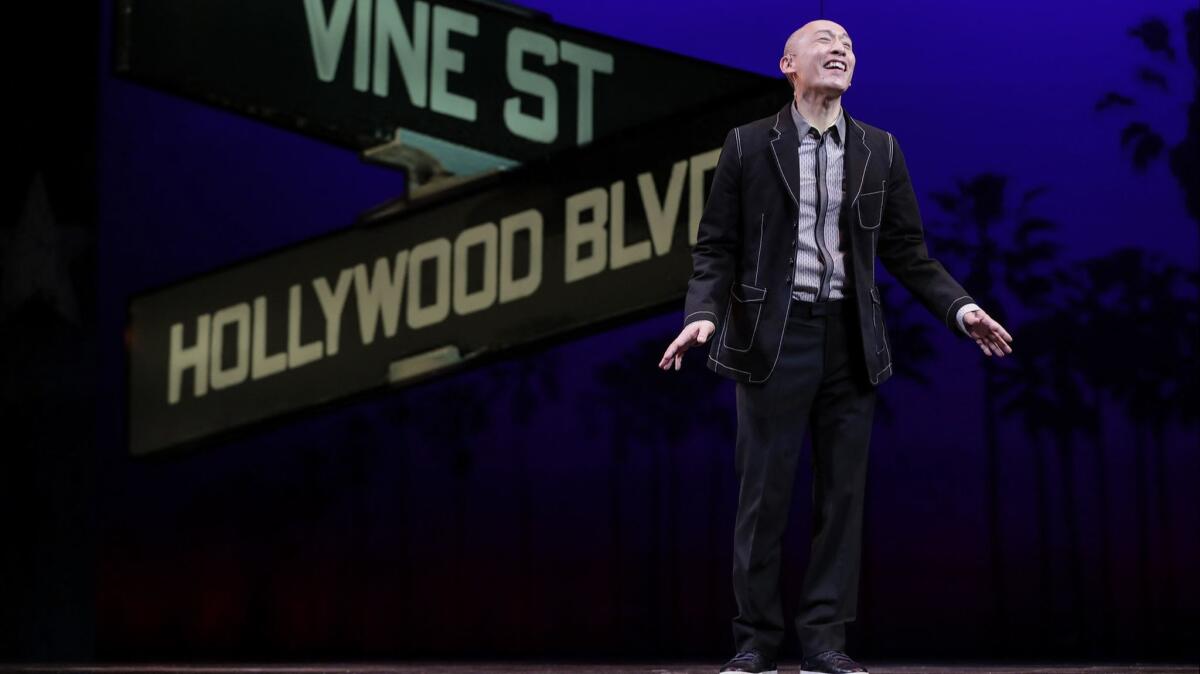 Reporting from New York —
Outside a Manhattan rehearsal studio, Francis Jue is seated on the floor, alone, script in hand. The actor who's playing the character DHH — David Henry Hwang — is going over new lines for "Soft Power," and soon a sea of Asian American faces surrounds him in the hallway as cast members spill out of rehearsal for their break.
"I can't tell you how proud I am, after a year and a half of development of 'Soft Power,' finally to be getting to the point where people get to see these Asian American performers onstage," he later says of the production, which opens May 16 in Los Angeles. "It's something I never saw when I was young."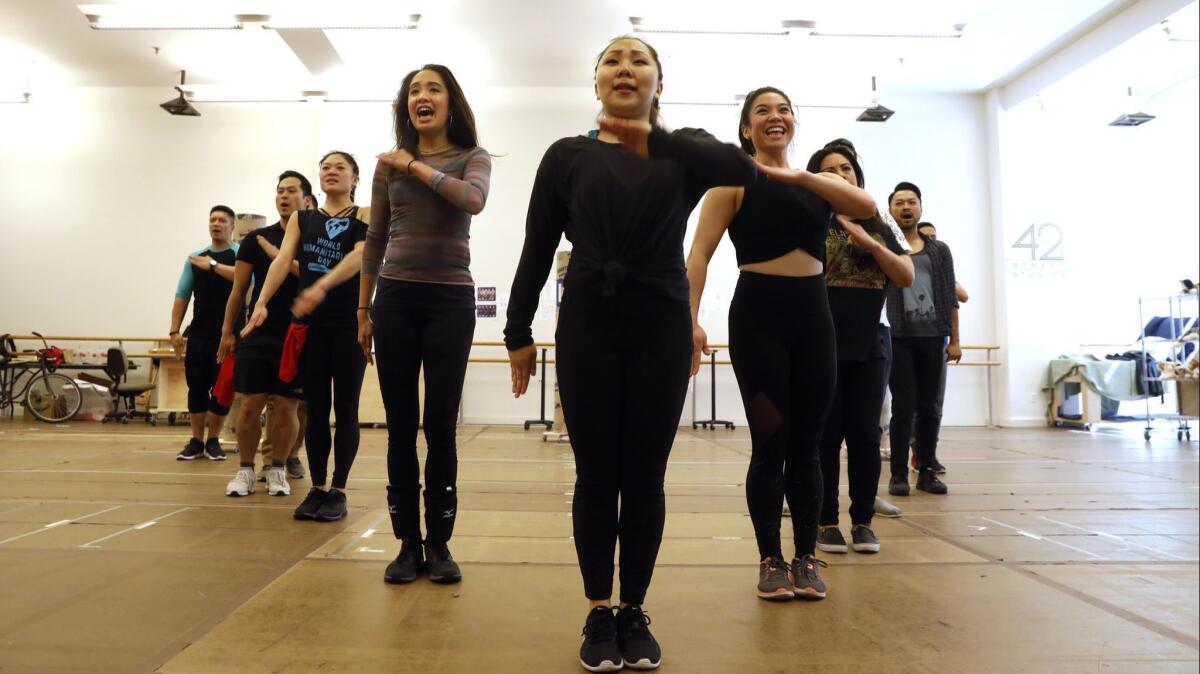 A study released this year by the Asian American Performers Action Coalition found that in 2015-16, a record 35% of all roles on New York stages went to people of color, but the number of Asian Americans dropped to 4% — the steepest decline of any group.
Jue, 54, is a veteran of Hwang's plays and has been a part of "Soft Power" since its earliest workshops. The actor started working with Hwang in 1989 when he joined the Broadway cast of "M. Butterfly" as an understudy.
Asian American performers, he says, are often seen as "symbols" — representatives from a foreign culture, or ambassadors of something a typical audience does not identify with. "When I go to see 'Death of a Salesman,' I don't assume that all white people are depressives and suicidal; I look at that as a human story," Jue says. "Yet when people see people like me on stage, they see somebody who represents something outside of their experience instead of someone they might share something with."
During an early exercise, cast members sat in a circle and described their experiences as Asian Americans, recalls Conrad Ricamora, who plays Chinese executive Xue Xing.
"People were talking about how meaningful this show has been to them because they get to play more than a stereotypical Asian character," says Ricamora, an actor best known for ABC's "How to Get Away With Murder" but who has appeared on Broadway in "The King and I" and off-Broadway in "Here Lies Love," a musical about former Philippines first lady Imelda Marcos.
"Soft Power," says Alyse Alan Louis, the only non-Asian American cast member, has given her the opportunity to "listen and understand the experience of my cast mates." Ultimately, she says, "when you're all collaborating, we are one. We are one altogether, making this all together."
Hwang, 60, has spent much of his career writing about the Asian American experience, with such plays as "Golden Child," "Yellow Face" and "Chinglish." Yet he feels little pressure as the "go-to" Asian American playwright.
"When 'FOB' was done at the Public Theater [in 1980], and I had my first New York Times profile, I was 22," he says. "That's just who I've been my whole adult life."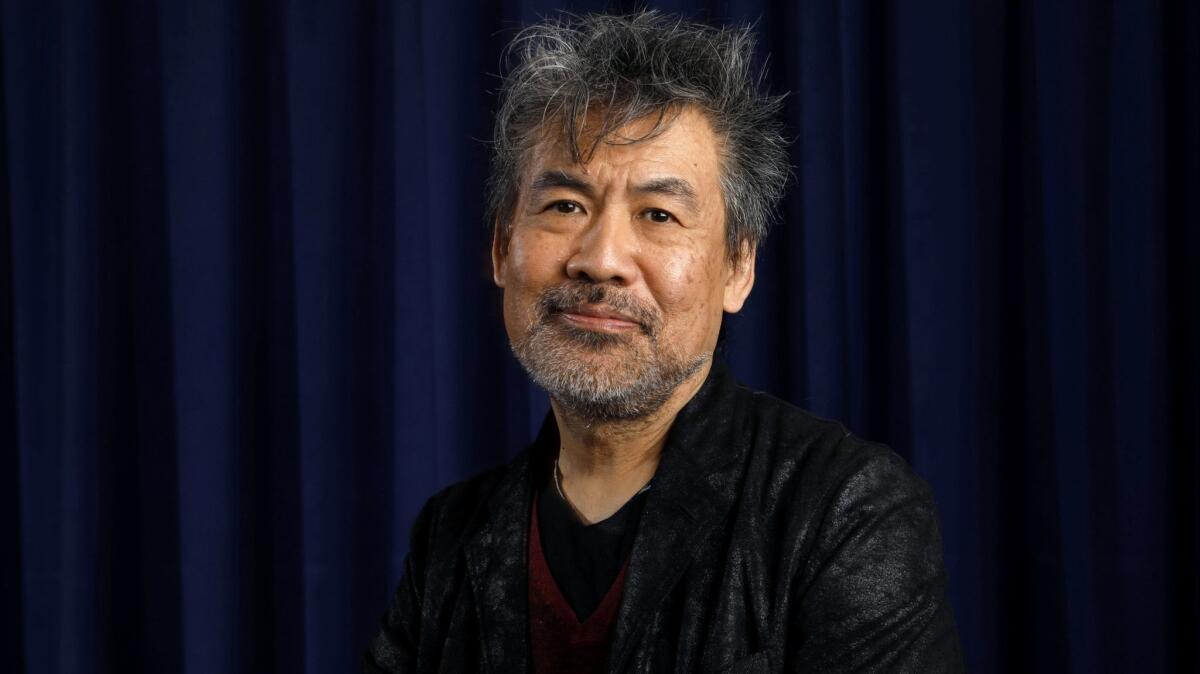 For years after 'M. Butterfly,' I was the only Asian or Asian American playwright who was produced on Broadway.
— David Henry Hwang
His adaptation of "Flower Drum Song," which premiered at the Mark Taper Forum in 2001, then went to Broadway the following year, remained the only Broadway show about Asian Americans until the short-lived "Allegiance" in 2015.
"For years after 'M. Butterfly,'" he says, "I was the only Asian or Asian American playwright who was produced on Broadway."
Today, more Asian American playwrights are getting produced, especially in regional and nonprofit theaters across the country, Hwang says, noting that Young Jean Lee's play "Straight White Men" is headed to Broadway this summer. "Relatively speaking, there is movement on diversity on Broadway. It's just that you're starting from a very low bar."
RELATED STORY: For David Henry Hwang, conflicted feelings about 'The King and I' inspire the ambitious 'Soft Power' »
Diversity on the stage is a notion on the minds of the entire creative team, which includes composer Jeanine Tesori, director Leigh Silverman and choreographer Sam Pinkleton.
"We're creating a new, original American musical with a diverse cast," Silverman says. "We're doing our best to blow up some pretty tightly held stereotypes. 'Soft Power' has a very strong point of view, it has a very feminist point of view, and it has a very smart, sharp point of view about Asian Americans. I'm really proud of that."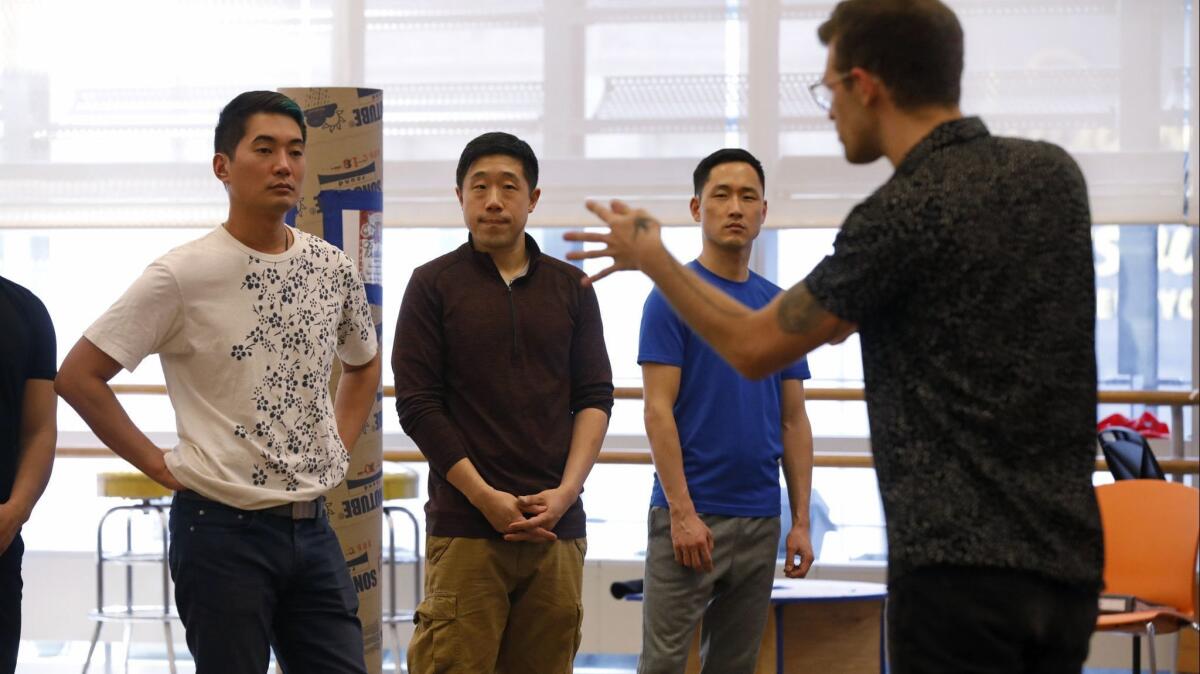 See all of our latest arts news and reviews at latimes.com/arts.
Get our L.A. Goes Out newsletter, with the week's best events, to help you explore and experience our city.
You may occasionally receive promotional content from the Los Angeles Times.