Amy Adams' strong voice — in song, at home and in 'Vice'
Amy Adams could chase a bear out of her backyard using just a broomstick. That's what filmmaker Adam McKay believes at least, and he's worked with Adams at the beginning of her career ("Talladega Nights") and most recently in "Vice," so he should know something, right?
McKay is also certain that Adams could load a shotgun and take aim at thieves who've come calling. McKay envisions this scenario happening at a log cabin. Adams may or may not be wearing a bonnet.
Adams has no idea what to make of this, but if she had to guess, she thinks McKay sees her as some sort of founding mother of America, a homesteading pioneer, probably because all her relatives were tough, sturdy Mormons settling in Utah and Colorado.
But Adams will readily agree with McKay, saying that if a bear did indeed wander into her backyard and threaten her family, she would grab a broomstick or a curtain rod or whatever was handy and chase it off.
"I'm someone who responds well in an emergency," Adams says, sipping a matcha tea hopped up with a shot of espresso on a secluded West Hollywood cafe patio. "Post-emergency? That's another thing. I'd be great in the moment and then not sleep for a year."
Adams describes herself as a very nervous person, though you'd be hard-pressed, outside of some fidgeting, to detect any hint of anxiety. But it's there, she says. She often doesn't remember performing. Like, she could tell you about being backstage at the Oscars in 2008 and then coming offstage, but she completely blacked out while she was singing the nominated "Happy Work Song" from "Enchanted." She's so focused on the doing that it obliterates the act.
Part of that erasure comes from a desire for immediacy and surprises in her acting. In "Vice," Adams plays Lynne Cheney, a strong Wyoming woman who's first introduced in the film berating her high school sweetheart, Dick Cheney (Christian Bale), after another one of his drunken escapades. Originally in the film, this scene came after 20 minutes of Lynne and Dick — played by other actors — in high school, laying the groundwork for Lynne's laser-focus. McKay cut that, letting Adams launch the movie with gale-force power.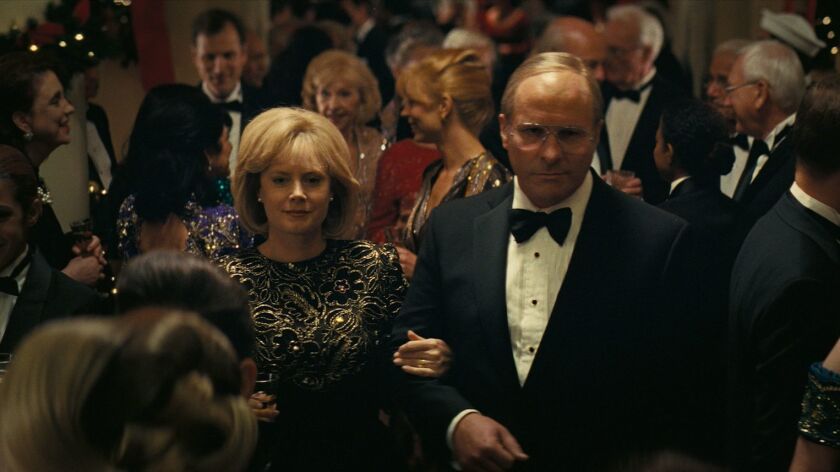 "No one reads the riot act quite like Amy," says filmmaker Paul Thomas Anderson, who cast Adams as the steely Peggy Dodd in his 2012 film, "The Master." "She can deliver these sorts of moments and let you know that life would be so much easier if you would just follow her instructions."
McKay calls that intro scene "the whole movie." Even in the Cheney family's own mythology, Lynne telling Dick that she'll leave him if he doesn't, in the film's words, "stand up straight and get some courage and make something of yourself" is what put Dick on the road to becoming the most powerful vice president in the history of the U.S.
And, thinking about it, McKay says Adams' performance in that scene has a lot in common with her big moment in their first collaboration, "Talladega Nights," where Adams' character tells Will Ferrell's race car driver Ricky Bobby that he's a doer, not a thinker, and he needs to "harness his fear, wrestle it to the ground like a demon cobra," and win … WIN!
"In both scenes, it's that badass, strong American woman making the American man be a man," McKay says.
"Ooooh … I'll take that," Adams says, hearing McKay's interpretation. When she watches that "Talladega Nights" scene, though, what she remembers is that she added "Tawny Kitaen" to the part at the end, where she's crawling across the restaurant table, whipping her hair like Kitaen did in that Whitesnake music video.
"I think there was somewhere in my youth where there was this fantasy of being a music video girl, like that would have been the dream," Adams says, laughing.
Adams did absorb all the lyrics to those '80s music videos, as well as the songs her singer father would belt out around the house, along with all the music her six siblings loved, turning her into a "crazy encyclopedia of words" capable of serenading the "Vice" set nonstop between takes, all the while staying in the voice of Lynne Cheney. McKay included a clip of Adams as Lynne singing "Bohemian Rhapsody" in a reel he showed at the movie's wrap party.
"I loved singing as Lynne," Adams says, demonstrating this love by launching into AC/DC's "You Shook Me All Night Long," singing the couplet "she was a fast machine/she kept her motor clean" with a clipped, vowel-flattening accent that's absolutely perfect. Adams had planned on going into a recording studio before the holidays to record an album, "Lynne Cheney Sings Christmas Songs," to give to McKay. She may still follow through.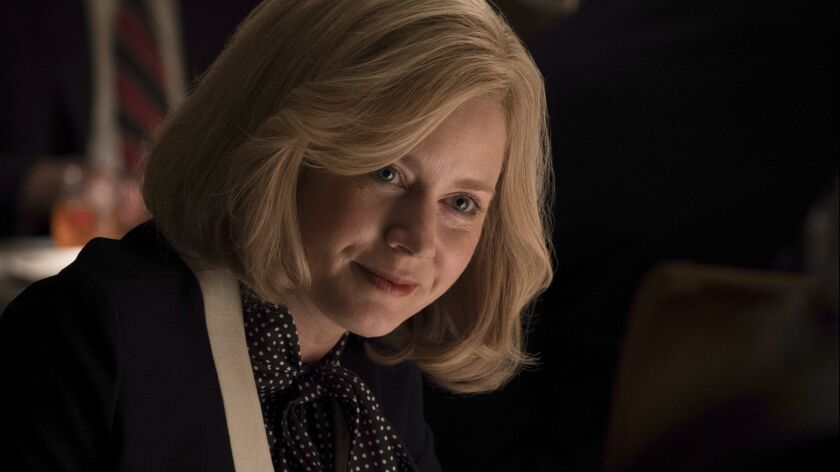 Adams found her connection to Cheney not through song — she has no idea what kind of music Cheney likes, though she guesses it's not heavy metal — but in an early, improvised scene where she's talking to Dick on the phone while holding infant daughter Mary. Adams didn't want to play Cheney as a political animal. This brief moment where she's trying to figure out why her mac and cheese isn't working flipped a switch in Adams' head, moving her to base her performance, in part, on her scrappy grandmother.
Adams, 44, ended up seeing "Vice" for the first (and only) time with her own mother, who loved the movie, telling Adams that Lynne was her favorite character of any she's ever portrayed.
"I think that's because my mom's a tough cookie, so she has that in common with Lynne," Adams says. "She told me, and I loved this, 'I know so many women like Lynne who have used their energy to push their husbands forward.' And I think she saw something she could admire in that."
Not that Adams could fully relate to Cheney, particularly when it comes to parenting. Early in the movie, the Cheneys' young daughters, Liz and Mary, visit Dick after he becomes Gerald Ford's chief of staff. When he playfully answers Mary's questions about the White House ("Is this where Santa lives?"), Lynne admonishes him, saying, "If you're silly with her, she'll grow up to be a silly woman."
"I'm a silly woman," Adams says. "I'm so silly with my daughter, I think it aggravates her at this point. I might raise a serious daughter just because she doesn't want to be like me."
Amy Adams talks about the "eye-opening" experience of playing Lynne Cheney in "Vice" and why she never met Cheney before filming.
Seven women, seven juicy roles: The Actress Roundtable »
And although there is no reason to doubt that Adams is indeed silly with her precocious 8-year-old daughter, Aviana, who has her mother's fair features and thick, wavy hair, there is also another side to her that seems more prevalent. For starters, at Avi's school, Adams is known as the "un-fun mom." Not because she isn't pleasant and courteous and cooperative, but because she's the one the other parents call upon when order needs to be restored.
"We were at an outing with a bunch of kids from the school, and a couple of kids were really misbehaving and standing on tables," Adams says. "So Avi was standing up on the bench, too, which she normally wouldn't do, but all the other girls were doing it, and I said, 'You need to sit down on your rear end, or you're going to leave the table.' And she sat down, and then I saw her getting up, and I said, 'OK, here's what's going to happen. Worse than leaving the table: I'm going to sit at the table and I'm going to sing show tunes.'"
Avi did not stand up on the table again.
Mostly, though, Adams finds herself appreciating her daughter's thoughtfulness and maturity, sometimes to the point of wonder. Last month as Adams was getting ready to go to the Screen Actors Guild Awards, Avi approached her and said, "You know, Mom, you already won the award of 'best mom,' so it doesn't matter if you win or lose.'"
Nominated both for "Vice" and for her lead role in the HBO limited series "Sharp Objects," Adams came away empty that night.
She wasn't bothered at all.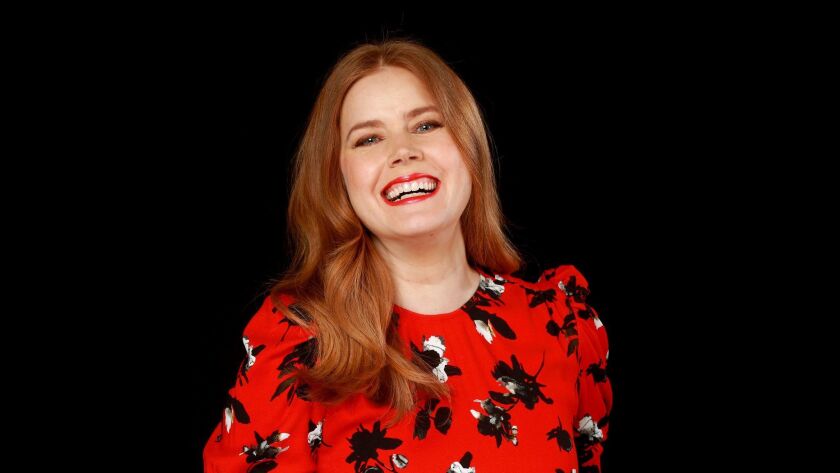 Twitter: @glennwhipp
---
From the Emmys to the Oscars.
Get our revamped Envelope newsletter for exclusive awards season coverage, behind-the-scenes insights and columnist Glenn Whipp's commentary.
You may occasionally receive promotional content from the Los Angeles Times.