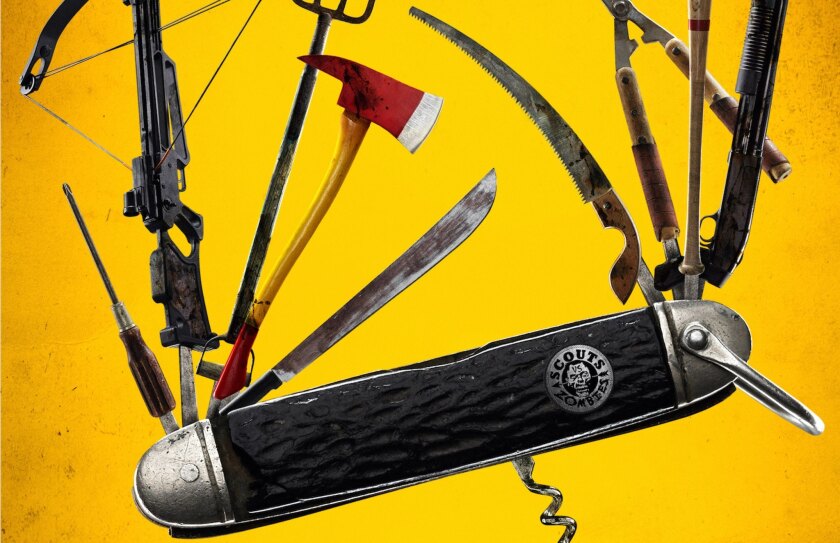 The Scout's motto is "Be prepared," and clearly that will be put to good work in the "Scout's Guide to the Zombie Apocalypse." Check out the film's poster reveal along with a little bit of Scout-centric Comic-Con news.
Directed by Christopher Landon from "Paranormal Activity: The Marked Ones," this is the first teaser we're seeing of this film.
MORE: Follow our Special Edition Comic-Con magazine on Flipboard >>
It's a weird premise, and the official synopsis is even stranger: "Three Scouts and lifelong friends join forces with one bad-ass cocktail waitress to become the world's most unlikely team of heroes. When their peaceful town is ravaged by a zombie invasion, they'll fight for the badge of a lifetime and put their scouting skills to the test to save mankind from the undead." It's not every day you see a group of kids fighting off the undead with woodland trickery and Swiss Army knives.
The release date is Oct. 30, but if you're at San Diego Comic-Con, you can experience the Scout panic in real life at one of the many free "Scout's Guide to the Zombie Apocalypse" pedicabs (hopefully not pulled by real children). Rides are free anywhere within the Gaslamp District.
There's also a badge-collecting scavenger hunt with big prizes and more details available on the movies website and at the #zombiebuttgummer.
Follow Hero Complex on Twitter: @LATherocomplex
---