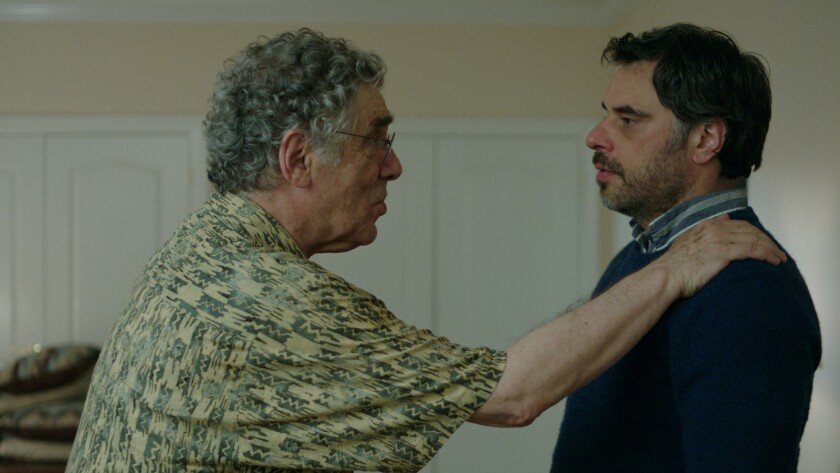 "Humor Me" will humor you — and then some. It's one of the best films of its kind, along with Albert Brooks' "Mother" and "In Her Shoes," in which a floundering adult gets back on track with help from a senior-age parent (or grandparent). If writer-director Sam Hoffman's charming, well-performed tale feels at all familiar, it's territory worth revisiting.
Jemaine Clement (HBO's "Flight of the Concords," "What We Do in the Shadows") plays Nate, a once-hot playwright on the skids, whose art-dealer wife (Maria Dizzia) leaves him for a French billionaire, blithely taking their young son (Cade Lappin) abroad with her. Nate, left without money or housing, is forced to move in with his widower father, Bob (Elliott Gould), who lives in a New Jersey retirement community.
Bob's constantly joking; his preference for Nate's smoother brother, Randy (Erich Bergen), and a seeming lack of wistfulness for his late wife — Nate and Randy's mom — has kept Nate at arm's length from his chipper dad. Family mending is clearly on the menu.
Life among Bob, the other seniors (Priscilla Lopez, Annie Potts, Le Clanché du Rand, Rosemary Prinz and Willie Carpenter — all swell) and a younger woman (Ingrid Michaelson) stuck living there as well, helps Nate heal in twisty ways that feel smart, warm and authentic thanks to Clement's enjoyably hangdog turn and Hoffman's wonderfully incisive script.
-------------
'Humor Me'
Not rated
Running time: 1 hour, 33 minutes
Playing: Laemmle Music Hall, Beverly Hills; Laemmle Town Center 5, Encino
See the most-read stories in Entertainment this hour »
---