Pop Music Critic
You know a problem has gotten bad when Carrie Underwood is willing to joke about it.
The Jay Leno of country stars, Underwood generally steers clear of anything approaching controversy, which is why her latest album contains a song about gun violence that portrays that scourge as an act of God rather than a man-made calamity.
Yet there was Underwood, barely 10 minutes into her gig hosting Wednesday's Country Music Assn. Awards, happily (if gently) skewering what's developed into Nashville's most vexing predicament: its erasure of women.
"I just want to say that 2018 has been a big year for men in country music," the singer's co-host, Brad Paisley, said in their opening monologue together, to which Underwood responded with a knowing grin: "Yeah, finally!"
Her meaning was clear over the next three hours, in which women's voices were scarcely represented in the CMAs' major categories, including country music's most prestigious prize, entertainer of the year, which Keith Urban won over four other dudes. (Consider that the last woman to take that title, Taylor Swift in 2011, hasn't even made country music for the past half-decade.)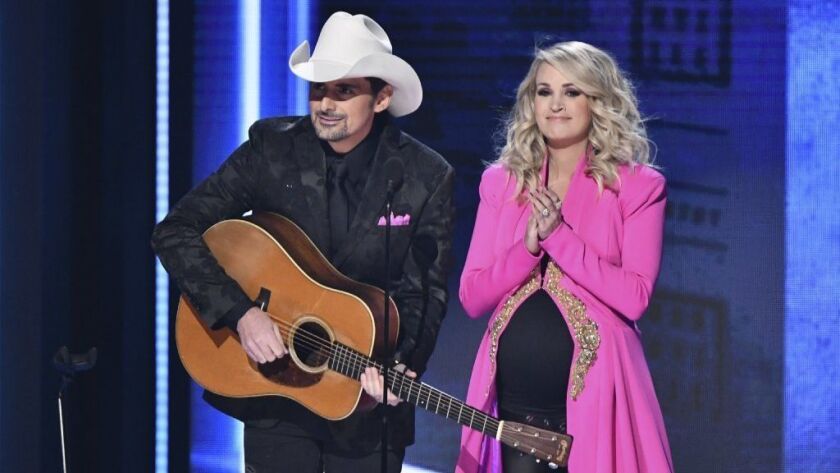 Now, you could argue, and the CMA certainly would, that this show — broadcast live on ABC from the Bridgestone Arena in Nashville — was reflecting the state of the industry: which artists are scoring hit singles, who's getting played on the radio, what listeners want to hear.
But that discounts the fact that the CMA's members are precisely the folks shaping popular taste. In other words, the willful ignorance displayed Wednesday — at a moment when female artists are the ones making country's most interesting music — was just an extension of the willful ignorance at work in the business.
Of course, avoiding the important issues is something of a tradition at the CMA Awards.
Similar to the 2017 show, which followed the mass shooting at a country music festival in Las Vegas, this year's came just after 12 country fans were killed at the Borderline Bar & Grill in Thousand Oaks. It followed the most closely watched midterm elections in modern history. And it took place as several wildfires were devastating California, a state many top country stars treat as a second home.
Yet beyond a brief moment of silence led by Garth Brooks and Paisley's perfunctory shout out to those displaced by fire, Wednesday's cheery and hollow production bore virtually no trace of the widespread tumult in the world.
"OK, CMAs, let's do what we do!" Luke Bryan shouted to open the show with his song "What Makes You Country" — and what he meant evidently was glossing over the hard truths that country has long prided itself on confronting.
So instead of those we got Thomas Rhett smarming his way through the dumb "Life Changes." We got Dan & Shay doing "Tequila" as though they'd never had to reach for a drink. And we got Urban singing "Never Comin' Down" from atop a giant video screen that hid his hard-working band from view — some kind of metaphor for how high-on-his-own-supply Urban's music has gotten lately.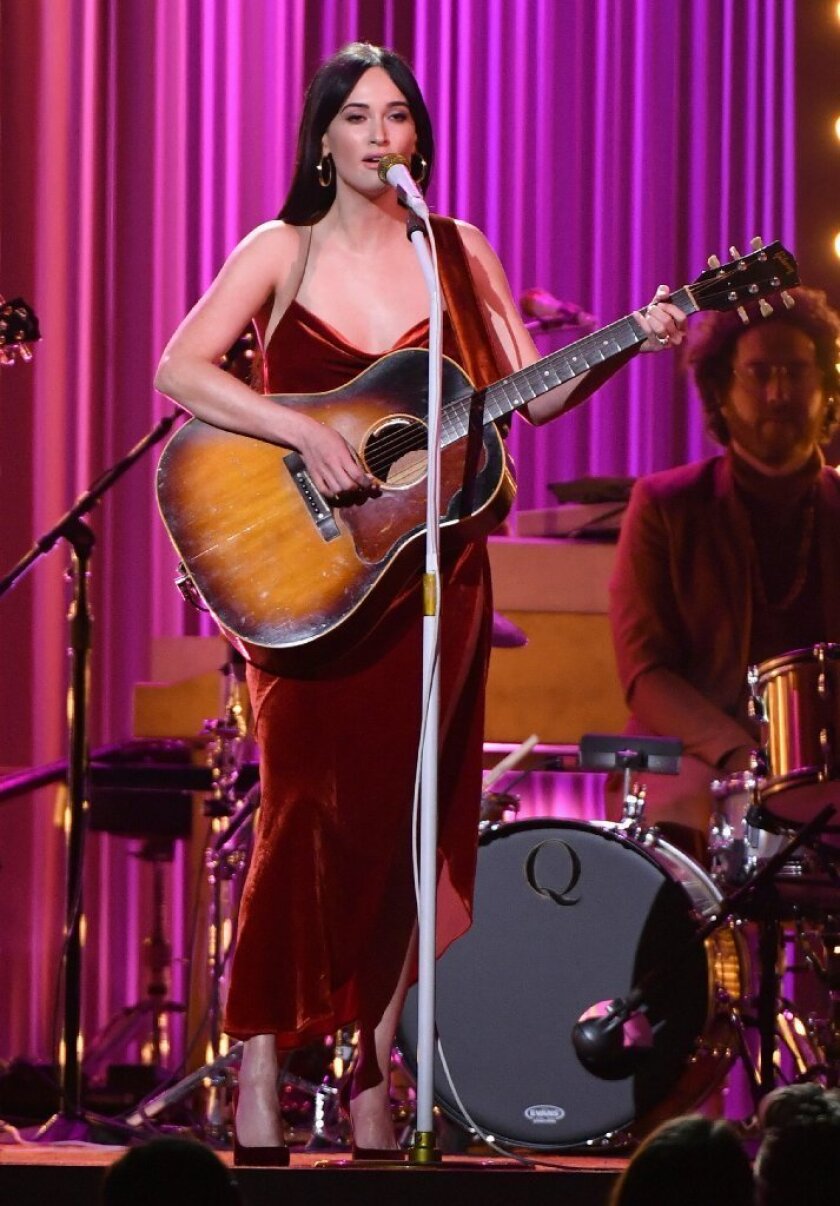 Old Dominion put on a typically dull performance of its "Hotel Key" and then was presented with the award for vocal group of the year. Many more bearded gentlemen came onstage to fetch trophies: Luke Combs (for new artist of the year), Brothers Osborne (for vocal duo of the year), Chris Stapleton (for male vocalist of the year, single of the year and song of the year).
Underwood was named female vocalist of the year — don't think that Bryan didn't try to figure out a way to win that one — while Kacey Musgraves disrupted the night's pattern by nabbing album of the year for her excellent "Golden Hour."
Indeed, Musgraves' thoroughly deserved win — the only prize taken by a woman in a co-ed category — was a rare bright spot in Wednesday's show, along with her mesmerizing rendition of "Slow Burn" and a spirited, three-part performance by the bluegrass veteran Ricky Skaggs, who was celebrating his induction into the Country Music Hall of Fame.
You also had to marvel at Brooks' typically over-the-top rendition of a new ballad called "Stronger Than Me," which he said he was playing for the first time anywhere and which he addressed to his wife, fellow country star Trisha Yearwood.
As its title suggests, the song's about how much more able she is than he is — a welcome sentiment expressed at the CMAs, no surprise, with a man onstage and a woman sitting silently in the crowd.
Twitter: @mikaelwood
---