Review: The useless CMT Music Awards couldn't even get Sam Hunt right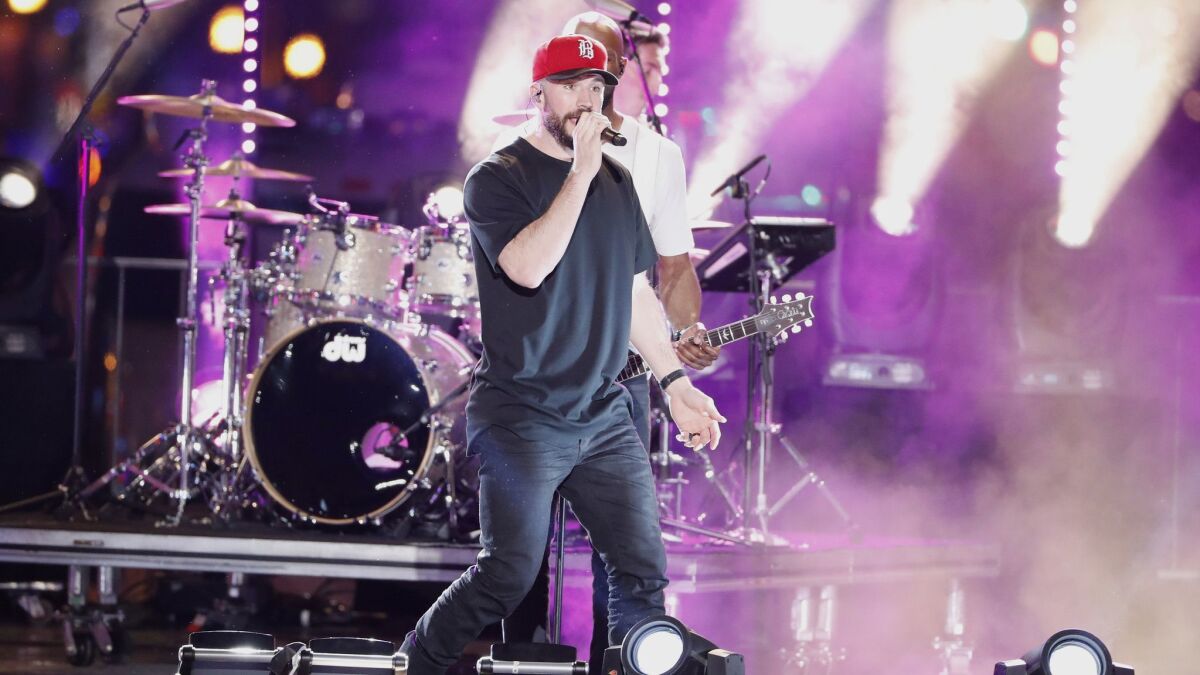 Pop Music Critic
You know an awards show is bad when it screws up a performance by Sam Hunt.
One of country music's most likable and exciting young stars — a singer, let's remember, whose "Body Like a Back Road" spent a record 34 weeks atop Billboard's country chart — Hunt turned up on Wednesday night's CMT Music Awards to do his new single, "Downtown's Dead."
Is "Downtown's Dead," about a guy who can't go anywhere without thinking of his ex, as good as "Body Like a Back Road," in which Hunt rhymes "braids in her hair" with "fell up out my chair"?
It is not.
But the song is effective enough that when Hunt delivers it, you'd like to see him connecting with the words and the melody.
That's not what happened here.
Broadcast for the most part from Nashville's Bridgestone Arena, Wednesday's show moved outside that venue for Hunt's gimmicky performance, which had the singer strolling down one of the city's main drags, popping in and out of bars filled with excited people aiming their phones at CMT's cameras.
I'm not against spectacle. But Hunt was using so much of his attention to weave through the crowd gathered for this one that "Downtown's Dead" ended up sounding like trash — and only to execute a stunt that made no sense in the first place.
"Downtown's Dead" paints a vivid scene of empty jubilation. "As long as you're still in my head," Hunt sings, "there ain't no way that I can paint a ghost town red."
On Wednesday, though, dude was all smiles as folks high-fived him before he finally arrived at an outdoor stage to finish the song.
Hunt's misfire was far from being the only one on the CMT Awards, which opened with a painfully unfunny bit imagining Prince Harry and Meghan Markle visiting Nashville and wasted Kelly Clarkson in a useless rendition of "American Woman" that made her look like she was back doing time on "American Idol."
Dierks Bentley and Brothers Osborne teamed up to perform their dreary "Burning Man," which sounded like a bunch of craft-beer bros trying to out-Eddie Vedder one another.
And then there were the Backstreet Boys, who somehow made it inside the Bridgestone for a carbon-copy take on the so-so new single they sang last week at Wango Tango in Los Angeles.
The prizes, which the cable network said were voted on by fans, aren't worth going into, except to say that any awards show in which Dan + Shay beat Tim McGraw and Faith Hill for duo video of the year is almost certainly a show in which the acts who bother to attend are getting preferential treatment.
I'll mention two highlights before we can move on to forgetting this thing forever.
First was Little Big Town, the delightful co-ed quartet that conjured welcome memories of Barbra Streisand and Barry Gibb's "Guilty" in a breezy run through its plush new disco song, "Summer Fever." (Little Big Town's four members also served as Wednesday's hosts, but they were terrible in that job.)
The other was Kelsea Ballerini, who sat on a stool with an acoustic guitar and sang her "I Hate Love Songs" with precisely the type of feeling and wit that was missing from the rest of the show.
Her skill was so refreshing I almost fell up out my chair.
Twitter: @mikaelwood
Get our L.A. Goes Out newsletter, with the week's best events, to help you explore and experience our city.
You may occasionally receive promotional content from the Los Angeles Times.