Review: Ariana Grande took Wango Tango way more seriously than anybody else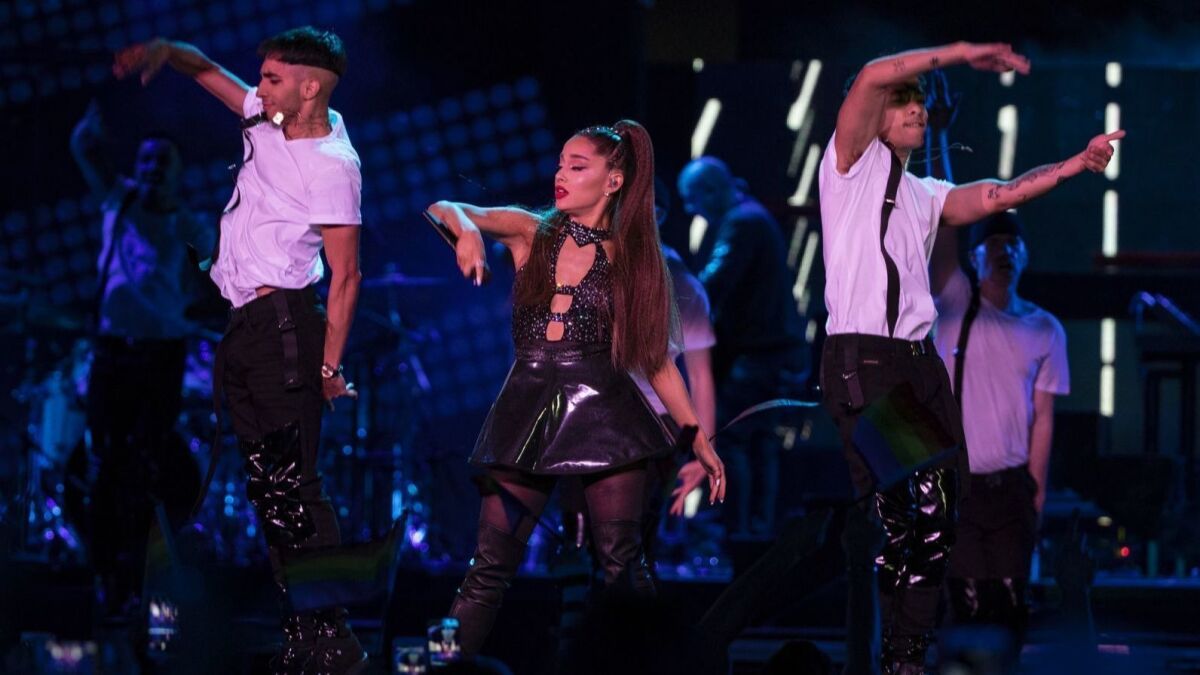 Pop Music Critic
For Ariana Grande, the setting likely seemed familiar. But the circumstances couldn't have been more different.
On Saturday night, the young pop star known for her big vocals and her high ponytail performed at the Banc of California Stadium in Exposition Park — an open-air sports facility not unlike the Old Trafford cricket ground in Manchester, England, where last June she led a cast of high-profile musicians in a televised concert benefiting victims of the 2017 terrorist bombing that killed 22 people outside an earlier show of hers at the Manchester Arena.
This time, almost a year to the date after the benefit, Grande was headlining Wango Tango, the annual all-star blowout presented by Los Angeles' KIIS-FM, as one of her first major performances in the run-up to a new album she's set to release in August.
If her participation was plainly transactional, though — other acts on the bill eager to keep having their songs played on the influential Top 40 station included Shawn Mendes, Meghan Trainor, 5 Seconds of Summer and the Backstreet Boys — Grande put across so much feeling that she raised the stakes considerably for what might've been a throwaway gig.
Listening to her sing, pushing her voice from a low growl to a heady trill, you didn't think about radio playlists or the glad-handing that awaited her backstage.
Instead, you thought about the thrill of new romance she describes in her song "Into You." You thought about the strength some fans draw from the singer, who happily waved a rainbow flag during a throbbing "Break Free."
And as she did her current single, the sleek but churchy "No Tears Left to Cry," you thought especially about the effort required to move past tragedy — and the relief in discovering that joy is still possible.
"I probably have red lipstick all over my face," Grande told the audience with a laugh after one particularly aerobic number. "Are we just gonna pretend that it's not and just move on and keep singing?
"OK."
Grande's exceptional emotional engagement didn't mean she'd come to the Banc of California Stadium — located where the L.A. Sports Arena once stood — without any ideas about strategy.
Aware of an audience watching the concert's live-stream at home, she sang along to a snippet of an unreleased duet with Nicki Minaj from her upcoming album; video clips of "The Light Is Coming," with a crisp dance hall beat à la "Rock Steady"-era No Doubt, began circulating almost immediately on Twitter.
"The pre-order goes up this month on the 20th," she said in regards to the new record, which is pretty grim as stage banter goes.
But then her band revved up the slow-motion R&B groove that drives her power ballad "Dangerous Woman," and Grande was off again — a deeply talented singer using a promotional opportunity to deliver something real (or at least something that felt like it).
A few other acts at Wango Tango managed to do that intermittently, including Janelle Monáe, who rapped vividly about restrictive gender roles in her song "Django Jane," and Miguel, the L.A.-based soul singer who introduced his sensual "Come Through and Chill" with a primer on his background as the son of a Mexican man and "a beautiful black woman from Inglewood."
There was something endearingly transparent too to how clearly the former teen idols of Australia's 5 Seconds of Summer now want to be seen as adults; their set, which included tunes from an album due later this month, suggested they'd spent the last year closely scrutinizing the Strokes and the Arctic Monkeys.
Beyond those scattered moments, though, Saturday's five-hour program was about as exciting as a marketing meeting, with competent but unremarkable performances that played like little more than advertisements meant to encourage folks to see each artist's real show. (With the Backstreet Boys, that actually was the case, as Nick Carter demonstrated when he reminded the crowd that the weirdly durable boy band can be seen regularly in Las Vegas — "a quick 45-minute flight" from L.A., he made sure to point out.)
Is commerce an essential part of pop music? Of course. But the best make you forget, if only briefly, that that's what's happening.
Like Grande at Wango Tango, they find a way to sell more than themselves.
Twitter: @mikaelwood
Get our L.A. Goes Out newsletter, with the week's best events, to help you explore and experience our city.
You may occasionally receive promotional content from the Los Angeles Times.